'BAHURANI' by 'COLLS' and 'MANZIL' by MOHAN SINGH
'Colls' (Col SK Kohli, XV Course, Easy Sqn, EME)
NDA, January 1958. Colls was four courses senior to me and we were in the same Squadron. In our second term, he was our Sergeant Major, and so our relations should have been highly officious. But I do not know what happened during our very first meeting that I was drawn towards him. He took me to his cabin, gave me some advice. He also told me that I was free to walk into his room whenever I was in difficulty. I made full use of this offer. He became my mentor and treated him like an elder brother.
Nine years later this bond was inflexibly cemented. I got married on 15 Dec 1966, and was not able to fix up accommodation, before leaving Secunderabad. When the train steamed into the Railway Station, on the morning of 19 Dec, I had no idea of where we would stay.
Lo and behold! Colls was there with is charming wife, Veena ji to receive us! He insisted that we spend the first few days with them, until the 'Bahurani' selected a house for herself. I must add here that Veenaji was expecting, and they got their first child, Sonu, in Feb 1967.
Colls is a compulsive poet. He can compose a verse at the drop of a hat. And he remembered our wedding date. It gives me great pleasure to share his words with you. Please note, that he lives in Canada, and comes to India only for a few months each year. However, Internet has diminished distances.
'Bahurani'
By Colls
FOR MY CARD FOR YOU TWO
LET DISTANCE LEND BEAUTY
TO THE SCENE
50TH ANNIVERSARY
*
MADE FOR EACH OTHER
Grace of God
for those
who Bow
in LOVE
We all know
Surjit and SurrInder
as our young brother
and
Bahurani
since ages,1957 onwards…>>
now 
Grand parents 
May Wahe Guru
Bless them
Colls
15 Dec 2016
*
Fifty Years of Marital Bliss
Due to some administrative reasons, we preponed the little function, and I find it appropriate it to share a few pictures with my friends. Here they are.
 
Surinder is fond of flowers…and we were inundated with bouquets.
With our sons, their wives and our grand-daughter, Tripti

Two nieces, Gunni and Savi joined us in this picture
 
We are joined by our two Advocates, Divjyot and Suniti. They have done us proud…
 
The traditional cake arrived at the end. It was chosen by Jasdev and Sarmeet. Jasdev is,the life and soul of a party. He is, forever wanting to 'change' things!  Bhupi Oberoi and Cuckoo are looking on
*
Part II. Down Memory Lane.
It is only natural to recall the story from its very beginning. I was twenty –five and Surinder was not yet twenty when we tied the knot. Two pictures should be enough to depict the scene.
 
Traditional 'acceptance' of the soul mate…

Smiles all around, except the bride, who must look coy and bashful!
'Rah Bani Khud Manzil…'
Half way to the 'golden jubilee', we held a function in Secunerabad, in 1991. The card which we sent to our friends is placed below.

It was a memorable event. Our older son, Divjyot rode on a motor-bike all the way from Bangalore to Secunderabad
Moon and the Honeymoon
We had no leave for a honeymoon. It was postponed to April. But we keep looking out for moon wherever we are. During our party, we had a lovely moon, and Ashwani captured it beautifully.
 
Notice that it was not a full moon. And so it was still 'growing'
A poem by Prof Mohan Singh
I was reminded of a brief poem by my favourite poet, Mohan Singh. Its English translation is given below:
Manzil
Translated from aPunjabi poem written by Prof Mohan Singh
The moon smiles, as it grows towards fullness;
Then it cries (and come late) as its size shrinks.
A flower in full bloom is in danger of being plucked;
But the un-blossomed floret is not touched by the picker.
Anything that is complete is afraid that it will diminish;
The 'part-full' piece has no such fear.
I say, "O Lord, may the voyage of my love;
Never reach its destination!"
(In the Punjabi version, the last line is, "Rabba merit pyar di manzil, kade na hove poori"!) And that is my prayer to the Lord!
Prof Mohan Singh has been my icon amongst writers, and I had a rare opportunity to meet him in person. He was an amazing poet. For those who may like to know more about him and what I learnt from him may click on the following link. (This piece may be useful for writers and those who aspire to write.  
The Tailpiece
This piece should logically end with a picture of how Satya Kumar Kohli (Colls) looked when he was elevated from 'Under Officer' to an officer. Here it is: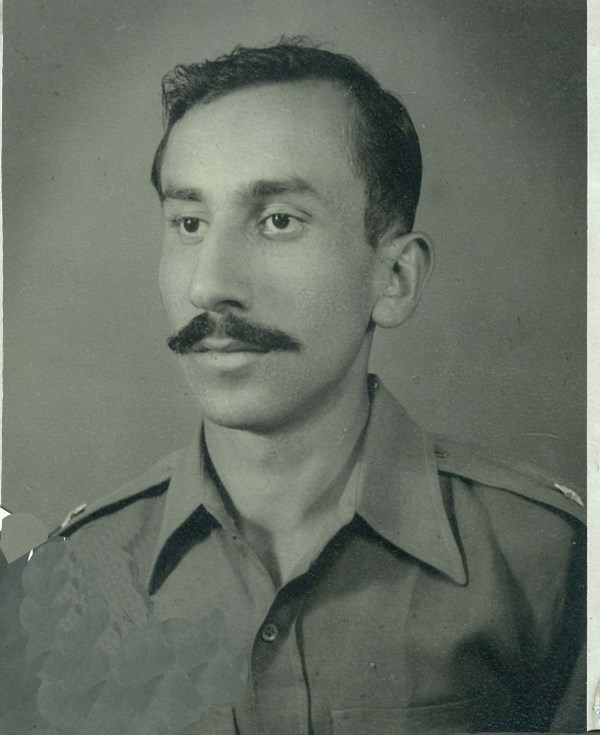 Acknowledgements
Ashwani took the pictures of the function, and helps me in posting them on the blog. I can never repay the debt of gratitude. And then, there is Joseph Thomas, who taught me English, and is forever willing to help me in 'polishing' my drafts.