CONFLUENCE OF 'SHANTI' and 'DHIRAJ'
The Hindi word, 'Shanti' means peace, and it includes equanimity and tranquility. 'Dhiraj' means patience. Both these virtues are desirable attributes of human personality. During my service I had the good fortune to meet father-son duo, who were known by these names. The elder of the two was about twelve years senior to me, while his son, Dhiraj was my adjutant in Sikkim. I can say with conviction that they both served the Army with grace and dignity. The picture you see on top shows Dhiraj, when he joined the RIMC, in Jan 1969. He was eleven years old, then.
At my behest, Dhiraj has sent a very sweet little story of his childhood days. It gives me great pleasure to share it with you. Those who have met Brig Shanti Mullick may like to see a few of his pictures, which have come along with this story.
*
A Hug is all I Need
By Col Dhiraj Mullick (Veteran)
It was a cold and dreary winter morning in Dehradun, a small town located at the foothills of the Himalaya Mountains in Northern India.  Through the window across the room, I could see the weak morning sun appearing every now and then from behind the clouds and doing its best to fight the cold.
Having feigned a stomach-ache, I was skipping school for the day. I lay in bed, smarting from what my maternal uncle had said to me the previous evening when I had told him that I don't buy anything from the school tuck shop since I don't have any money.
"What! You are nine years old and don't get any pocket money! Why Not?" he remarked.
His son Aditya, who is about my age, went on to exclaim "I get two rupees pocket money every Sunday!" Back then, in 1966, two rupees was a handsome sum of money for a nine-year-old.
It was true. Unlike most children in my class, I never received any pocket money from my parents. Though I had never given it a thought, the previous evening's incident had disturbed me and set me thinking. I thought of the fruit buns and cream rolls which my friends used to buy from the school tuck shop, and I thought of the naughtier children who bought candy from roadside sellers when the school bus halted at traffic signals. I realized that they too must be getting some pocket money from their parents every week. And I thought 'Why not me.'
As I lay snuggled in bed – the thought kept coming back, 'Why not me…'
Unable to make sense of my feelings, I finally summoned the courage to confront my dad before he left for work. So, I tip toed down the hallway and peeped into the dining room where he was seated with my mother having breakfast. I marched in and questioned "Papa why don't you give me any pocket money?"
"What happened son?" he asked.
"I want two rupees pocket money" I persisted.
He made me sit on the chair next to him and asked again, very softly, "Tell me what has happened."
I related to him the events and conversation of the previous evening and my desire to carry 'my own money' to school every day. I told him that I felt I cheated as he was not giving me any pocket money.
He gently caught hold of my hand and said, "Come with me". He led me to his room and stood in front of his dressing table.  He pulled open the right-side drawer and picked up his wallet which was lying there and said "Son, this is my wallet. It has a good amount of money, more than you need for your pocket money. When it's not in my pocket, I always keep it here. Whenever you need money you can take it from here – as much as you want.  I also want you to know that whatever is in it, is yours as much as it is mine or your mother's or sister's or brother's. It's for all of us to share."
"I'll return it to you someday … when I'm grown up and have my own money" I blurted. And then the tears which I had so valiantly been holding back started flowing down my cheeks.
My father looked at me lovingly and said, "Don't worry about returning the money A hug is all I need. You must also remember to share it with your mother and your sister and brother. And for that, you don't have to wait till you grow up. You can give it right away."
With that he opened his arms and embraced me in a warm hug. I held on to him tightly and he rocked me gently till I calmed down and my tears stopped. 
My father's words and the warmth of his loving hug are cherished memories from my childhood that I'll never forget. They taught me the priceless value of sharing and caring, and that love is the most precious gift we can give. A gift we can give anyone – anytime.
Postscript:
Children are innocent and very tender. Whenever they face situations which are difficult or beyond their comprehension, they get confused and may go astray. They may develop unwanted traits and habits and nurture resentment which they then carry through their lives. Good parenting and a loving environment can enable them to understand and appreciate the right values in life.
As children we only started getting pocket money when we entered 7th Standard i.e. at 12 years of age. Perhaps our parents thought it to be the right age for us to handle money and to be able to spend it wisely. They always told us:  Money is important in life; but a good life is more than just money!
*
Now, here are a few pictures of the elder Mullick
 
As a Major, in Blue Patrols
 
Just before retirement in 1981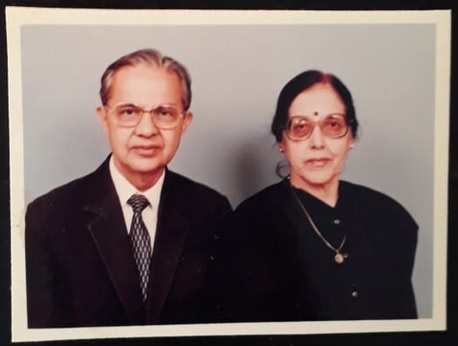 One of the last pictures of Brig and Mrs Shanti Mullick
And, for those who may like to see how Dhiraj and his wife, Heena look now, here it is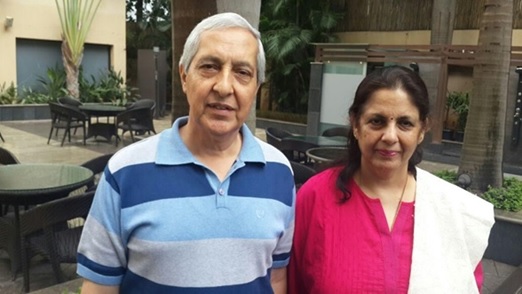 *
A Tailpiece
Different people have been affected by the recent Pandemic in different ways. In my case, what I miss the most is the joy of meeting people in the traditional manner: a warm tight hug. Indeed, the children can not even be touched! I wonder whether this will make a difference to their psyche. When my children were growing up, our mother used to tell us to fondle them…and that included hugging and kissing. The IT professionals have devised methods to do everything, including teaching 'online'.
Are we heading for an era when hugs will be 'online' ? I wonder!!!