Editor's Note
Milk is an essential part of human diet. It has been so, since times immemorial. Our ancestors around the globe, learnt to domesticate milk yielding animals and they became part of their families. As far as I know, every house had a few cows and buffaloes, and therefore, 'dairy farming' was not an exclusive business. Until as late as just fifty years ago, my parents were the proud owners of two buffaloes. The houses allotted to army officers were large enough for that purpose, and they even had enough land for their Pasture. And then, things changed. The process of breeding the animals and their health care became specialized and machines were invented to reduce human effort. The milk that is now produced, is pasteurised and processed and our grand children who have never seen animal being 'milked' believe that it comes in cartons and plastic packets!
Wg Cdr Joseph Thomas got an opportunity to visit a Dairy in the USA,  and he has sent in the following report.
*
A  VISIT  TO   "SIMPLY  NATURAL"  DAIRY AND  CREAMERY
by
J  Thomas

 
My grandfather and earlier generations were farmers.  You could say that farming is in my blood.  So when I got a chance  to see a dairy farm and creamery in North Carolina, off I went.
"Simply Natural" is a dairy farm that pasteurises and bottles its milk and makes its own cream, butter and 35 flavours of ice cream.   Refrigerated trucks deliver  the finished products to the neighbouring towns  in eastern North Carolina.  They have a retail shop. And guided tours too.
 
Our friendly  tour guide.
The owners are the Moye brothers, Neil and David.  Their wives and children are fully  involved in the daily operation of the farm and dairy.
Right from the beginning, the dairy has kept only Jersey cows.  Other breeds, such as Holstein, produce more milk  but Jerseys produce higher quality milk with higher protein, calcium and butterfat.   Jerseys are also more docile, an important consideration with children roaming around.
 
We were herded into a trailer  with wooden bench seats.
 
The field reserved  for  pregnant  cows.
 The family farms  3700 acres (owned plus leased).   The cows are not confined on concrete all day.   The cows  roam, graze and lounge in the farm.  The tour guide repeatedly emphasized that their "girls" are happy and, therefore, produce good quality milk.
 
Silage  bundles tightly packed in bundles  undergo fermentation.
These silage bundles was something new for me.  Silage turns out to be fermented, high-moisture stored fodder which can be fed to cattle and  sheep. It is usually made from grass crops, using the entire green plant (not just the grain).  The farm  grows corn and makes it into silage for their own use.
 
Tractor rolling a silage heap or "clamp" in Victoria, Australia (Photo: Wikipedia)
Silage is made either by placing cut green vegetation in a silo or pit, by piling it in a large heap and compressing it down so as to leave as little oxygen as possible and then covering it with a plastic sheet, or by wrapping large round bales tightly in plastic film.
 
Individual  hutches  for calves
When a calf is born, it is cleaned and immediately transferred to individual hutches.  It is kept in the hutch for  8 – 10 weeks.   I did wonder  how cows and their calves could be "happy" if they are separated at birth.  I did  not ask any embarrassing questions.  But back home,  I went to the internet and searched "Hutches for Calves."  I got this reasoning from a blog written by Jennifer Heim, a dairy  farm owner.  "The vast majority of cows don't give a second thought to their calf once it is out of their sight. We as dairy farmers, on the other hand, put a lot of thought into calf care."
"Individual housing allows us to know exactly what is going in and coming out of each calf. This helps us monitor their development as well as identify illness. This may surprise you, but most of our calves can't talk (ok, none of our calves can talk). The most common signs that a calf isn't feeling well are loose manure, called "scours", or lack of appetite. Individual housing allows us to know quickly and certainly which calf is scouring or not eating. We can then give that calf the extra attention and treatment that she needs."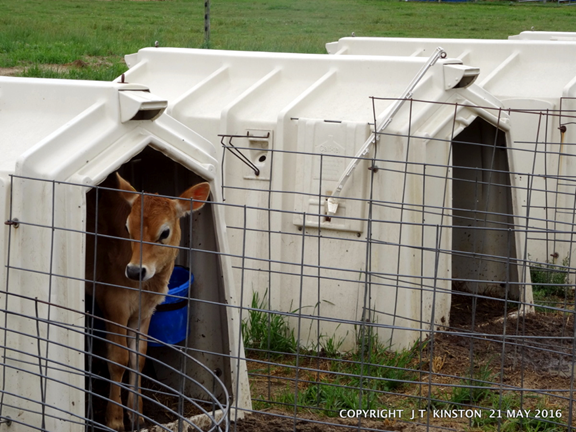 Close up of a hutch.  Unlike in India, the calves get all the colostrum produced by the cows.
 
The calves are fed from a bottle.  The tour guide said that the calves consider their feeder as their mother.
The calves are not fed  whole milk but a "Milk Replacer."

Milk replacer protein sources categorized by their acceptability.
Preferred

Acceptable*

Marginal

Dried whey protein concentrate

Dried skim milk

Casein

Dried whey

Dried whey product

Soy protein isolate

Protein modified soy flour

Soy protein concentrate

Animal plasma

Egg protein

Modified wheat protein

Soy flour

Modified potato protein
Adapted from A Guide to Modern Milk Replacer, Bovine Alliance on Management and Nutrition, 2002.
*Acceptable when used as a partial substitute for milk protein.

 
Typical  Milk Replacer.
There is a lot of debate on the suitability and economics of  whole milk ( raw or pasteurized) as compared to milk replacer.   The dairy farmers claim that milk replacer is better than having the calf drink from its mother.  See https://heimdairy.wordpress.com/2014/01/14/why-dairy-farmers-separate-cows-and-calves/
 

A large shed  fitted with fans.  The cows are free to come here  during hot weather. A tractor is used once a day  to skim dung  from the sand.  The sand is replaced every year.
 

The  cows are milked twice a day  at  0500  and 1700.  (Photo from company website)
 The dairy has its own milk processing plant.  Cream, butter and ice cream are produced.  A cheese processing facility is planned.  A byproduct  of cheese production is whey  which is a major ingredient of  Milk Replacer for  calves.
 
Interior of  the  retail shop
 
The retail shop  also sells  souvenirs such as Tee shirts and coffee mugs.
 
35 varieties of ice cream  on display at the retail store. (Photo from company website)
All the ingredients being fresh,  the ice cream was superb.  Well worth the visit.
 
A play area for children.
The farm arranges birthday parties for children.  The kids love the outing.
For  more details see the website
A Tailpiece…Down Memory Lane (By the editor)
As I said, we lived in large houses, built over several acres of land during the fifties. There was enough space to keep buffaloes and poultry. And therefore, we did not have to run to the 'supermarket' to buy milk or eggs. Given below are some pictures of those 'good old days'
 
163, The Mall, Meerut Cantt (1955-57)
 
8, Ponappa Road, Allahabad (1957-59)
 
My younger brother, Surinder is having a jolly good ride on a buffalo in Meerut. This picture was taken in 1956. Surinder was a little over eleven years old.
*
A Philosophical Post Script 
Have you ever visited a 'modern' dairy or poultry farm? If yes, have you ever looked at life from the point of view of a cow or a hen? They are domesticated animals, and therefore, we humans have the absolute right to treat them the way we like. And we exercise our authority, without any compunction.
Until about a hundred years ago, cows, buffaloes and hens/roosters were part of the households. They were tied at night, but during the day, they were sent to the fields to graze. And they were allowed to mate, when the time came. The chickens were housed in small enclosures. The hens laid eggs, and they hatched them. The roosters did their part of the job with great elegance.
 And then, things changed. Modern techniques converted these miserable creatures into milk yielding and egg laying machines. The cows are now tied all day long. They are given the most appropriate feed but the breeding is done through artificial insemination. The female never sees the male of her species. Hens are even worse off. In their case, they are 'sexed' at birth and the male are 'culled'. The eggs we eat are infertile; they are actually 'vegetarian'. The females are confined to their pens where they live during their egg laying lives, and as soon as they are no longer remunerative, they are 'tabled'. Both these creatures live at the pleasure of their owners.
The only creatures to which we are kind is the dog. And that is because they can bark.