Foreword
A few minutes before the Sun rises tomorrow, I will have turned seventy three years old. In our part of Punjab, when a person showed the first signs of senility, the people around said, "this man has become

 'sattare bahattare'  

(which means seventy-seventy two years old) Therefore, do not take him seriously!" Now, I have crossed even that milestone! I beseech you to forgive me my trespasses. My words and deeds must not be taken seriously. And, whenever I am indiscreet, I should be forgiven, in view of my age. For one thing, my date of birth itself is incorrect. Personally, I was too small to note it down and now, I find that our father's diary reveals that I was born on the 28 June 1941 while the official records show it as 26th June 1941. The difference being insignificant, I have not made an issue out of it.
Wanderlust
Come summer, and my friends start planning for a jaunt. Some go out to the hills to beat the heat.  Others go to coastal areas to chill out on the beaches. And those whose children or kinsfolk have migrated to the 'white peoples' lands' start making the rounds of embassies and travel agents. Then begins the process of 'mothballing' and preserving the domestic appliance for the period of absence. Indeed, the most difficult part is to pack bags. We want to take all that we will need and yet keep the baggage light, since there are no coolies in the 'developed' countries. My personal experience is that hard as we try, we leave some essential things behind, and I have rarely returned from a journey without forgetting some of my clothes or tinsel behind. Indeed, the worst part is that the medical care in those distant lands is not tailored to our needs. Most often, we can not find a good dentist, an optician or a physician to help us. And indeed, the pharmacists refuse to sell medicines unless they are prescribed.
And then, there are other problems. Their food habits are different, and we have to do many things which are done by our domestic help here. Their newspapers are thick and heavy, but contain very little news which is of interest to us. All in all, I for one, begin to miss home and start counting days left to get back.
A Discovery of Sorts
With each passing year, and as we are getting older, the urge for travel is diminishing. We have been to most of the places and the sights do not attract us as much as they did before. The process of packing bags is getting more and more tedious. The medical assistance we need has become more complex and we are literally dependant on our doctors and chemists. The worldly needs are simple and readily available here, and therefore, we are becoming more and more home-bound. 
Then, last year, as I was sitting on my study table I made a discovery. I suddenly felt that my table, the chair and in fact the whole room was moving. And in fact, the complete environment was in a state of motion. A little more introspection revealed that the motion was neither random nor directionless. And here is what I found:
My table, my chair, the room or rather the house itself…along with the neighbours and the market and all that exists on the earth is moving at an incredible speed of

30 kilometres per second,

on an endless voyage around the Sun. And we dare not slow down, because we have the Celestial duty to complete our journey of about 940 million kilometres within the allotted period of a little over 365 days. No one knows what will happen, if we get late; or arrive a moment too soon.  At this speed, we can travel from Delhi to New York in about 6.5 minutes and cover the distance to the moon in a little over four hours.

The ride is smooth. No jerk, no vibration, no noise. Around us, we have seven more planets (eight, if you count Pluto in), and a few hundred dwarf planets, natural satellites and comets. Despite all this 'traffic' there has been no major accident or collision in the recorded history. To control our road tansport, we have an elaborate police 'bandobast' and at the airports there is an Air Traffic Controller (ATC) but as far as we know, there is no Space Movement Controller and yet all this motion is so well organized. Given below is a picture of this scene:
A Perquisite of Life on the Earth
I discovered that "

Life on the Earth may be expensive; but it includes a free trip around the Sun every year!"

Some of the features of this Celestial journey are:
You neither need a visa nor a ticket.

The kith and the kin are allowed to accompany you. Even the neighbours go with you.

No need to pack bags. The whole house goes with you.

The journey is so safe, that you neither need to wear a helmet nor even a seat belt.

All your creature comforts remain with you. Your dentist, optician and the chemist are booked to travel with you. Even the domestic help will accompany you!

As a very special privilege, our one and only moon goes with you. In fact it shows the same face to you all through your annual odyssey.
The above 'discovery' diminished my urge for wanderlust. Along with every one else on the Earth I had performed this voyage several times before, but this time I became more conscious of the earthly phenomena this year. When I started making notes for the travelogue, the Sun was hot and bright. The days were long. Then came the monsoon, in all its glory. And that was followed by the autumn. The length of the day began to diminish, and soon there was winter. The days were short and the Sun was feeble. On one such cold day, I went to the Sukhna lake and clicked a picture of the Sunset. The water was cold and the breeze was chilly…and I saw that the Sun did not set in the West. It had shifted significantly towards the South. Here is that picture:

 Our evening walks on the lake continued all through the winter and the spring. But when the summer came, it was no longer a joy to walk by the lake. But four days ago, we had a pre-monsoon shower, and it cooled the environs. We went back to the same spot. The water level had receded and the lake did not look as pristine as it had looked in the winter. And the Sun had moved so far towards the North, that my camera could not capture the scene in one shot. I took two pictures, and these have been joined by my friend, Ashwani. However, since there was a time lag between the two snaps, there was a difference in the colours and hues of the two pictures. Ms Mansi Bhambri has done the necessary image enhancement to produce the following joint picture: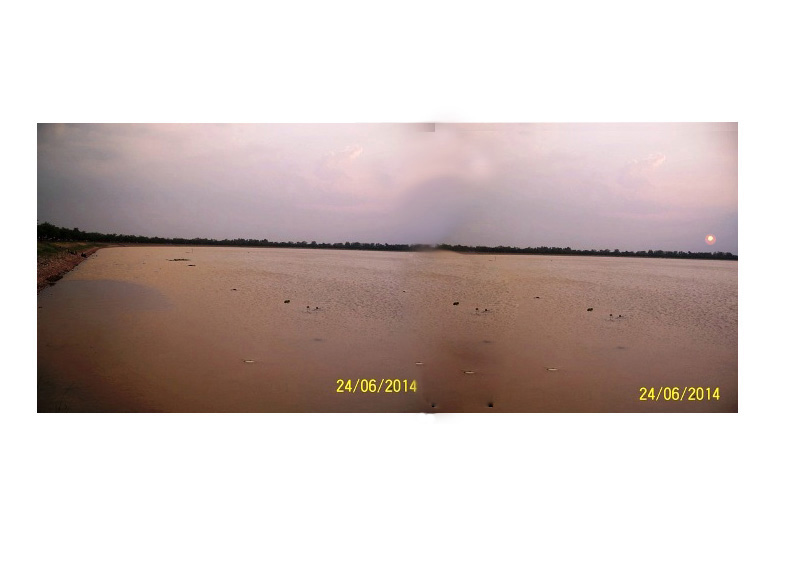 A Flashback
Some of my friends might recollect that a few months ago, we had observed that the Sun does not always rise in the East and set in the West. And this is not the only phenomenon which changes with time. Indeed, after a complete revolutions around the Sun the seasons repeat their cycle. If, somehow, we could 'fast forward' some of the pictures, we would get an idea of how things change. A friend has sent me some pictures of flowers blooming. This is how we would see the other changes, if we could use technology to produce pictures of such slow moving changes.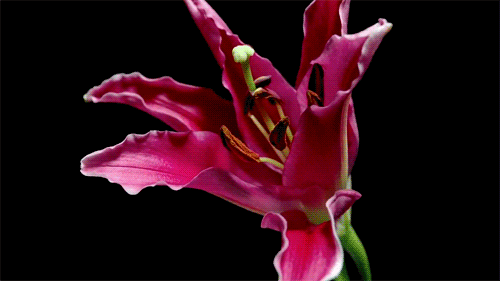 And, here is another one: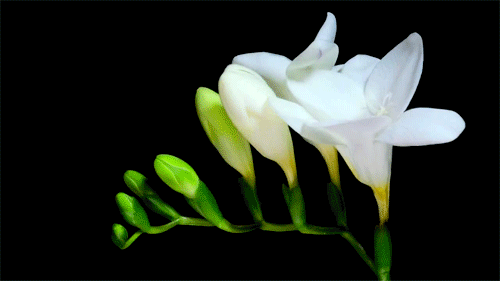 And one more, to complete the bouquet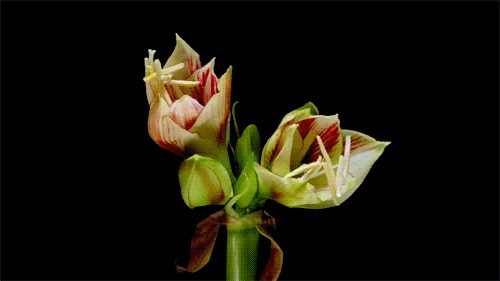 The Tailpiece
My personal voyage on this planet called Earth began many years ago, at Peshawar Cantt. In our father's diary, the following sentence is recorded "A son was born, just before the Sun rose on Saturday, the 28th Jun 1941" As per this piece of information, I have travelled around the Sun exactly seventy three times, today. All the other journeys which I have performed are insignificant when compared with this astronomically large distance. And so, when the Lord is Himself taking me places, holding me safe in His hands, where is the need to run around to the offices of travel agents and to pack bags?
In this context, I am reminded of a poem from Gitanjali written by Gurudev Tagore, more than a hundred years ago. Early in his life, great poet had discovered that you do not have to go running around for pleasure…just look around, and savour all the awesome bounties the Lord has given to us, unasked!
Psalm XIV - Gitanjali
MY DESIRES ARE many and my cry is pitiful, but ever didst thou save me by hard refusals; and this strong mercy has been wrought into my life through and through.
Day by day thou art making me worthy of the simple, great gifts that thou gavest to me unasked-this sky and the light, this body and the life and the mind; saving me from perils of overmuch desire.
There are times when I languidly linger and times when I awaken and hurry in search of my goal; but cruelly thou hidest thyself from before me.
Day by day thou art making me worthy of thy full acceptance by refusing me ever and anon, saving me from perils of weak, uncertain desire.
Acknowledgements and a reference
I am indebted to Mr Ashwani Tohana and Ms Mansi Bhambri for having taught me so many things about picture management and handling of text. They seem to drop in just when I need them the most. How, do they find out? I wonder.
Finally those who may like to know more about the motion of the Sun and the Earth may click on the following link for a more detailed piece on this subject:
http://amolak.in/web/does-the-sun-rise-in-the-east-and-set-in-west/