A Tale of two Eminent Contemporary Men
This is a brief story of two eminent men : Mr HS Malik (1894-1985) and Bhai Hira Singh ji (1889-1926) They both became well known and left an indelible mark on the sands of time. Their fields activity were very different, but they had one thing in common: their vision was high above the clouds, and therefore, they could look far beyond others. And yet, they were able to keep their feet firmly on the 'terra firma'. As Kipling has said, "they could walk with the Kings, and yet not lose the common touch". The younger of the two lived twice as long as the older person, and has recounted his memories of meeting the saintly Bhai Sahib. Their life stories inspire awe, and have a couple of things to teach, and therefore, we thought it fit to post them on this blog.
Part One : Mr HS Malik, ICS and Diplomat
Malik was born on 23 Nov 1894, in a well-to-do family in Rawalpindi. At the young age of fourteen, he sailed off to England for studies, and stayed there from 1908 to 1919. During the war, he joined his British class mates in enlisting for the military. To begin with he served in the French Ambulance but was soon selected to become a fighter pilot. He qualified for a 'solo' flight in the shortest possible time and earned his wings. The picture below shows him in uniform. Notice that the dress which was worn by the pilots of that era was quite similar to the cavalry officers ensemble.

HS Malik with his hard earned 'wings'
During the war, he got into several 'dog fights' and is said to have shot down some German planes. However, he was wounded and two bullets got embedded in his legs. After a long period of hospitalization, he returned to his studies. In addition to being a brilliant student, he excelled in sports. He went on to play Cricket for Sussex, and was among the best on the Golf Course all through his long life.
In due course, he appeared for the examination and was admitted into the Indian Civil Service. For the next ten years, he was in the Punjab, caught up in the crossfire between the British Empire and the freedom fighters. For him, it was the toughest period of his service career. After this he did his round of duties in Delhi and England, when he also got an opportunity to go to Germany and see Hitler transforming his country.
He was amongst the first Indians to be sent to the USA, where he was associated with building trade with the Americans. Upon return from there, his services were sought by Maharajah Yadavindra Singh, who wanted him to be his Prime Minister, during the period when it was almost certain that the days of the Princely states were numbered. He gives a graphic account of a meeting of Jinnah with the Sikh Princes, during which Quaid-e-Azam suggested merger of the Sikh states with Pakistan.
When India became independent, Malik was hand picked by Nehru to be the first Indian High Commissioner in Canada to resolve the citizenship issue of the Indians who had migrated as farmers and builders. This was followed by another diplomatic assignment. He was sent as the Indian Ambassador to France. By that time, he had matured, and here is what he looked like:

The Diplomat HS Malik
Upon retirement from the Civil Services, he turned to his first love: Golf. To keep himself occupied, he did continue to be a Director with some corporate companies, but the Greens and the Fairways were his real passion. In 1973, on his 79th birthday, he shot an incredible 79 on the Delhi Golf Course. Here his a picture that shows him taking a strike:
HS Malik, the 'Golf Addict'
"A Little Work; A Little Play"
When his children and friends coerced him, he did sit down and recorded his autobiography. And in his own humble way, he gave it a title which seems to suggest that what he had done was just a little bit of everything! When one goes through its pages, it becomes clear that he took his joys and sorrows lightly. Responsibility never weighed heavy on his shoulders. He took the most contentious decision with a smile on his lips. He served his English masters with the same professional zeal, which he displayed when the Indians took over the reins. All through his life, his feet were firmly on the ground. His hook teaches us how to live a life full of struggle and turmoil; and yet, remain unruffled. Here is the title of his book:
"Bazeecha-e-atfaal hai, duniya mere aage" said Ghalib. And Malik lived that way.
Part Two : Bhai Hira Singh ji. A Singer of Hymns
In sharp contrast with Malik Sahib, Bhai Hira Singh ji was a 'ragi ( a singer of hymns) His date of birth is not known, but in all probability he was born in 1879 in a small village called Faruka District Sargodha, now in Pakistan) He received very little formal education, and as per the tradition of that period, he was married to a very charming girl at the age of 15. However he was not cut out for a prosaic rural life. After a few years, he left home and joined the entourage of a Saintly preacher. With his mentor, he travelled far and wide. In those days, when trains were at a rudimentary stage he went as far as Nanded (Maharashtra) where he is said to have received the blessings of the Guru. Upon his return to Amritsar, he began what later turned out to be a missionary life. Recognition and fame came soon. By the time he was in his early twenties, he had acquired the looks of a visionary. He had learnt up a great deal of 'gurbani'   and he could enrapture his audience with his melodious rendering. The picture below was taken in 1903. The radiance on his face is quite evident.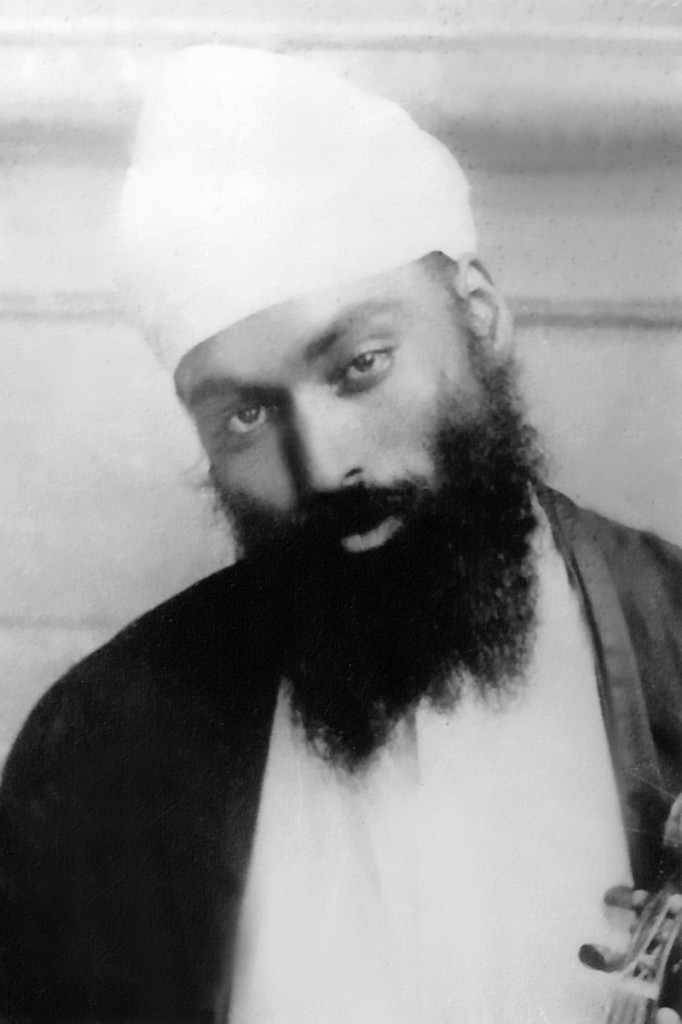 Bhai Hira Singh ji 1903. Notice the pious look in his eyes and the musical instrument in his hand. He was about 24 years od then. 
From here began a journey, which made a difference in the lives of masses. His was a short life. We have a graphic account of how he died at the age of 47 on 2nd September 1926. However, within these twenty odd years he was able to leave an indelible mark on the sands of time. Highest on the list of priorities was a School in the place of his birth. A small school was established in 1906, which was upgraded to a High School in 1908. People of all communities contributed in this project, and we are told that it is still running there in Farooka. However, since many members of the staff migrated to India in 1947, it was re-established in Ambala Cantt. A picture of the School is given below: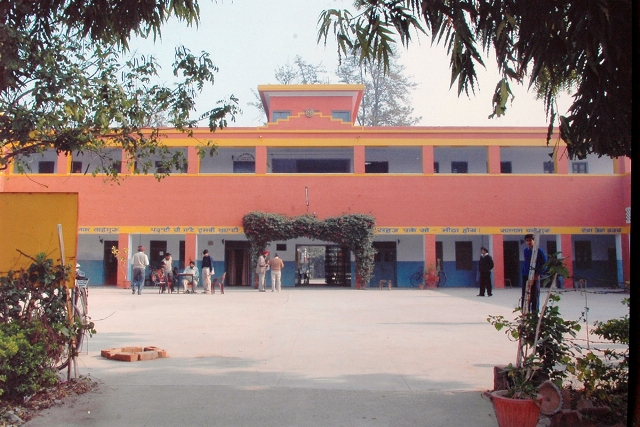 Farooka School, in its new location in Ambala Cantt
As one enters the portals of this institution, one sees a tablet which is derived from the stone in the school in Farooka.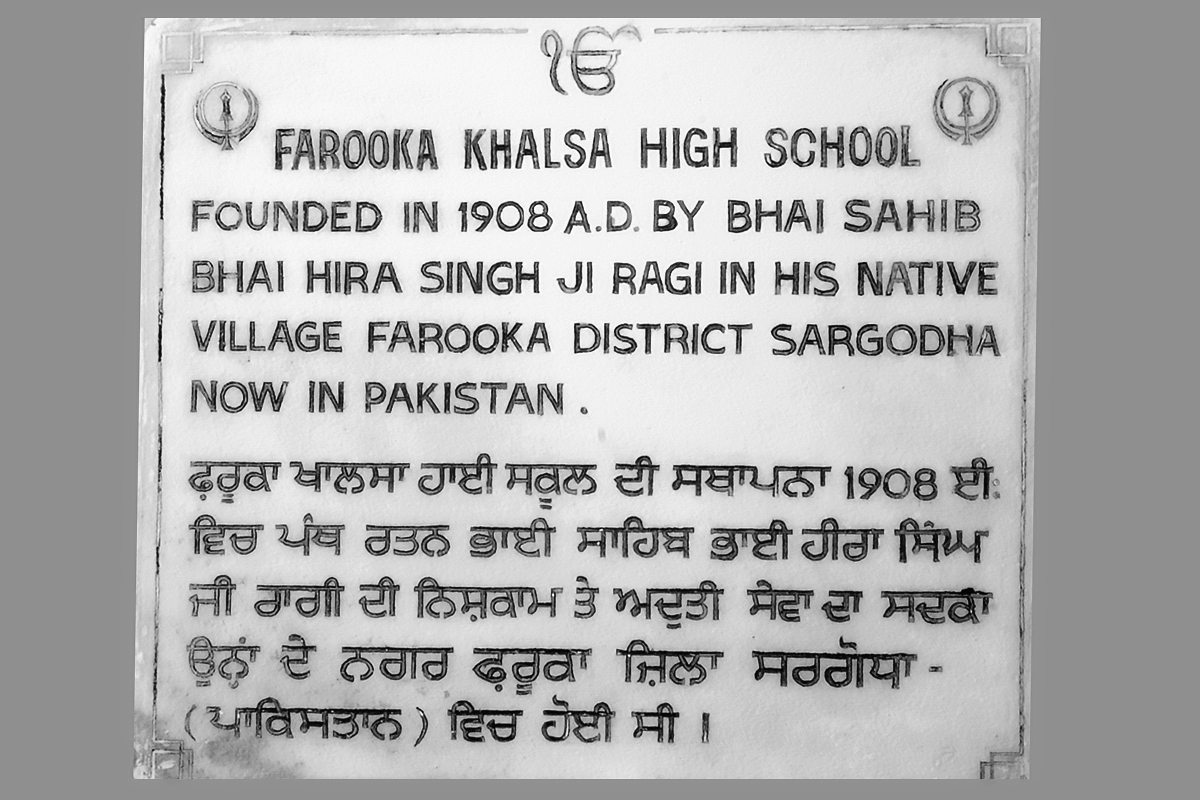 Picture of  the tablet at the entrance of the school in Ambala Cantt
His life and events are extensively covered in the news papers of that period. Special issues were published soon after his untimely demise in 1926. Based on these, the eminent Poet, Bhai Vir Singh ji suggested that his biography should be published. To begin with a small book was published by an Amritsar based organization. Later, a more detailed anthology was compiled and edited by Major Balwant Singh ji (1911-2004) which has been re-printed several times.
As one goes through the book, one is struck by the influence which Bhai Hira Singh ji had on the godly persons of other faiths. A most notable example of this is in the well known story of the 'Sandalwood Whisk' (Chandan ki Chowr) presented by Haji Mohammed Maskin to the Golden Temple, on 31 Dec 1925. We have it from various records, that Maskin ji attended the kirtan durbar of Bhai Sahib in Gwalior and was so moved by his chanting that he was impelled to gift a precious artefact which he had crafted. We are told that Mohammed Maskin, though born in Lahore had spent most of his  long life in Mecca. By vocation a carpenter, he spent the last few years in carving out hair thin strands of sandal wood. It took him five years and seven months to extract 1,45,000 fibers out of more than  350 kilograms of sandalwood to create that amazing artefact, which is bound in a silver handle. The gift was graciously accepted by the Golden Temple and is preserved in the "Toshakhana" (the strong room) It is exhibited to the public along with other precious memorabilia on special occasions. This whisk exudes the sandalwood aroma whenever it is taken out of its glass case. Given below are a few pictures which were published in the newspapers of the period.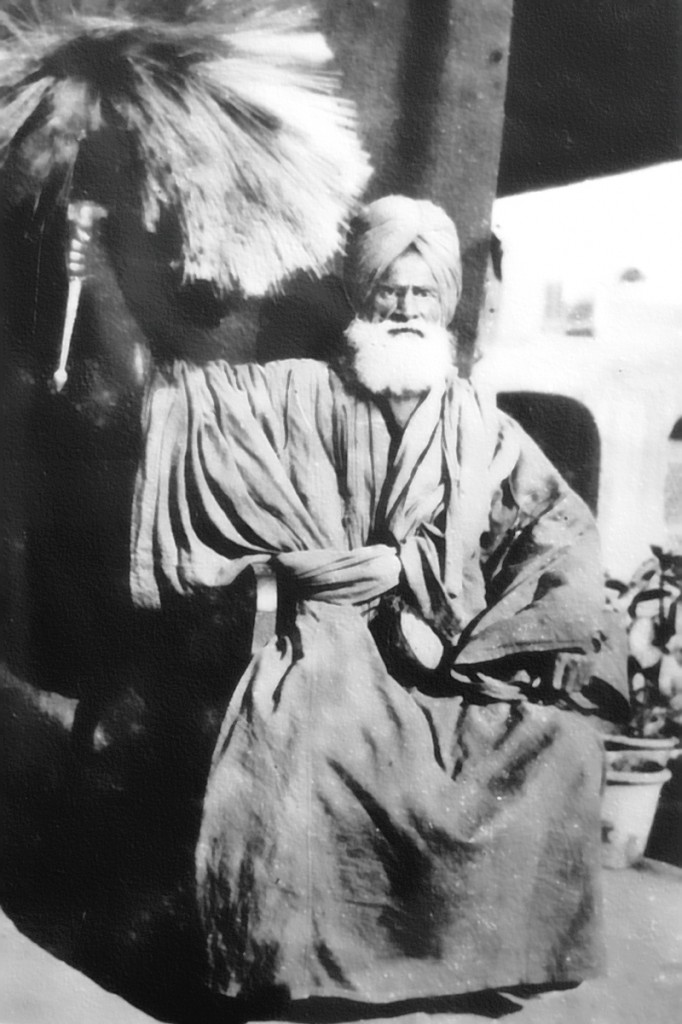 Haji Mohammed Maskin with the Sandalwood Whisk. Please note that Muslims also wore turban those days.
We also have a picture of Haji Mohammed Maskin with Bhai Hira Singh and S. Gurbaksh Singh, editor of the paper.
Here, Maskin is sitting and Gurbaksh Singh Narang, the Editor and Bhai Hira Singh ji are standing behind.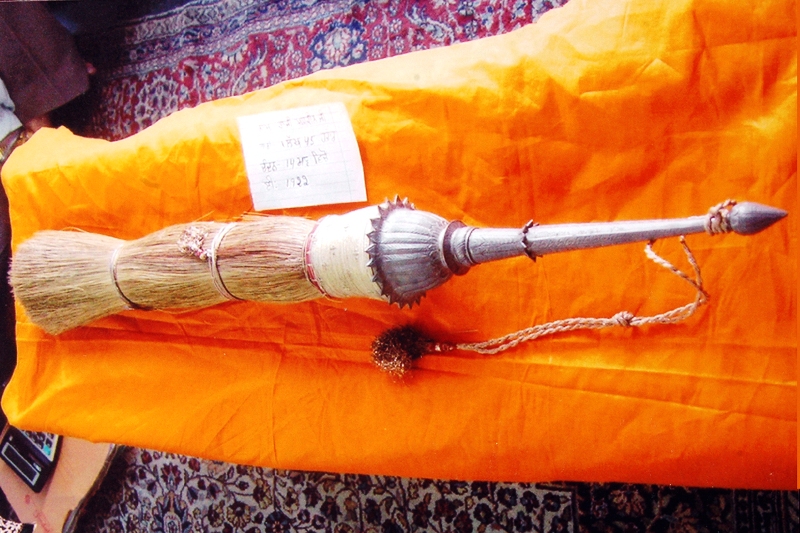 This is a recent picture of the Sandalwood Whisk. The strands are intact, and it continues to fill the place with fragrance whenever it is taken out of the glass case to be shown to the devotees. The handle is made of silver, which bears an inscription in Urdu which says : "Paanch baras saat mahine mein sandal ke eik lakh panchtalis hazaar baalon ka yeh chaur sakhta Haji Maskin dastkaar ne banaaya aur Shah ki khidmat mein laya gaya"
The Untimely Demise of Bhai Hira Singh ji.
The biography reveals that the cancer in the intestines of Bhai Sahib was diagnosed as early as 1924. However, he continued with his routine of performing Kirtan and addressing gatherings right up to the beginning of 1926. He had his will registered towards the end of 1925, and that reveals that he was fully aware of his impending end. He was no more than forty six years old at that time and had six children, the youngest being merely three years old. However, the words of his final testament do not betray any anxiety or fear. He was more than sanguine that the Lord would take care of his wife and children. He neither had any social security nor pension, and yet, he was certain that the family would never be short of worldly needs. A great deal of the money which came to him for his 'kirtan' was given away for social causes, especially the School.
Around a month before his 'poorna samadhi' he requested that treatment be stopped and sought to be moved to a place where large number of people would not throng to meet him, every day. Consequently, he was shifted to a lonely house on the Rajpura Road in Dehradun where he breathed his last in complete peace and tranquillity. Until his last breath, he showed gratitude to the Almighty for all His blessings.
His prophesy came true. His children received adequate education and then they all worked hard to find respectable places in society. Even the trauma of partition failed to disrupt their lives. His son, Maj Balwant Singh edited his latest biography, which has been re-printed several times. Here is what its cover page looks like.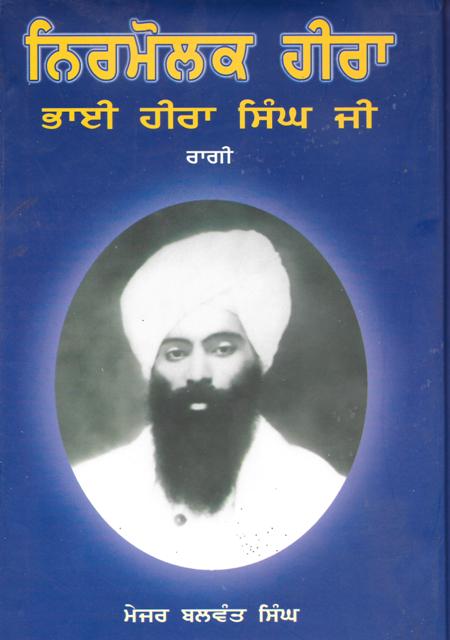 Biography of Bhai Hira Singh. It was first published in 1981. The current edition came out in 2009
When his life story was being researched, two more events occurred. One, a portrait of Bhai Sahib was installed in the gallery in the Golden Temple in 1975 and a brief sketch of his life was published in the Sikh Encyclopaedia. Here is a picture of the portrait.

Unveiling of the Portrait of Bhai Hira Singh ji in the Gallery in the Golden Temple
A Leaf out of the Biography
I had heard a lot about Mr HS Malik, but got an opportunity to read his autobiography only when our son, Divjyot Singh, Advocate, sent it to me, last month. As I went through his life story, it occurred to me that there was some thing in common between the above two great men. They achieved dizzy heights of fame and glory but forever believed that they were just playing on the sands of time. Later, when I was going through the biography of Bhai Hira Singh, I discovered a piece written by Mr HS Malik on Bhai Sahib. I learnt that, in 1923, Mr Malik was the Deputy Commissioner of Sheikhupura and Nankana Sahib was a part of that district. The Sikhs were at that time engaged in the 'Gurdwara Reform Movement' and the tempers were running high. On the occasion of the birth anniversary Guru Nanak Dev ji, Mr Malik was asked to ensure that nothing untoward happened. Bhai Hira Singh ji was traditionally given the unique honour of performing the evening prayer on this solemn occasion for several years. And that year also, he had come. The story as recounted by Mr HS Malik is given below, in his own words.
Crowd Control, Without any Force
By Mr HS Malik, ICS
"I was fortunate, while still a youngster, to listen to the Kirtan performed by Bhai Hira Singh ji and always found it entrancing, because Bhai Hira Singh ji had the gift of taking you entirely out of yourself, into a world of Celestial song and rapture. This, he was able to do, not only because of his knowledge (of the scripture) and skill at the 'ragas' but also because of the sweetness of his voice, devotion, complete dedication to his job and his extraordinary humility. This rare combination gave him the power to hold the complete and undivided attention of his audience, while he was performing the kirtan, irrespective of the size of the congregation.
I personally witnessed a most impressive demonstration of this power. In 1923, on the occasion of Guru Nanak Dev ji's Gurpurab, at the evening Diwan which was being held at the 'Janam Asthan' in Nankana Sahib. I happened to be the Deputy Commissioner of Sheikhupura District, and Nankana Sahib was in that District. I was there to see that every thing possible was done to ensure a peaceful celebration of the Gurpurab.
It was a very large congregation, almost a lakh of people. They were spread over the Gurdwara itself, the courtyard around and the roofs of the buildings around. Also, since there were many children with the young mothers, there was a lot of noise and confusion. What made the situation particularly difficult to handle was the fact that the entire congregation was spread over such a large and sprawling area. The Ragis were seated near the 'Granth Sahib'. When they started singing, the noise and din was such that even those of us who were sitting close to them could not hear their words. Remember, those were the days, when there were no mikes and loud speakers. There was, therefore complete chaos and those of us who tried to silence the crowd gave it up as a hopeless task.
At this stage Bhai Hira Singh ji appeared on the stage. In his low and melodious voice, he begged the people sitting close to him to become completely silent. This was achieved at once. He then extended the 'silent' circle by another ten yards. This process continued until his voice reached even the rooftops. In this way, he achieved complete silence, until, as they say, you could hear a pin drop! The Kirtan proceeded for more than an hour, with his vast congregation spellbound by his magical rendering of the Guru's words. I can never forget that amazing example of crowd control; not through the force or police, but the sheer sweetness of personality"
(Extract from a letter sent by HS Malik to the Editor of the biography on 28 Sep 1979) 
A Tailpiece
My study of great men and women who are worthy of being remembered long after they are gone, reveals that there is a great deal of correlation between their words and deeds. Humility derives out of respect for others. Arrogance and vanity are signs of shallowness. The two men, about whom we have spoken in this piece lived their lives with grace and dignity. Excellence in performance was not delivered to them on a platter. They earned it through sheer dint of perseverance and focus on their goals. And they derived humility out of their unflinching faith in the Almighty. Their unflinching respect for the faith and beliefs of other people is beyond doubt.
To end this post, I am tempted to recount an anecdote out of the life of Bhai Hira Singh ji. We are told that a 'kirtan durbar' was once organized for the exclusive benefit of singers and musicians. The idea was to help them improve the knowledge of the 'ragas' by listening to each other. The only other people invited to attend this special session were the connoisseurs of classical music. The ensemble of Bhai Hira Singh ji was one of the twelve odd invitees. They performed all through the evening. At the end, it seems that the performance of Bhai Hira Singh ji was considered the best. He was presented a robe of honour and requested to recite the concluding prayer. When the session ended, many people congratulated him. It seems that for a brief instant, Bhai Sahib experienced a sense of elation. In a moment of weakness, he permitted himself to believe that all the hard work which he had put in, had paid off. The very next moment he was filled with a sense of guilt, because all through his life, he had believed that his singing was a gift of the Lord, and not his own doing. He told the coachman to take him to the Golden Temple, instead of his house. There, he spent several hours, washing the 'parkarma' and then drying it with his 'pallu' as an act of penance.