AN INVALUABLE BEQUEATH
Death has a ghastly face. I have seen few people who are able to face it with courage and equanimity, especially if it arrives  early in life. It is generally believed that, when death knocks at our door, we go through five stages: denial, anger, bargaining, depression and acceptance. But angelic people are made of a different material. For them, it is a celestial message which must be received with reverence. Our saintly ancestor, Bhai Hira Singh ji was only about forty-five years old, when the doctors told him that his end had come . He had six children, of whom the oldest was nineteen and the youngest was merely three years old. His cancer was diagnosed towards the end of 1925. At that time, he was at the peak of glory. He was a hymn-singer (Ragi) and he performed 'kirtan' in the Golden Temple and Nankana Sahib amongst many other noteworthy venues.
Our father, the late Maj Balwant Singh ji has given us a very graphic account of the last year of his father's life in the book which he wrote after extensive research. Treatment of cancer was rather primeval at that point of time, and Bhai Sahib chose to honour all the commitments which he had accepted. In fact, he even went to Gwalior and Bharatpur, where he met Haji Mohammed Maskin who presented the famous sandalwood whisk (chandan-ki-chowr) to the Golden Temple on 31 Dec 1925. For details of this landmark event, please click on the following link:
 After that his condition deteriorated, and by March 1926, the pace of his activities reduced considerably.
His treatment began in Lahore and Kasur, and from there he was advised to go to 'New' Delhi, which was under construction, those days. We are told that, a famous practitioner of Yunani medicine, known  as Nabina Hakim demanded a princely sum of Rs 500 and travel by the highest class for two persons to accept this case. Sardar Bahadur Dharam Singh, who was one of the five principle architects of the capital, is reported to have said,
         "I will weigh Bhai Hira Singh in silver, and give it for his treatment… We are longing to listen to his kirtan again"
We have comprehensive details of the herbs which he demanded, and the alacrity with which all his requirements were met by the hosts. During his stay in Delhi, the entourage which included our father, were lodged in the residence of  Malik Teja Singh, whose daughter was later married to the well-known author Khushwant Singh. Pitaji has written some very kind words for the lady of the house, Raj, for the loving care which she extended to them during their stay in New Delhi. ( Sir Teja Singh Malik built a house in Kasauli, and named it 'Raj Villa'. This house was gifted to Khushwant Singh, when she died. Consequently, the gate has both the names etched on the marble-stone. I always think of the Malik family when I cross the house, which is located very close to the Kasauli Club)
Despite all that was done, the physical condition of the patient deteriorated rapidly. And, as if  this was not enough, he received news from Faruka, that his elder daughter  was afflicted with an infection which was not curable at that time, in the absence of anti-biotics. She passed away on 2nd July 1926. Bhai Sahib heard the news with complete equanimity, and simultaneously, he requested his friends to discontinue his own treatment. Years of meditation had instilled into him, the message of Guru Nanak, who has taught us to accept the will of the Lord with courage and humility. His response to the circumstances has been appropriately expressed by Gurudev Tagore in 'Gitanjali' in the following words:
"On the day when death will knock at thy door, what wilt thou offer to him?

 
Oh, I will set before my guest the full vessel of my life;
I will never let him go with empty hands."
 At the same time, Bhai Hira Singh ji expressed his desire to be shifted to a quiet place, where he would not have to meet the large number of devotees who assembled in Delhi to look him up. Amritsar was the obvious choice, but he rejected that alternative with great reverence for the holy town, for the same reason. Eventually, Dehradun was selected as his final destination. All through his short life, he had been surrounded by thousands of devotees, and he got very little time for contemplation and introspection. At the end, he wanted to be alone, in the company of his Lord. Consequently, a house was acquired for him on Rajpura Road, reasonably far away from the town. Our father was amongst the very few people who were permitted to be with him.   
During the last few weeks, he took to deep meditation and no visitor was allowed to meet him. We are emphatically told by Pitaji, that he never complained of any pain or even discomfort. And, indeed, he did not express even an iota of fear or anxiety. Towards the end of August, he sent a telegram to lifelong his companion, Bhai Sudh Singh ji to come and meet him. And soon after the arrival of his friend, Bhai Hira Singh ji passed away like a saint, chanting the name of the Lord until his very last breath on 2nd Sep 1926.
Recently, I read the will written  by him about  six  months before his demise. It became evident to me that he knew that his end was certain at least nine months before his death. I was struck by the simplicity of his words, and the clarity of his thought. There is no trace of anxiety or apprehension.  He did not leave a large fortune or wealth, and yet he was sanguine that all his children would be able to acquire the education and skills to earn their livelihood, and live with grace and dignity.
After my retirement, I have gone through the books, articles and pictures published in newspapers and periodicals. I have come to the conclusion that material wealth is less important than value system and principles. If I have been able to convey any message through these words, I will consider that I have achieved my objective of writing this piece. Permit me to quote a 'shabad' from the scripture. Its English translation is given beneath each line. If you click on the link given below, you can listen to a rendering of the piece.
Today is the second of September. And ever since I was a child, our family has observed this day as the "Remembrance Day". I am therefore, appending a piece which I posted on this website several years ago. It contains a brief summary of our family history.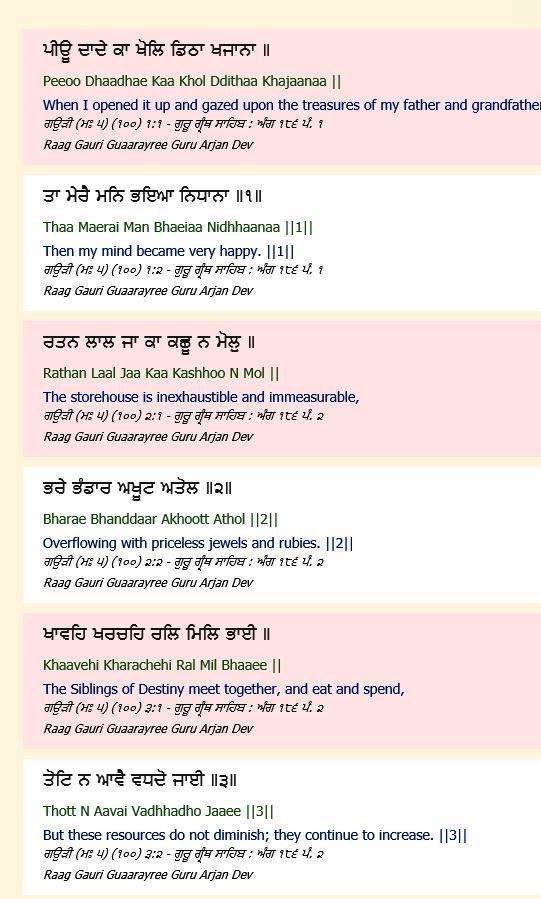 * *
A GLIMPSE OF OUR ROOTS
Preamble
A great deal has been said and written about our illustrious and Saintly ancestor, Bhai Hira Singh ji  (1879-1926). His accomplishments were extensively covered by the media of his times and functions are held all over the world in his memory on 2nd September every year. His biography has gone into several editions and his pictures adorn several museums, including the Golden Temple and Gurudwara Bangla Sahib in New Delhi. A peep into the papers left behind by our revered father, Maj Balwant Singh ji (1911-2004) revealed, that Bhai Hira Singh ji could not have achieved what he did, if it had not been for the work done by his father, Bhai Bhag Singh ji (1844-1947) I was so enamored by his life style that this piece is entirely devoted to his sacred memory. This venerable centenarian was fondly addressed as BAPUJI by every one who knew him and that is how I propose to refer to him. 
Bapuji was born in Village Farooka (Sargodha), now in Pakistan. His year of birth has been estimated from the events which he often talked about. He was the only son of Baba Jeewan Singh ji (1820-1893) and his sole sibling was a sister, known as Pyar Bai (1847-1947). The family had lived in Farooka since times immemorial. We know the names of at least three of Bapuji's ancestors, for sure. They were transporters and traders by profession. The salt mines of Khewra  are located near Farooka, and the family owned a large number of camels to carry rock-salt to Meerut. On their return trip they brought jiggery  (called gurh in Hindi), cloth and other merchandise. It is said that at the peak of their enterprise, they owned a hundred odd camels. By my estimate, the distance from Farooka to Meerut is at least 550 km. Since the camel can walk no more than fifty km a day, the round trip could not have taken less than a month. As far as Bapuji could tell, his ancestors had been in this business for many generations. The family tree up to Bapuji, is as shown below: 
Baba Devi Das
l
Baba Chanan Singh
l
Baba Prem Singh
——-
Baba Jeewan Singh
—–Baba Kaloo Ram
(1820-1893)
l
Bhai Bhag Singh (Bapuji)
(1844-1947)
The Life and Times of Bapu Bhag Singh ji
Bapuji lived long enough to tell his story in his own words. His grandson, Major Balwant Singh ji recorded it in his book, "Amolak Hira". A more detailed account is contained in his diaries. In the book Pitaji has paid glowing tributes to Mian Allah Yaar Kalyar, who was generally considered to be the uncrowned king of the village. As per these records, Baba Prem Singh and Baba Jeewan Singh ji were in Meerut at the time of 'The Sepoy Mutiny' of 1857 (It was known as

'ghadar'

those days, and the current historians refer to it as the First War of Independence)

The brothers were amongst the many traders who suffered heavy losses and they remained away from home for several months. Baba Prem Singh ji shifted to Patiala and Baba Jeewan Singh ji switched over to shop keeping after this event. He set up a provision store in a village called 'Khichian' a short distance from Farooka. At that time, Bapuji was 13 or 14 years old, and therefore, the year of his birth is assumed to be 1844. The story takes a turn at this point.
Bapuji learnt Gurmukhi and a bit of arithmetic in a local school. He was expected to assist his father in the shop, but it seems he had other ideas. Just behind their house, there was a "Mazaar"   (mausoleum) of a Muslim Saint Mahabshah. And every year, musicians and singers from all over Punjab assembled there to pay their homage to the great soul. One year, a singer known as 'HASNA' came whose music was liked by every one. So much, that the people of Farooka requested him to stay on. Balak Bhag Singh who was no more than ten or twelve  years old at that time, was drawn to him. He accepted him as his master, and learnt the nuances of Indian classical music. He was quick to learn and was blessed with an ear for music. The master discovered that his voice was sonorous, and he could render the higher musical notes with considerable ease. He learnt Sarangi and Sitar, to begin with.
Armed with the praise and blessings of his 'ustad', he made it clear to his father that he was not going to the shop. Baba Jeewan Singh was taken by surprise, but he took it stoically. It did increase the burden on him, since he had only one son, but when he noticed the missionary spirit of the young lad, he decided to encourage him to pursue his passion. It must be remembered that there was very little money in music at that time, and so there was some concern on that score. 
Soon thereafter, Baba Jeewan Singh asked his son to render Gurbani at the local Gurudwara. This proved to be a success and Bapuji began to render the morning service. He was instantly accepted by the congregation, and the gatherings became bigger by the day. In fact, he started receiving invitations from places as far as Pothohar, which was over 200 km away. During the process of changing over to Kirtan, Bapuji switched over to an instrument called "Taus" which is specially designed for rendering Gurbani. Before we write a few words about this unusual musical instrument, it is necessary to talk about his marriage.
As per the custom of that period, Bapuji was married to a young lady called

'Sat Bhirai' at age of 15 or 16.

His wife was 

the eldest daughter of a namesake of Bapuji, Baba Bhag Singh. Bapuji's father-in-law was a landlord who had inherited a large tract of land.

 Around the time when the Sargodha canal was being planned, he purchased 725 acres of land near the alignment of the canal and, later, created a settlement there. The village that emerged there, came to be known as "Kot Bhai Bhag Singh" From this matrimonial alliance it is evident that the family of Baba Jeewan Singh also enjoyed an eminent place of pride in the area.  It is believed that the marriage was performed in or around 1860, when Bapuji was about 16 years old.
A General Introduction to Taus 
The taus is a bowed string instrument from the north and central

India

, as well as from the Punjab which is divided into Pakistani Punjab and Indian Punjab. Taus was the work of Sri Guru Hargobind Ji (the sixth Guru of the

Sikhs

). From this instrument originates the lighter

dilruba

. It has a peacock body sound box ('taus' is a Persian word meaning peacock) and a neck with 20 heavy metal frets. This neck holds on a long wooden rack 28-30 strings strings and the instrument is played with a bow. This instrument projects a sound with a deeper, fuller tone.
The

Dilruba

originates from the

Taus

and some argue is the work of the 10th

Sikh

Guru,

Guru Gobind Singh

Ji, whilst that of the Taus was the work of

Guru Hargobind

Ji (the sixth Guru of the

Sikhs

). The

Dilruba

was then produced to replace the previously heavy instrument (the Taus). This attempt was intended to 'scale down' the

Taus

into what is now known to be the

Dilruba

. This made it more convenient for the

Sikh

army to carry the instrument on horseback. A picture of a Taus is given below: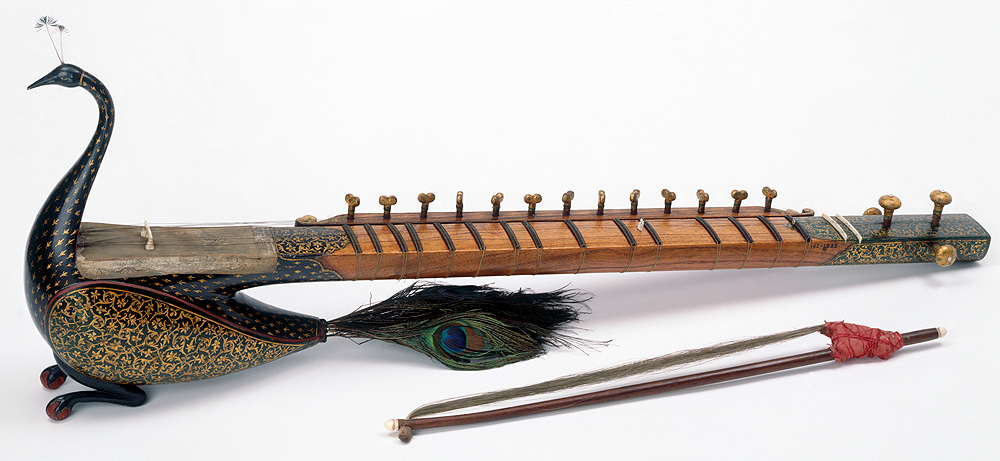 Let us also look at a picture of a musician playing the Taus

Music Emanating from the Taus
The process of playing the Taus is somewhat similar to the Violin, but the sound is akin to a Peacock singing during the monsoon. For those who may want to hear the music of Taus, I am giving a link to a couple of sites. Just click on to any one of them to experience the melodious sound of this exotic musical instrument.
Or,
The Story of the Birth of an Invaluable Diamond (Amolak Hira)
Bapuji remained issueless for almost two decades of his marriage. In the 'Sant Gatha' written by Bhai Vir singh ji. it is mentioned that once a Saint called Bhai Ram Kishan ji visited Farooka. Bapuji performed the morning Kirtan, after which the people of the village told the saint that he was issueless. Bhai Ram Kishan ji predicted that a saintly child would soon arrive in the house. True to his word, Bapuji was blessed with a son in 1879, when he was 35 years old. The name given to the precious child by the Benefactor was HIRA SINGH, who later lived up to his name in letter and spirit.
After that, two more sons were born to Bapuji. They were, named Gurmukh Singh (1882-1957) and Pardhan Singh (1895=1059) It needs to be noted that Bapuji was FIFTY ONE years old when the last child was born.
An Interlude 
It is necessary to say something about Bhai Hira Singh ji before proceeding further with the story of  Bapuji. Bhai Hira Singh ji was educated up to the primary standard in Farooka, and then sent to a town called Sahiwal for higher education. But he showed signs of being an ascetic, and so Bapuji brought him back home. At an early age of about fourteen, he was married to a girl called "Bhawan Bai" daughter of Baba Duni Chand. But a year or two after the marriage, he left home and joined the entourage of the famous Saint Attar Singh and with him he travelled all the way to Nanded in Maharashtra. It appears that he received his enlightenment there, on the banks of the River Godavari. He had learnt a great deal of the scriptures, and remembered most of the Gurbani, as also its meanings. From Sant Attar Singh ji he imbibed spiritualism. By 1899, when he was about twenty years old, he was already drawing crowds on his own. Bapuji got to know about his whereabouts and with the permission of Sant Attar Singh, brought him back home.
When the people of Farooka saw him, they saw a changed man. In one voice, they said,
"Bhag Singh's son has become a Sadhu"
His dress had changed, the style of speaking was different and there was a glow on his face. A picture taken in 1903, is given below which tells the tale very well.
 
Notice the penetrating and awe inspiring look in his eyes and a musical instrument in his left hand. In the village people of all communities thronged to listen to him. Bapuji did what he could, to keep him in Farooka, but that little hamlet was too small to contain his awesome presence. Soon thereafter, he left for Amritsar. And then Bapuji did what very few fathers will do today.
He joined him, as a part of his son's entourage!
*
The Father-Son Celestial Music Duo
We are now talking about the events in 1899 and beyond. Bapuji was FIFTY FIVE years old, when he left home to join his son. The story of the tours and travels of this famous duo need a full book to narrate. They were extensively covered by the newspapers and magazines of that period. However, one fact is certain. The backbone of classical music was provided by Bapuji. The unusually talented son explained the meanings of the scriptures, embellished with parables. They travelled all over the Punjab, Sindh and Central India. A picture of Bapu Bhag Singh ji taken in around 1917 (age 73) is given below: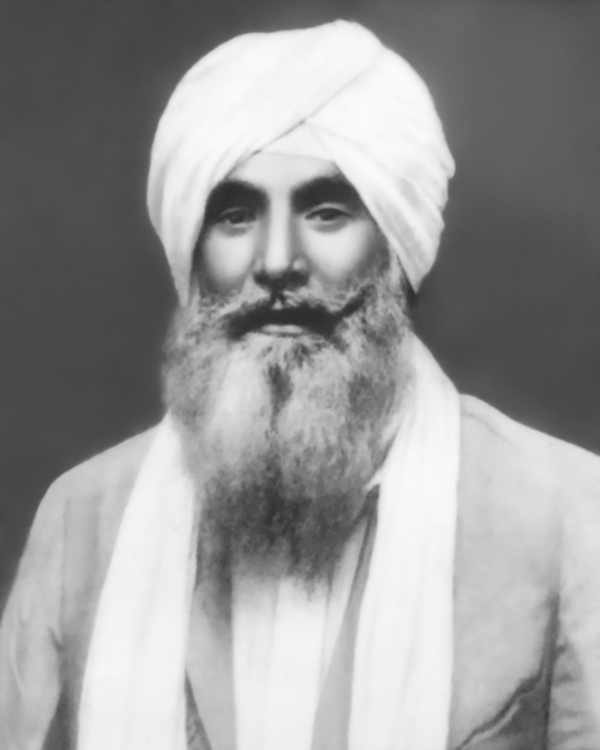 I think it is clear as crystal to everyone that this duo went about their job with missionary zeal. Bapuji's wife passed away on 30 April 1910 (Bapuji was 66 years old) The father and son  came home and held a huge congregation to pray for the peace of her soul, but soon got back to their commitment to the "Gurus" and the 'sangat' 
During this period, they received a request to visit Burma (called Mynmar now) The means of travel were not as good as now, but they went there with the complete entourage. Here are a few pictures taken in Burma: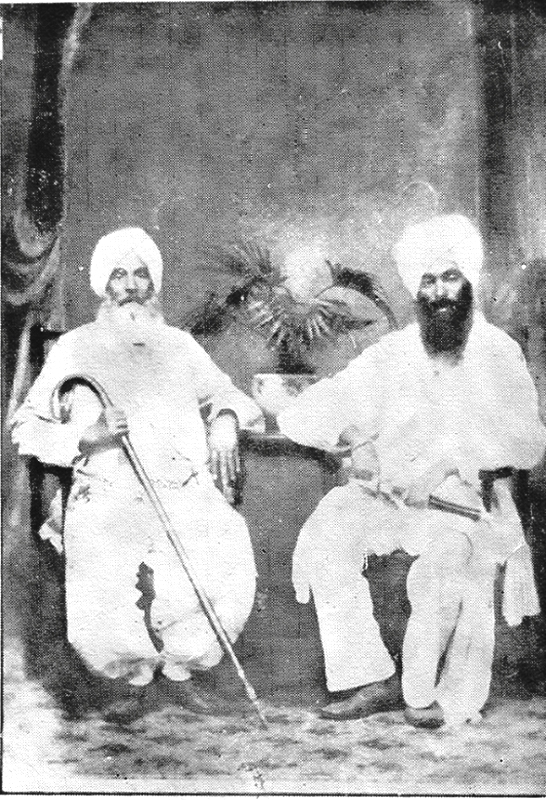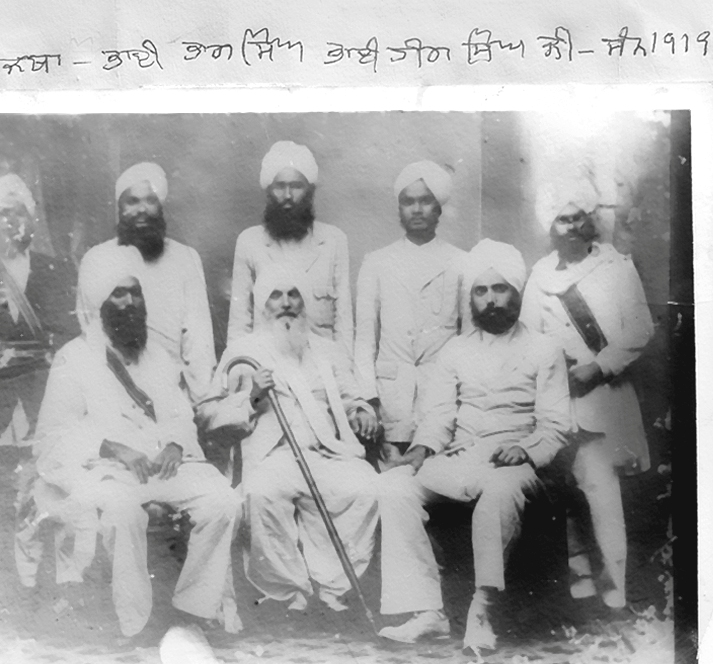 The Complete entourage to Burma in 1919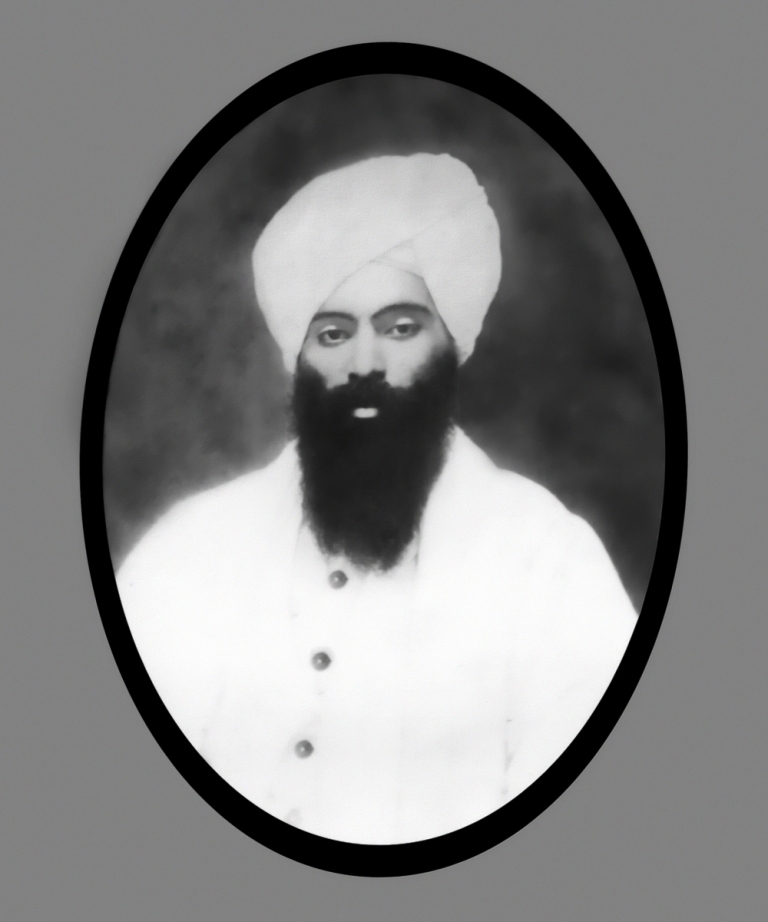 Bhai Hira Singh ji 1919
Mastery Over Musicology
In the book entitled "Amolak Hira" there is a mention of a "Kirtan Darbar" at the Akal Takht in the Golden Temple, in which several eminent 'ragis' were invited to participate. The special feature of this function was that every 'Shabad' had to be rendered in the specific 'raga' in which it has been composed in the Sri Guru Granth Sahib. We are told that the father son duo was considered by the discerning judges to be the best. The credit for this must go to Hasna who taught Bapuji at the Mazaar of Mahabshah.
It is also well known that Bapuji did not tolerate any deviation from the specified 'sur'  'taal' and 'laya'.  If any one in the entourage (including his illustrious son) made even the slightest error, he would give him a dirty look or even tap him on the shoulder with the bow of his Taus. 
A Devastating Tragedy
The year was 1925, and Bapuji was 81 years old.

The father and son were busy with several projects related with educational institutes and Gurudwara reforms. Their presence was considered essential at every important congregation. The most important event every year was the congregation at Nankana Sahib on the Birth anniversary of Guru Nanak Dev ji. For several years, the father and son had performed the evening service at Gurudwara "Janam Asthan".

That year, Bhai Hira Singh ji was diagnosed of cancer In 1925, He did perform his duty, but that proved to be his last visit to Nankana Sahib. On Second September 1926, his end came. He did battle with the disease, but retained his equanimity right up to the last day. Bapuji was over 82 years old at that time, but he did what he could to nurse his beloved son.
After the demise of Bhai Hira Singh ji, Bapuji was depressed for some time.  But he  composed himself, with the faith in the Lord, which he had imbibed from his son. And then , upon the directions from the eminent philosopher-poet, Bhai Vir Singh ji, he motivated his youngest son, Bhai Pardhan Singh (1895-1959) to form a duo.
The Final Chapter
In 1928, Bapuji set out on a new journey, at the age of EIGHTY FOUR. And then for the next ten years he kept touring all over Punjab with his youngest son. During the last eight or ten years of his life, he did not go out of town, but kept up with his daily routine. He was full of zest and a source of great strength to his family. I was six years old when I saw him last. My memory is a bit faint, but I distinctly remember him walking briskly. He used to live on the first floor, to remain away from the din of the kitchen and the children downstairs, and had very little difficulty in climbing the steps to his room.
The riots

which broke out in 1947 had a very profound affect on his psyche. He would go out shouting at all and sundry, asking them to live as harmoniously as they had lived for centuries. His inevitable end came on 30 April 1947.

He was spared the pain of having to see the Punjab partitioned.
The Summing Up
I have been hearing about our ancestors ever since I was born in 1941. Now when I have the time, I have been reading the books and the papers left by our father. Our ancestors lived by a set of values. I, along with my brothers and cousins, would like to pass these on to the posterity. Our revered father began his book on his father with the following quote from Gurbani :
        "Pio dade ka khohal dithha khazana : tan mera man bhaya nidana"
This roughly translates to :
"I opened to see the treasure of my father and grand father. I was overwhelmed by what I saw!"
This applies to me, completely. My eyes become moist by how they went about their mission. From the tale of our great grand father, there is a lot to learn. If I were to summarize it in a few words, it would be as follows:
Bapuji discovered his inner urge for music early in his life, and then he had no doubt that he did not wish to pursue the family trade; come what may. He was prepared to starve, to pursue his first love.

The path he chose was tough. Indian classical music is not easy. The instrument he chose is the most difficult. But he found a person who was well qualified to put him on the right track.

In passing, I discovered that there was no communal discord in the Punjab right until a few years before the partition. Whilst there was only a thin line dividing the Sikhs and Hindus, Muslims were an integral part of the social structure. They were good artisans and fine arts was their forte.

When Bapuji noticed that his prodigal son had surpassed him in his own field, he had no hesitation to become his 'second fiddle'

In the current period, I find that ego comes in the way of people having to work under some one who is a course junior to them, or their younger brother. 

Bapuji had the resilience to accept the inevitable misfortune with equanimity. He had learnt to obey the will of the Master.

Age did not seem to weigh  heavily on him. In fact he never counted his years. He derived  his zest for life out of his service to the society.

His one line advice to our father was,

"If you want to be happy, make others happy!"
The Tailpiece
Bapuji's sense of humor is well known. Here are just three oft quoted anecdotes:
Once our father said to him, "Bapuji, this year you have turned ninety-nine. If you live just one more year, you will be a centenarian !" Bapuji looked towards him with piercing eyes, and said,

"And Balwant, do you mean that after that I should die???!!!

One day, Bapuji overheard the ladies talking in the courtyard below. One of them said, "In Farooka, when a very old man passes away, people distribute sweet rice in the whole village. Our Bapuji is the oldest man in this complete area. I think we should distribute sweet rice in all the seven villages around Farooka" Bapuji overheard this. He came down with his long stick and yelled,

"If you want to distribute something sweet, do so just now…so that I also get my share!"

We little children used to gather around Bapuji to have our hair combed after the hair bath. He used to do it with a lot of patience, without causing any pain. Each of the three cousins would vie for the first turn, Bapu ji would lovingly say,

"

Tu pehle, tu agey, tu mohre…"

All these are synonyms for 'first' in Punjabi