Foreword
Like all tellers of tales, I mix imagination with reality. The ratio varies, from story to story. However, the piece given below is all fact with no fiction. It is a narration of an experience from my own life; and it is as true as truth can be.
Jhuggi-dwellers

1962. I had just turned 21, and being young and healthy, the world was my oyster. I believed that I had learnt the fine art of entering any train, and travel without reservation. However, on that fateful evening, I was in for an unsought adventure. By the time I reached New Delhi railway station, the train had already formed on the platform. The booking clerk was adamant that he could not issue a ticket to me without a reservation slip, which was just as hard to obtain. After much coaxing and cajoling, I did manage to acquire a II class ticket and rushed to the platform, only to find that the train had already begun a slow crawl. I slung the rucksack around my neck and got onto a footboard. The compartment inside was fully reserved and its occupants had no place for an intruder like me, even if I only wanted to stand on the floor of their coach. My request for opening the door was turned down with a rude "Reserved hai" yell from within.
Resigned to fate, I decided to hang back and enjoy the inevitable 'rape'. It was a pleasant early-november evening and the cool breeze was a sure sign that the long, hot summer had finally come to end. I savoured the fresh autumn air and recalled my association with the places as we passed by them.
Trains move slowly when still within the city of Delhi, perhaps as a mark of respect to the Capital. I suppose it would be rude to ignore the skyscrapers of Connaught Place, the splendid Old Fort, the majestic Oberoi Intercontinental and the sprawling Zoological Gardens and just speed through. In the light of the moon, I saw them all. But along with all this, my eyes fell on some uglier sights. I saw a large spread of slums. Countless people living in jhuggis, filthier than doghouses of civilized men. Near every big colony, there was a settlement of these miserable people. A lump formed in my throat at the sight. They stole a big chunk of beauty out of the scene. I protested aloud, 'Why must we tolerate this? Why, can't the Government do something about this? They talk so big; spend so much money on making parks, lighting up streets and planting ornamental trees along the pavements. Can't they remove these wretched people from here?…These are the breeding grounds of mosquitoes, flies and other insects, all ailments originate from here. If nothing else, on grounds of health we should eradicate slums, or at least move them away from such prestigious cities as the Capital of India. These joints are the harbours of beggars. If slums are removed, beggars will disappear, too!'
That day, if I were made the ruler of the land, the only order I would have given would pertain to the elimination of slums. For a while, I conjured a vision of India transformed into an affluent nation. But, soon, harsh reality brought me back to the footboard. We had reached the recently built Nizamuddin railway station. The train made a brief, unscheduled halt there. But it was not long enough for me to find an entry into the train. And so, when it began to move, I got back to the same compartment, and got onto the footboard.
As we reached the end of the platform, a few urchins joined me on 'my' footboard. I protested mildly, but did not have the courage or the heart to push them down, or away. There was a hidden fear, deep within, of beginning a squabble, and I could not afford that. I moved over to the extreme corner of the footboard. The slum dwellers were on the other   side.
I was choked with the foul odour they emitted. The entire stench in the world seemed to have converged there, at a point twenty inches from my nose. Afraid that their touch would soil my clothes, I shrank further into 'my' corner. I made reasonably sure that their hands would not reach me unless   fully stretched. What followed was worse. The boys let loose a tirade studded with the most obnoxious swear-words. Such filthy vocabulary, such mean thoughts!
It was obvious that they were menials. Children of sweepers, cobblers, washer men and unskilled labourers. All residing in slums which I had just passed by. From their conversation I gathered that they were going to Mathura. Their parents lived in Delhi and the boys commuted to Mathura to work during the night shift of a factory. Habituated to that form of travel, they were quite comfortable on the footboard. Though there was no evidence to support my suspicion, it got into my head that the trains stopped at the suburbs only for the benefit of these vagabonds. How else could these people rely on this mode of travel for regularly commuting to their place of work? 'The railway staff must be in league with them,' I thought.
  

By that time, the evening had turned into night and it became somewhat chilly. My hands were beginning to feel tired of holding on to the handle bar. I felt uneasy. In the extreme corner where I stood, there was space only for one foot and so I had to continuously shift my weight from one leg to the other. When I grew tired of performing that balancing act, I shifted to a lower rung and then, for a change, to the  lowest  one.
It was a lot more comfortable there. I had practically the entire board to myself and so I could choose any position I felt like to rest my weight. I complimented myself on having thought of shifting lower and felt that the boys were stupid, crowding up in one corner of the uppermost board.
It was a respite, indeed, for my fatigued appendages. But it proved to be a short-lived one. Suddenly, there was a commotion on 'our' footboard. I do recollect having heard a whistle from the fore of the train but I did not know its significance.  The boys yelled out in panic.
"Upar, Upar Sahib, Jaldi . . . Flag station hai." ("Up, Up,  Sir,   .   .   .   quick  .   .   .   this   is   a  'Flag'   station.")
I did not understand what they were saying and just stood there motionless. Suddenly, two of them got hold of me and physically lifted me up. Goodness gracious! They were strong… their grip revealed the enormous strength of their muscles.
We were speeding past a dimly lit 'flag' station. For those who may not know, a 'flag station' is one, where the train does not stop. It is shown a flag to proceed. However, its platform was as high as that of the major stations. The few lights on the station made, but a feeble attempt to illuminate the station, and warn the inexperienced footboard passengers. I recovered my wits in time to notice a man standing on the platform with a green flag. By then, I was in firm control of myself but the boys were still firmly holding my arms. Only when I thanked them did they release their vice-like grip.
A sensation passed through my veins which left me cold. What would have happened if I had not been lifted up by those slum-dwellers? My legs would have been crushed between the carriage and the platform. The thought sent a chill   down   my spine.

Through the mind's eye, I saw it all. I had been thrown off the footboard. Sandwiched between a moving mass of steel and the solid cemented platform, my legs were crushed.  A fountain of blood got sprayed all over the platform to present a grotesque spectacle, or maybe, my soul parted company with the body. The newspaper hacks   had   found a spicy story for the morning papers,
"ARMY OFFICER TRAVELLING ON FOOTBOARD INJURED NEAR MATHURA."
 But all this did not happen. It could have, though. Those filthy, stinking foul-mouthed urchins had prevented it. Though unwashed, ill-mannered and illiterate, they had not failed in their social duty towards a fellow passenger even though he did not belong to their class!
In fact I had detested their presence on that footboard. 
 I wondered how I could thank them for having saved my life. An inner voice said, "Money can pay back all debts. Everyone needs   it, everyone craves for   it."
At that juncture, the train slowed down a bit. I was trying to search my pockets for some rupee notes. But even before I could proceed further, my rescuers jumped off the train. The well-lit platform of Mathura was, as yet, quite far. I marvelled at the deftness with which they jumped off from the moving train, and onto the stones below.  My debt remained unpaid.
At Mathura, I managed to enter a compartment. One by one those faces came in front of my eyes. Those  cheerful, lively, vibrant faces. Their filthy stench seemed to have gone with the wind. I had undergone an attitudinal change.
It occurred to me that they were useful inhabitants of Delhi; the city of the rulers. It seemed to me that we lived in clean houses because they swept them; we wore washed clothes and polished shoes because they soiled their hands with the soap, polish and brush. In fact, the very houses we lived in were there because they had braved the sun and the rain to   build   them for us.
And, in turn, we had shoved them into the worst holes which man has ever invented for his ilk to live in. It seemed strange that they had accepted their miserable lot so willingly. I thought  we, who lived in comfort, had cunningly forced them into the squalor of the jhuggis, to reduce the cost of labour.
My eyes fell on the door of the compartment, and I looked at the footboard. Sure enough, it was occupied. In the moonlight, I saw their faces.  They were just like the ones with whom I had shared life, a little while ago. They were laughing, talking, giggling and calling each other names,   using   obnoxious   swear words.
'It must be cold outside by now' I thought. And the very thought of being outside the snug compartment made my   hands   numb.
On an impulse, I got up and opened the door. The occupants of the seats nearest to me protested in unison, "Sir, we did not let you in for this. Let the filth stay out. You do not know, if they are around, one can't even breathe   properly."
One of them rose to push the door back to where it   had   been   when   I   had   opened   it.
Angrily, I pushed him back to his seat. "Shut up," I yelled. "They are also human beings, just like you and me. Do you know what it feels to hang by the handle-bar   on   a cold   night   like   this   one?"
They did not. I did. And no one had the guts to argue with me. I went   up   to   the   boys   and   asked them   to   come   in.
"No, sahib," one of them said, "we are quite happy here. We haven't got tickets. We'll get down before the station   comes."
I was wondering what to do next when an older boy moved up and closed the door, and shut us into our coach.
Perplexed, I stood there. It seemed to me that I, on behalf of the fortunate citizens of India, had invited the jhuggi-dwellers to come and share our tenements and they had   turned   down   the  offer.
Or, was it that they did not approve of our mean, selfish ways?!
*
A Footnote
Whenever I cross the 'labour chowk' I see scores of men sitting under a tree. They have nothing to sell, except the power of their arms and legs. The contractors complain that manual labour has become expensive. They are able to earn Rs 300 at best for a day of toil. But do you know how many days they are able to get work in a month? No more than 20 to 22. Please remember that they have no medical facility, no insurance and no social security. Do you know where they live and what they eat? How they travel? How they are treated if they get injured?
The Indian Railways does, indeed, provide them a facility with which they are able to come from 'poorab'. But,  pray, do take a good look at how they travel. And also see how they transport milk, courtesy, kind hearted railway engine drivers, who stop at unscheduled places for their sake!
Once every five years, our politicians go and sell dreams to them. The slum dwellers know that election promises are mere hollow words. Yet these men and women trust them, and cast their vote. Their houses are dirty, the clothes are torn, their language is foul, and they are not good company for civilized people like you and me. But I can tell you one thing for sure. They are not as evil as they look. In some respects, they are better than the elite that live in posh colonies with swimming pools on every floor, sprawling golf courses and tennis courts for the evening sport.  They neither evade taxes nor stash their ill-begotten money in Swiss banks!
For the venerable people who live in these posh colonies, we have created a 'palace on wheels' A few pictures of this train are placed below, for comparison. We respect and even adore people who travel in it, despite all the illegal and nasty things they do! 
Diversity and hypocricy, thy name is India!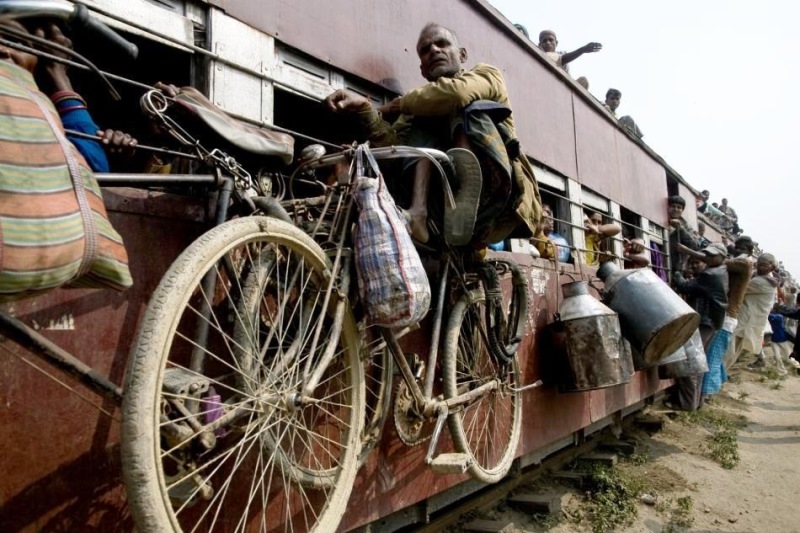 Just look at the ingenuity of these people. They have made the best possible use of all the available resources!

 
 And now compare the above scene with the 'Palace on Wheels' Our princely maharajas are with us, right here!
An Epiphany
At the end of the above journey, I began to look at life afresh. I felt that I had sinned, when I entertained those vile notions about the unfortunate 'Jhuggi dwellers' and I was weighed down by my unpaid debt. There was no way by which I could trace my saviours, but I desperately wanted to do something to lighten the burden on my soul.
Then many years later, in a casual conversation with Savneet, the daughter of my younger brother, Brig Surinder, the answer came. This young lady has a heart made of gold. One day, when we were shopping in a market, she observed, "Look chacha…this woman has driven to the 'farmers market' in a Mercedes car worth twenty lakhs, and here, she is haggling for a few rupees! She is laden with jewellery including solitaires, while this poor man can never earn more than what is needed to feed his children…"   
What happened to me at that moment can be described by the word 'epiphany'. I am told that even though these sudden bursts of 'enlightenment' are triggered by a new and key piece of information, a depth of prior knowledge or experience precedes the leap of understanding. Famous epiphanies include Archimedes's discovery of a method to determine the density of an object ("Eureka!") and Isaac Newton's realization that a falling apple and the orbiting moon are both pulled by the same force.
As for me, what followed was a change of heart. Ever since that day, I am as generous as possible while dealing with less fortunate people, be it coolies, rickshaw pullers, unskilled workers or petty vendors.  Every time I give an extra buck, I feel that the weight on my spirit has lessened.