Ritu Bhanot
[ Seventy-odd years ago, when I was born, the birth of a son in the family was rejoiced. Daughters were considered a burden, since they could not 'earn' money and needed protection. Their main job was cooking and house-keeping. Consequently, educating girls was not considered necessary. As a precaution against exploitation, they covered their faces with a veil, and generally stayed within the four walls of the house. Over the years, things have changed dramatically. Modern machines need very little physical effort and therefore, women can operate them just as well, if not better. Military, which was the last male bastion has also been broken, and one finds them anywhere and everywhere. In this little Hindi poem entitled "Nari" she has said something very profound, and eminently readable. For those who may not have heard of her, Ritu is a linguist who is a professional translator and interpreter. She migrated to Strasbourg in France a few years ago, but left her heart behind, in India. The meanings of all the Hindi words are given at the end of her poem. As I was mulling over her composition, a question occurred to me, which is given as a tailpiece. We seek your answers. Ed]
नारी
प्रेरणा [i] , प्रेयसी

[ii]
है सार

[v] संसार का ।
है माता कभी
कभी अर्धांगिनी[vi],
कभी खिलती हुई-सी कली ।
प्रेम, ममत्व[

ix

] सदा[

x

],
दुष्टों[

xiv

] के लिये काल[xv]-कालिका[

xvi

] है यह,
है यही राधिका कृष्ण की ।
प्रेरणा, प्रेयसी
नारी नारायणी
है सार संसार का !
---
[ii] Beloved
[iii] Woman
[iv] Goddess Lakshmi or Durga
[v] Quintessence
[vi] Wife
[vii] Heart
[viii] Full of
[ix] Motherly love, affection
[x] Always
[xi] Final destruction of the universe
[xii] Flame
[xiii] Heart, soul
[xiv] Wicked
[xv] Yama, Shiva, Time, Death and destruction
[

xvi]

The Goddess Kali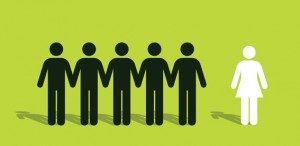 A Tailpiece 
I think, we are all agreed on the need for equality of opportunity for men and women. Gender bias is sinful. God created men and women to complement each other, and in many respects, women are superior to men. When in distress, men call out to their mothers for help (

'Hai Maa !'

 are the last words uttered by many soldiers in battle) and if you look into their purses, you find a picture of their wife. It is also well known that parents receive more love from their daughters than sons. Why is it, then , that the Lord chose to wear the male form when He appeared on the Earth to represent God? I find that nearly all the major religions have been founded by men. The list is headed by Jesus Christ, and we have Mohammed, Conficious, Gautam Buddha, Mahavir, and the ten Sikh gurus. The heads of some of the recent cults are also male : Sathya Sai Baba, Bhagwan Rajnish, Sri Sri  Ravi Shankar. The Muslims do not permit women to enter the mosques and the Sikhs do not permit them to recite 'Kirtan' in the Golden Temple. And, of course, the Pope is always chosen from amongst the 'Fathers' . Can some one tell me, why God has been partial?