PRELUDE
I do not know when and how the 'varna' system was created in India, but the fact is that it has existed for several millennia. It runs in our veins, even though it has been officially abolished by our Constitution, seventy odd years ago. I must, therefore recount the lines which I have picked up from the Internet, which say:
Varna system is extensively discussed in Dharma-sastras. The Varna system in Dharma-sastras divides society into four varnas (Brahmins, Kshatriyas, Vaishya and Shudras). Those who fall out of this system because of their grievous sins are ostracised as outcastes (untouchables) and considered outside the varna system. Barbarians and those who are unrighteous or unethical are also considered outcastes.
SENTENCED TO STENCH FOR LIFE!
Prologue
If you think that your job is odious or disgusting, have a look at the following pictures.
 
What do you see on his face?
 
…And what do you think of the job of this unfortunate man?

Another unfortunate man, condemned to stench and filth for life…
 
What crime has this man committed to be forced to do this dirty work?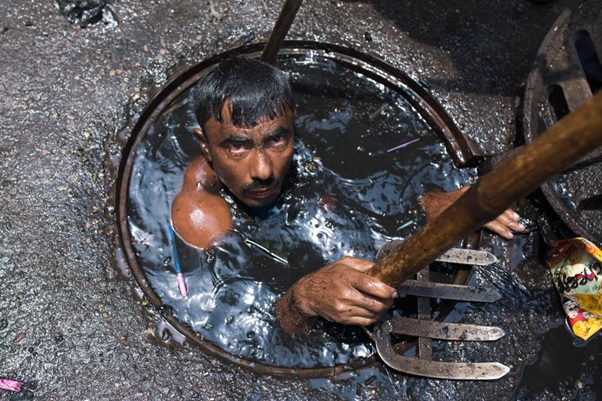 The look in his eyes says, "Zindagi se badi sazaa hi nahin…aur kya jurm hai, pata hi nahin!"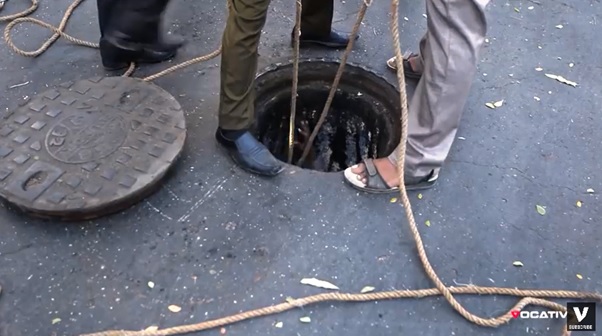 They must enter this hole to feed themselves and their children, day after day!
If your job is odious, how would you describe the work of these unfortunate creatures, who enter the manholes to keep the sewer water flowing. If they do not do their job properly, our houses shall be filled with unbearable filth and stink. Their job needs a combination of several adjectives to describe. Here are some, which I picked up from the thesaurus:
Revolting, repulsive, repellent, repugnant, disgusting, offensive, objectionable, vile, foul, abhorrent, loathsome, nauseating, nauseous, sickening, hateful, detestable, execrable, abominable, monstrous, appalling, reprehensible, deplorable, insufferable, intolerable, unacceptable, despicable, contemptible, unspeakable, poisonous, noxious, base, hideous, , gruesome, horrendous, , atrocious, awful, terrible, frightful, obnoxious,  unpleasant, nasty, distasteful…
Believe it or not, the fact is that this odious work is going on around us, day in and day out. In return for what they do, they receive a pittance. Their job is not just filthy, it is hazardous. They contract infections, disease and some even die while performing their thankless job. And we take no note of it. Ever so often, the poisonous gases in the sewer result in fatalities. I read a paper in which the research worker estimated that the total number of sewer scavengers killed annually is almost equal to the soldiers who are martyred each year!
Why do the Sewers get choked?
No. This is not a celestial disaster like the tsunami or an earthquake. Sewers become clogged because of our acts of omission and commission. We, the peoples of the town are to blame. We release invasive affluent substances into the system, and over a period of time, they form an impregnable block in the line. In some cases, we damage or steal manhole covers, and then throw garbage in the holes, to stop the natural flow of the drain. The following pictures tell the tale:
 

We, the peoples of India, are the root cause of the problem!
Is this misery unavoidable?
The answer is an emphatic 'NO'. Machines have been invented, and manual scavenging has actually been declared illegal. More recently, the students of an engineering college in Kerala have rigged up a robot which can effectively clear blocked sewers. Given below, is a link to what they have to offer. They have developed a robot, which can 'take the man out of the manhole'. A link to their very appropriately called device, "Bandicoot" is given below:
I have a gut feeling that many other mechanical systems have been devised to save our men from the torture of entering the gruesome pipes. Yet, every now and then, I find a news item, informing me about the death of an unfortunate scavenger. I am quite certain that  in civilized countries, men are not required to enter sewer pipes.
The fate of 'Laws' in our beloved country.
Every five years, we elect men and women as MLAs and MPs. Their job is to enact laws that govern us. We pay taxes and give them a lot of privileges and perquisites to do their job. They debate on the 'bills' and make passionate speeches and make tall promises. At the end of the day, they enact laws. To enforce their 'acts' we have the administrative machinery and we pay a heavy price for that, too. In this specific case, we have a whole bunch of laws to keep 'men out of manholes'. Given below is a link to a recent decree of Delhi Government for ready reference:
This law, like many others, is apt to be violated. And there is good reason to suspect that. For a decree to be executed in letter and spirit, you need more than a piece of paper. In this specific case, there are several good reasons why the unfortunate men will continue to enter those ghastly sewer lines:
The machines required for the purpose have not been provided. And even if they are there, the workers do not know how to operate them.

Men are willing to do this dirty work at a very low cost.

These wretched men have inherited this skill from their ancestors…and they have been taught to believe that it is their 'dharma' to perform this function.

Last, but not the least, the scavengers have no other skill. If they do not unclog sewers, they will starve to death for want of gainful employment!
*
Until we are able to completely mechanise the sewer maintenance process, protective gear of the kind shown below must be provided as a mandate. And this should include a pipe through which the worker can inhale clean air, to protect him from harm.
If we cannot take the man out of the manhole, let us protect him, and let him breathe clean air!
Root Cause of the Problem and an Unorthodox Solution
Sewers get blocked because of a few well known reasons. These are: tree roots growing into the pipes; sewer lines caving inwards due to poor design; industrial effluents released into drains, and domestic garbage thrown into broken or stolen manhole covers. Nearly all these faults can be remedied if timely remedial action is taken by the concerned authorities. People who violate the sewer norms deserve to chastised, and the punishment should be so severe that it acts as a deterrent. An outlandish solution that occurs to me is that those who damage sewers should be forced to clean them. This would also be in line with our traditional 'Varna' system.
I would go one step further. I vociferously suggest that all those who commit heinous crimes such as murder, rape and kidnapping should be sentenced to cleaning sewers. They should be forced to do this job in full view of their kith and kin, and their pictures should be given wide publicity. This will reduce crime more effectively than the current legal processes. Just imagine the psyche of seeing a picture of a brother or friend in the following situation on a potential criminal:
 
A lose-lose situation
In the management schools, they teach us to identify 'win-win' solutions. In the present case we are faced with a situation, which leads us to its diametrically opposite aspect. Our worthy representatives in the legislatures need to address all facets of the problem. Just as accidents and divorces cannot be stopped by making them illegal, the men shown in the pictures above cannot be relieved of their misery by an act of parliament or legislative assembly. However, it is possible to begin the reform process by creating public opinion. And that is the precise purpose of this paper.
A Lyrical Tailpiece
Poetry is best written in Indian languages. Given at the end of this piece is a poem written by  the late Krishna Bihari Noor. It describes the plight of the scavengers very appropriately. Three stanzas of this masterpiece were rendered by the 'King of Ghazals' the late Jagjit Singh. I do not think that there is any need to translate them. A link to the rendition is given below:
An Input from Joseph Thomas
When I sent this piece to Thomas for a preview, here is what he said,
 In Bangalore, there's a machine mounted on a truck.  They are on contract to the Bangalore Water Supply & Sewerage Board.  In addition, we have to tip the operators Rs 500 each (4 of them).  They are in great demand and the operators make good money.  The operating part of the machine is like this :  
 
Sewer cleaning services sewage in bangalore near me madipakkam.
The rearward jet propels the mouse forward and makes it rotate.  The mouse and its shaft are inside a flexible casing.  Please google sewer cleaning machine + Bangalore.
And here is the 'ghaazal' for the Urdu lovers: