Originally posted on 31 Oct 2011 :
Over the years I have seen a lot of people spend their precious lives in quest of earning money, so that they could build sprawling mansions and drive in luxury cars. Of the many who got into this rat race, a few succeeded. But at the end of the day, they found that when their lawns became large, they were driven so far away from their neighbours, that they had no one to talk to. And  then they complained of loneliness. Given below is a picture of a seaside mansion. Its only occupant is seen forlorn in the next picture: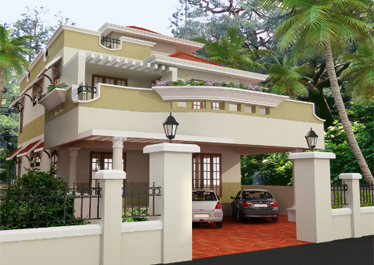 The wealthy owner of the sprawling mansion seemed to say,
"Har taraf, har jagah beshumaar aadami
Phir bhi tanhaayioN ka shikaar aadami!"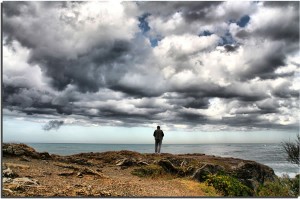 At the other end of the social spectrum, I have seen human beings toil day after day, carrying enormous loads on their backs. Even in the days when trucks are in abundance, we see them ferrying large objects such as refrigerators and building materials, like beasts of burden. Recently, my brother Surinder took me and my wife to Shimla, where I saw this sight more than once. What struck me was the cheer on the faces of these less fortunate men. They picked up their loads effortlessly, and carried it up the hill and down the dale with no complaint against life. Here are a few pictures which I managed to take.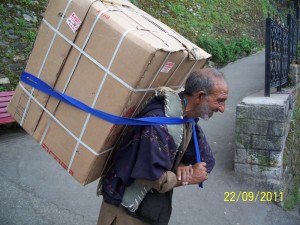 Do you see any strain or anguish on his wrinkled face?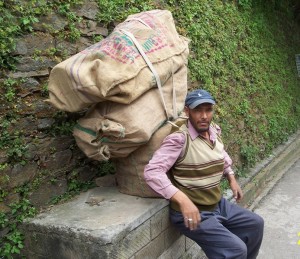 This man is all set to pick up the three bags and go up, with a bent back, but no regrets!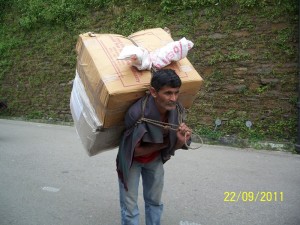 And this man is just as reconciled to his fate. This is his job, day after day…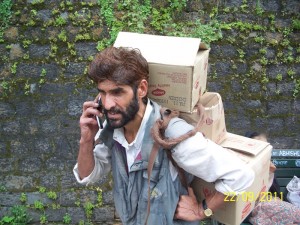 Indeed, if you add a bit of technology to the process life becomes a lot simpler! This man with a watch on his wrist and a cell phone is able to reach out to his clients faster, and is therefore able to earn more, even though he carries less weight! Even his jacket is better…
Nida Fazli composed a beautiful verse on this when he wrote,
"Subah se shaam taq bojh dhotaa hua
Apni hi laash ka khud mazaar aadami!"
 The above lyrics have been beautifully sung by Jagjit and Lata for that immortal album, 'Sajdaa' created in 1991. However, before I give you a link to the song, here is a picture of Brig Surinder with the famous Church in the backdrop. Our trip would not have been possible but for his cottage in Shimla. 
And now for those who care for the 'ghazal' here is the link