Preface
Born in Peshawar, and brought up in North India, I had seen very few South Indians during my childhood. And the only Christians we saw were either Anglo-Indians or teachers in the elite schools. All this changed, when I joined the NDA, in Jan 1958. I met Thomas, and I got to know all that I know on these issues, now.
Last week, Brig Surinder posted his Kerala travelogue on this blog, and it has generated a lot of interest. Purely from the military point of view, Kerala is a very important state.  In terms of area and population, it is a small state. Of the five major south Indian states, Kerala has only about 13 % of the population, and yet, over 40% of our military pensioners reside in this tiny region. It is also a well-known fact that a very large number of Malayalis have shifted out of their home state.
I requested Thomas to do a bit of research on Kerala and its people. The end result of his labour of love is given below. It has been laid out in such a manner that you can get a gist of his findings within five or seven minutes. And if you wish to go into the details of any specific topic, you can click on the link and get all the information which you need. Kerala is a unique region. Its villages are like mini-towns and the cities are not as large as the metropolitan conglomerates in the other cities.
As a child, I was told that Islam was forced on the Indians by the Muslim invaders and Christianity was brought by the British rulers. It came to me as a complete surprise, when I learnt that Christianity in South India came before it reached Britain!
Now, over to Thomas. His roots are in Kerala, but he lives in Bengaluru and all his children have migrated to the USA. In due course of time, his offspring may not even be able to understand their 'mother-tongue'!
*
Geography and history have conspired to make Kerala distinctive.
By Wg Cdr Joseph Thomas, VM 
According to legend, Lord Parasuram threw his axe into the sea which receded and created Kerala and Konkan.
 
Full story at
Kerala is blessed with rich soil, a tropical climate and plenty of rainfall.  It, therefore, attracted raiders and migrants from the arid region of Madurai.  They established the independent kingdom of Travancore.  Migrants from the north settled and took over  the region from Gokar-nam to Kasargode. In recent centuries there were three regions — Travancore and  Kochi kingdoms and Malabar.  The last was ceded by Tipu Sultan to the British who merged it with the Madras Presidency.  The present state of Kerala was formed on 01 Nov 1956 as a result of states re-organisation.
 
Monsoon in Kerala
Kerala has been a prominent spice exporter since 3000 BCE.  By the time pepper was transported to Europe and sold in retail, it was worth its weight in gold.  It went by the sea route upto Egypt, then overland and again by sea.  Opening up of the sea route in the late 15th century increased the spice trade and brought more Europeans to India.
 
Spices Trade Routes in Ancient Times
Spices of Kerala
Kerala was never ruled by any of the empires of North India, be it the Mauryas, the Guptas or the Mughals.  Even the Marathas who ruled up to Madurai never came to Kerala.  And the British were allies, not rulers.
 
Nevertheless, Kerala has always been culturally in the Indian mainstream.  And it was Shankaracharya of Kerala who is credited with unifying and establishing the main currents of thought in 

Hinduism

. He travelled across the 

Indian subcontinent

 on foot to propagate his philosophy through discourses and debates with other thinkers. India  was a Buddhist country for about 1000 years and it was from Kerala that Hinduism spread outwards, replacing Buddhism. Shankaracharya is credited with establishing, or expanding, the four dhams of Badrinath, Dwarka, Puri and Rameshwaram.  Even today the head priest of Badrinath is traditionally a

Nambudiri Brahmin

from

Kerala

.
 
Char Dham Ka Darshan
Today Kerala has three main religions  – Hinduism, Islam and Christianity.  Unlike other parts of India, all three communities are of roughly equal numbers and influence.  All three communities live in harmony. Christianity has extremely ancient roots in Kerala, being introduced by St Thomas, one of the 12  apostles of Christ.
Kerala has always been a seat of learning.  A  school that flourished in the 14th-16th centuries was the Kerala School of astronomy and mathematics, founded by Madhava of Sangamagrama. His followers included Nilakantha Somayaji, Jyesthadeva and Sankara Variyar.  In attempting to solve astronomical problems, the Kerala School independently created a number of important mathematics concepts. The fundamental elements of calculus including numerical integration methods and infinite series derivations for pi and for trigonometric functions such as sin x, cos x and tan-1 x (the so-called Gregory series)  were all discovered.
Recently, there has been some acknowledgement of these facts outside India.
See for e.g.  

BBC – History of Indian Mathematics Part-2 of 2. 

(From 2:53 onwards, it is mainly about the Kerala School of Mathematics.)
History Of The Kerala School Of Mathematics
Modern education came to Kerala much before the rest of India.  The rajas were benevolent and far sighted. Girls' education, which is key to literacy, was encouraged by them.  As a result, Kerala continues to have the highest literacy rate in India.  A fallout of this is that Kerala has long had a balanced gender ratio.
Kerala was mainly an agricultural region.  The global depression of the 1930s caused deflation and great distress.  That was the start of the diaspora which continues till today.  Also, the growth of Communism forced many families to migrate.  Today, the metro cities of Mumbai, Delhi, Chennai and Bangalore each have a greater population of Malayalis than Thiruvananthapuram.
A  counter current of migration is a recent phenomenon.  Today 10 % of the population consists of migrants from Nepal and Bihar.
Kerala has jumped from agriculture to a service economy, more or less bypassing the industrial age.  There are, however, pockets of industry like ship building at Kochi.  Here is an example of combining the ancient with the modern :
Synthite – the world's largest producer of value added spices.
In Kerala, each family lives on their own land. Thus, unlike in the rest of India, there are no crowded villages.  Instead there is a vast semi-urban area.  This may also be the reason why Malayalis are not servile.  They do not treat their employers or bosses as demi-gods. 
The oldest battalion of the Indian Army is  9 Madras. Raised as personal bodyguards to the

Maharaja

of

Travancore

in 1704, it grew into the "Nair Pattalam" (Nair Army). They defeated a Dutch invading force at

Colachal

in July 1741. Capt

Eustachius De Lannoy

, the Dutch commander, surrendered and joined the  Travancore Army.  From 1741 to 1758, Capt De Lannoy  was in command of the Travancore Forces and led the northward expansion of the kingdom. 
 
De Lannoy's Surrender at the Battle of Colachel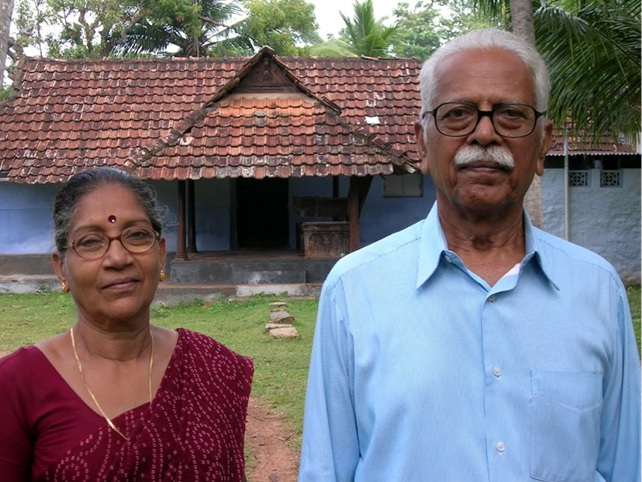 On capture, Capt De Lannoy was initially  detained in this house belonging to Ayyappa Marthanda Pilla, commander of the Nair Pattalam.  Pic shows one of his  direct descendants, Wg Cdr (Retd) K T Sudhir  & Mrs Sudha Sudhir.
Commemorating the victory of Maharaja Marthanda Varma over the Dutch at the battle of Colachel, after which the Dutch never came to India.
Sub-titles tell the story of the Battle of Colachel
Colachel Natural Harbour and the Victory Pillar, Kanyakumari
The "Nair Army" became incorporated into the

Indian Army

in  April 1951.   9 Madras has the rare distinction of never being disbanded, retaining their identity throughout.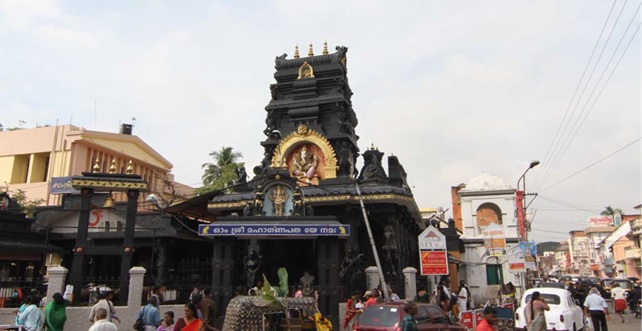 The Pazhavangadi Maha Ganapathy temple is situated in the heart of Thiruvananthapuram city. The main deity of the temple is Sri Mahaganapathy (Ganesha). The original Idol was maintained by the Nair  Pattalam at Padmanabhapuram.  On  shifting to Thiruvananthapuram in 1795 they established  the current temple.  Following integration of the Travancore army with the Indian Army in 1951, the temple is maintained by the Madras Regiment.
Video story on Pazhavangadi Ganapathi Kshethram. (Sorry, no sub titles in English)
  
The palace at Padmanabhapuram, now in Tamil Nad
King Marthanda  Varma dedicated the kingdom to his family deity Sree Padmanabha, a form of Lord Vishnu and ruled the kingdom as Padmanabha dasa or servant of Lord Padmanabha.  Hence the name Padmanabhapuram or City of Lord Padmanabha. In 1795 the capital was shifted to Thiruvananthapuram.  The palace complex continues to be one of the best examples of traditional Kerala architecture.  Though now in Tamil Nad, it remains under the ownership and control of the Kerala government.
Sree Padmanabhaswami Temple and Travancore History
Not everything is hunky-dory in Kerala.  It is a leader in hartals, consumption of liquor, road accidents and divorces.  An all too common family story in Kerala goes like this :
Man gets job in the Gulf, gets married and has two adorable children.  Mom and children stay back in Kerala for their education.  Son is pampered and gets motorbike as a teenager.  Son is killed in a road accident.  Mom has morose look for the rest of her life.
Back to happier things:  Onam is the most important festival of Kerala. It is a harvest festival and is celebrated with joy and enthusiasm all over the state by people of all communities. According to popular legend, the festival is celebrated to welcome the good King Mahabali, whose spirit visits Kerala at the time of Onam.
Onam – Nehru Trophy Boat Race | Aerial (Drone) Video
More videos :
Introduction to Coastal Kerala
Devushkas Visit Kerala
Thekkady
Munnar Parts I  &  II
Angry Elephants
A  Jungle Resort  on the Kerala – Tamil Nad Border
 Athirappilly Falls is situated in Thrissur district of Kerala.  Located on Chalakudy river this 24-metre (80 ft) waterfall and the nearby Vazhachal Falls are popular tourist destinations.
Kochi — Queen of the Arabian Sea
Kalaripayattu Kerala Martial Artform
Kalaripayattu Hand-to-hand Combat.  
 
Author at the victory pillar at Colachel.  In the background are the ruins of a courthouse and jail.
The Tailpiece
It does not take a very long time for a culture to change. Twenty or thirty years is a period long enough for things to change.
I was in West Bengal during 1971-72. I saw the Naxal movement transform the State from an Industrial hub of the country to a communist regime. During the same period, the refugee influx from East Pakistan caused havoc. Within ten years, all the Industrial houses shifted their corporate offices from Calcutta. And that flourishing capital of the British Empire turned the glorious town into an outsized slum.
Kerala was the only other state in India to be affected by this ideologue. As of now, there is no major industry operating in Kerala. In one of his mails, Thomas summed it up in just one sentence:
"Kerala is a nice place…but I would not like to

'live'

there!"