When, at last, the War ended, "Peace broke out"!
I was born in June 1941. The Great War had been raging for nearly two years, but since the bloodshed was confined to Europe, it did not affect us. Then, on 7 December '41, the Japanese attacked the Pearl Harbor, and two odd months later they stormed and captured Singapore. Their advance through Burma was swift, and soon they were knocking on the Indian border. Our revered father, Maj Balwant Singh ji (1911-2004) volunteered to join the army. After a few months training, he was commissioned and allocated to the Intelligence Corps of the Royal Indian Army. In December 1942, he was posted to East Bengal. We addressed him as 'Pitaji' and you see his picture above.
During the next four years, we saw little of Pitaji, except for his picture in the family photograph taken in Karachi, just before he left for the war. If you like the child sitting in the front, it is me. If not, then I do not know who the hell he is. Our fourth brother, Surinder, was not yet born.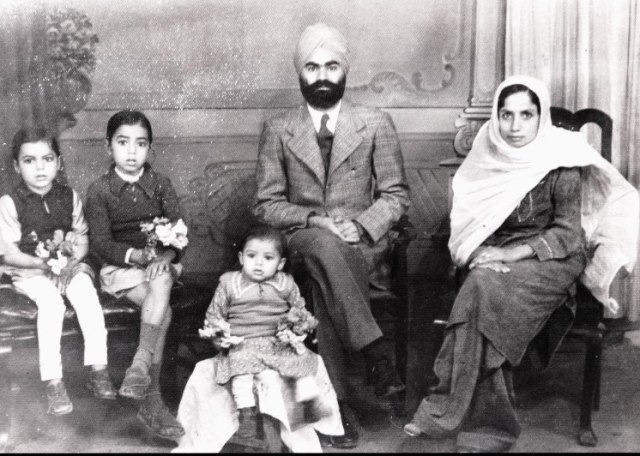 Picture of our family taken in Karachi, Nov 1942
The Japanese  surrendered in Sep 1945. After that, Pitaji was posted in Burma as a warder in a 'Prisoners-of-war' camp in Maymyo, from which he was finally relieved in Jan 1947. All through his long and eventful life, Pitaji maintained a diary. Towards  the end of his life, he summarized the entire text of all his memoirs in three little volumes, which he left for posterity.  They contain a detailed account of his life and times.  The diaries are written in Punjabi, and contain answers to some of the questions which have bugged me all these years.  Given below is a picture of one page: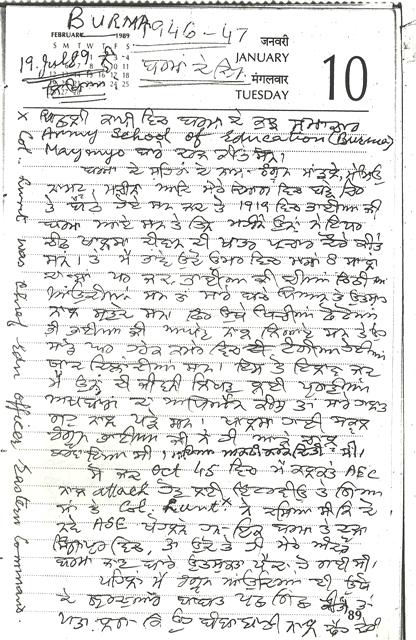 Picture of a page from Pitaji's diary
The Japanese were the sworn enemies of the Allied forces, and they resolutely fought some dreadfully gory battles. The Allied forces succeeded in defeating them with the help of Indian troops, but within months of their famous surrender, we discovered that we had another foe, right inside our own house.
We had been simultaneously fighting the war of independence with the British colonizers for many decades. We won that, too. But what lay ahead of Pitaji and his peers was something far worse than what any one could imagine. Our victories turned into a monumental defeat. The Punjab and West Bengal were partitioned and that unearthed an enemy concealed  within us!
We lost our ancestral homes and became refugees in our own country! The war had ended, but so soon after that, 
'Peace broke out'

.  This is a story of what our family went through during the next two tortuous years. The tale is told in pictures.  However, before, I begin the narrative, it is necessary to give a brief introduction to my personal life during those early years, because that has a bearing on my interpretation of events. I find that the views on this portion of our history have a great deal of subjectivity. Even my own brothers feel differently on some of our experiences.
*
I did not go to school; I was sent!
When Pitaji was away, we went back to our ancestral village, Faruka, which was about 32 kilometers west of Sargodha. It already had a High School which was founded by our illustrious grandfather, Bhai Hira Singh ji. The school was adjacent to our house, and logically, I should have been admitted into it in 1946, when I turned five. But at that time.  Pitaji's posting was due, and therefore, this event was postponed. In Jan '47, we shifted to Jhelum and I am told that I was admitted to a school, and a 'tonga' was organized for me. But soon after that, communal riots broke out, and so I stopped going to the school. Instead, a 'maulvi ji was hired to teach me at home. He got me a 'takhti' (see the picture below) and I learnt Urdu alphabet and a bit of counting.

Picture of takhti, kalam and dawaat
By July '47, the situation deteriorated so much that Pitaji was advised to proceed on leave, and stay away from West Punjab, until things 'settled down'. We later learned that partition of the Punjab had been agreed, and 15th August had been decided as the crucial date. However, it was generally believed that both the countries would have people of all faiths. Pitaji's boss suggested that we go on leave to a 'safe' area during the transition. Consequently, he was granted 60 days leave. We packed our stuff and left it in the garage of our neighbor, Capt Nazar Mohammed. We boarded a train to go to Dehradun on 12 Aug 47 with a few suitcases. The story of the next few months is lucidly told in Pitaji's diaries, and I will come back to it.
We moved to Meerut in Sept '47, and were allotted a huge house. In Oct, Pitaji made a perilous journey to 'Pakistan' to rescue our relatives and also to fetch our belongings. He needed a lot of luck to return safe and sound.
Meanwhile, time kept ticking. My elder two brothers got admitted into a Government school, but my schooling became a bit of a problem. By early 1948, I was nearing seven, and until then, I had never been to a regular school. St. John School, Meerut Cantt accepted me, but it seems that I refused to sit in the school unless Pitaji sat with me. I was mortally scared that he would again go away, and leave us alone. Despite all that my parents tried, I stuck to my guns, and refused to go to school.
Thereafter, the process of my school education is a sordid story. Between 1948 and '57, I was sent to eleven schools, which ranged from the famous St Joseph's Academy, Dehradun to the Refugee Camp School in Prem Nagar, near the IMA, Dehradun. I studied in Meerut, Dehradun, Delhi Cantt and Allahabad, with Hindi as the medium of instruction, most of the time. I left St Joseph's Academy one month after the admission, because I was caned for speaking in Hindi. After that I developed an incurable and nasty aversion to English language.

Picture of caning with a foot rule
On the positive side, this experience taught me how to adapt to different environments, and make new friends in every school. I learnt how to 'manage' the class bullies, who usually targeted newcomers. I also developed empathy for children from the weaker sections of the society. I saw how difficult it was for them to acquire even books and stationary. At home they were required to help their parents in housekeeping and rarely had a place to study.  In our schools, it was generally believed that Hindi would very soon replace English as our official language, and that at the end of the day, we would be better off. By the time I completed my matriculation, I knew five languages: Urdu, Punjabi, Hindi, Sanskrit, and
some

English.
At home, I played with the friends of my younger brother, Surinder, who was studying in a Convent School. So I had two sets of friends; one at home, and the other in school. However, all this notwithstanding, I did quite well in the matriculation examination, with a cent in mathematics. I even earned a scholarship, and had no difficulty in sailing through to the National Defense Academy. At the NDA, I took up French as a foreign language to take the total to six.
The years in Meerut and Allahabad were my 'impressionable' period. The Hindi movies of the period, coupled with what the teachers said, caused us to believe that the British were tyrants, who had looted our wealth. Stories of Jallianwala Bagh and life imprisonment in the 'Kalepani' (Andamans) aroused strong feelings of revulsion and hatred, and in our youthful manner, there was a desire to take revenge. In the museums we saw pictures of callousness and cruelty. We were told that Gandhiji was thrown out of the First Class compartment just because he was an Indian and despite the fact that he had a valid ticket. Similarly, Jamshedji Tata was not allowed to entertain his European guests in a hotel in Bombay, for the same reason. Indeed, the ultimate shame was the picture of a signpost, which said,
"Dogs and Indians not allowed in this Garden"
I have gathered a few photographs of that era, to tell the story in pictures.

Mutineers blasted from guns in 1857
 
Public hanging of Freedom Fighters

The Cellular Jail, Port Blair (Andamans)
 
Prisoners in the Cellular Jail

Lashing of a prisoner for failing to produce the desired amount of oil

Some more Freedom Fighters in the Kalepani

The Jallianwala Bagh

A painting of the firing at innocent civilians in Jallianwala Bagh

Bullet holes in a wall in Jallianwala Bagh

A notice board in the Jallianwala Bagh
*
Simultaneously, the lifestyle of the British officers is depicted in the following two pictures:

Tennis Club for the British officers and their ladies.

The family of the Sahib returning home in a two-horse cart.
*************
 

The Mogul Period:-
So much for the British period. What we read and were told of the Moguls, who preceded the British Raj was equally disgusting. We read about the Rajputs like Maharana Pratap, who had crossed swords with Akbar the Great. And then there were detailed accounts of Shivaji who challenged Aurangzeb. In the Sikh history, we were told about the assassination of Guru Arjun Dev and Guru Tegh Bahadur. The story of the live burial of the nine and seven year old younger sons of Guru Gobind Singh ji left us livid and furious. Here are some pictures:

Maharana Pratap

Chhatrapati Shivaji Maharaj
 
Guru Tegh Bahadur
 
The nine and seven year old younger sons of Guru Gobind Singh
 **********
We are now ready to read an extract of the translation from Pitaji's diaries.
 The Partition Story, as Told in Pitaji's Own Words
I was re-united with the family after four long and tortuous years. Just when we were settling down in our lovely bungalow on the bank of the River Jhelum, communal riots erupted. I was born and brought up in Faruka, where ninety percent of the people were Muslims. Our ancestors had lived there for several centuries, and there had never been an incidence of violence. Later, I taught in Peshawar for nine years, which was dominated by Pathans, and we lived in complete amity. In Faruka, the Kalyar family had the largest land holding and they were highly influential. Their 'Mukhia' had assured our mother that come what may, they would not let any one even touch us.
Notwithstanding all the assurances from our Muslim friends, the British Commander of our Sub Area, Brig Mace called me and advised me to proceed on leave to West Punjab and stay there, until things 'settled down'. Those days, it was believed that the two parts of India would have common defense and external affair ministries. The division would be for administrative purposes only. Consequently, we packed our luggage and put it in the house of our neighbor, Capt Nazar Mohd and left for Dehradun. There we joined my younger brother,Agya Pal who had already reached there with our mother. We left Jhelum on 12 Aug 1947, and it was during the journey, that we realized the gravity of the situation. Punjab was on fire, and the scale of violence was much more than anything which I had seen during the War. It became clear to me that we would never be able to return.
In Dehradun, my leave was getting over, and I was also running out of money. I went to the local Station Headquarters, but the boss there told me, "Go back to Jhelum and seek a posting" I thought that would be unwise, and decided to go to Delhi, to seek a more sensible order.
The pictures which we saw in the newspapers made me wonder whether what we had won was 'azaadi' or 'barbaadi' On the one hand there were celebrations in Delhi, on the other end, we had trains massacred on both sides. It was a bizarre situation. A contrast, which we had never seen before.


Crowds in D
elhi. Notice that the Indians were lean and trim those days. No obesity. 
 
Train to India. It could not get worse than this!
 *********
Delhi was in deep turmoil. I managed to get an audience with a British officer, Col Asher who was the Director of the newly formed Army Education Corps, into which I had been transferred in 1946. He gave me a patient hearing and called the personnel officer, Capt Bannerji. After some discussion, he told me that the best he could do was to post me to Meerut Cantt. The posting was issued immediately. I joined duty the very next day, and found that my predecessor had left for Pakistan, on leave like me, and was unlikely to return. There was a large backlog of work. I plunked my meager belongings in the Mess, and got down to the Desk. Within a few days, I had cleared all the papers and also found some old acquaintance. The most important being Capt GS Gujral, who was the SSO. Around that time, I was called by the Commander, Brig JL Murray, and he asked me if I had any problem. I listed three:
I have no money.

My family is stranded in Dehradun.

My household stuff is in Jhelum and the relatives are in Sargodha and Layallpur.
The Commander was a typical British Officer. He immediately asked  his Staff Officer to give me Rs 600 from the imprest account against my salary, and to detail two vehicles to bring my family from Dehradun. There was no house vacant for a Captain or Major. But just look at how he solved that problem. The Flagstaff house earmarked for a Brigade Commander  was lying vacant since the Brigadier was away, and due in only after three months. He directed the SSO to allot half of that bungalow to me for three months, and whispered into his ears to let me use the whole house, since a lot of my relatives were likely to come!
When I returned from Dehradun with the family, including my brother and mother, I sought permission to go to the newly created Pakistan to fetch my kinsfolk. I was told that the Army had created a 'Military Evacuation Organization' (MEO) at Jullunder. The Commander sent a signal asking them to give me three vehicles with armed escort. There was a bit of a risk, but my service in Burma had given me enough courage to take the risk.
On 10 Oct 1947, I left for Jhelum from Amritsar, which was the Transit camp of the MEO. Given below is a map of  Pakistan to get an idea of time and space.

Map of Pakistan
I received a very warm welcome in Jhelum. All my erstwhile colleagues were happy to see that no harm had come to me. Capt Nazar Mohd called his orderly and told him to tell his wife that I would be staying with them. He directed her not to cook 'gosht' and to ensure that washed bed linen was used in the guest room. I found that he had already got to know about my posting  and sent my household goods on a special vehicle under the escort of a JCO of the Dogra Regiment who had been posted to Meerut. He then charted out the rest of my program and gave me a detailed list of security precautions to observe. He also sent signals to the military units in Sargodha and Layallpur (now called Faisalabad) to ensure my safety and comfort.
As if all this was not enough, he stayed with me all through my sojourn in Jhelum. After dinner, he came to my room and handed over his pistol to me, and said that he had no other weapon. He wanted to ensure that felt safe. He said, "the tempers are high and I want to guard against any of my orderlies misbehaving". He then told me to latch the door from my side, while his side would be open. Overwhelmed by his hospitality, I left for the other two destinations, and picked up as many people as I could in the trucks allotted to me. Given below is an enlarged map of the Punjab (Pakistan) It may be noted that the distances of Jhelum, Sargodha and Lyallpur from Lahore are a mere 290, 211 and 181 km respectively. And since Lahore is only 48 km from Amritsar, I did not really cover a great distance.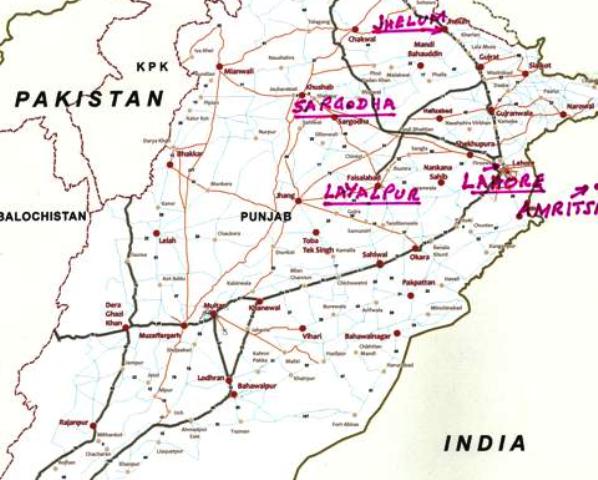 It is a clear case of, so near; and yet so far!!!
Snapshot of my diary about my stay with Capt Nazar Mohd 
On the way back, at Lahore, I went to a decent restaurant for a cup of tea and snacks, for old times' sake. I gave money to my companions to go to a 'dhaba' for refreshments. After I had placed the order,  a bearer came to me and whispered in my ears that a few  wicked young men were waiting outside the restaurant, and he feared that they would try to snatch my pistol. Upon his advice, I left the place,  escaped from the rear door and joined my companions. It was a close shave.
*************
Back home, we gave shelter to everyone who had come with me, but to our good luck, each one of our kinsfolk found a shelter, and within a few months, they had also found  jobs or vocation. I handed over the house to Brig Daulat Singh, and shifted to a house of my entitlement.
As for myself, I was detailed to attend an 'Instructors' course in Pachmari in Feb 1949, on which I did very well. Based on my performance, I was posted to the Indian Military Academy (IMA) , Dehradun in Aug 1949, and also granted the Permanent Regular Commission.
At the IMA, I faced one more challenge. Apart from having to learn new subjects, we had to attend many social functions. I am a strict tea-totaller, and cannot tolerate cigarette smoke. I also have an aversion to ballroom dancing and, therefore, I skipped social functions at the slightest pretext. A colleague told me, "You are a misfit for the Academy, and will soon be posted out".
I told my family to delay packing up, until I was sure that I was 'accepted' by the Academy. Meanwhile, I prepared my lessons as well as I could, and also re-wrote some précis. The Chief Instructor attended some of my classes, and seemed pleased. One day, I mustered the courage to go to the British Head of Academics, Col WW Wright, and asked him point blank, "Sir I like my job, but I am a bit of a recluse, socially. Do you think I will be able to fit in your team?"
Col Wright smiled and said,

"

What makes you entertain such misgivings? You are a good instructor. The cadets like your classes. I have got some money sanctioned for you to upgrade the laboratories. Give me a detailed plan and get down to your work!" 
 **********
Part Three – Reflections and Summing Up
Pitaji's tenure in the IMA was extended by one year, since they could not find a suitable replacement. And after a gap of six years, he was posted back to the IMA for another three year stretch during 1959-62. He continued to abstain from drinks and in the later years, he did not even eat the western food served during the dinner nights. At the end of the party, he used to rush back for his 'dal-roti-saag'
 
AEC Staff, Indian Military Academy,  Dehradun. Dec 1950
Seated :Majs Sapatnekar and LEG Smith, —; Lt Col WW Wright,(British Army, HAD), Majs Som Dutt, Balwant Singh, and AL Sethi
Standing (First row) Captains —,SS Nakra,HS Chandele, Harbans Singh,RML Bhatnagar, DS Sahi, —,Daleep Singh, Gautam
Standing (2nd row) — Capt Sobjohn, —
(The picture is signed by Col HS Chandele, the father of Ajay, who retired as the DGEME recently. The dashes are for the officers whose names we have been unable to find so far)
  ***************

*
As I was going through the diaries, a few questions arose in my mind.
How do we know, who is our friend and who a foe? We have never had any enmity with Japan and yet we fought the bloodiest battles with them in Imphal and Kohima . Let us also remember that some of the soldiers with whom we were fighting were Indians, who had surrendered in Singapore and joined the Indian National Army. The Thimaya brothers were pitted against each other. Isn't that bizarre?

The Americans destroyed Hiroshima and Nagasaki with Atom Bombs. The japanese  re-built the two towns and also re-established cordial economic relations with the US, within an incredibly short time.

Brig Gen Dyer did, indeed, fire indiscreetly in Amritsar. But the British officers whom Pitaji accosted were thoroughly professional, and remained committed to their jobs, even when they very well knew that they were due to leave India shortly. In fact as administrators, their decisions were admirably quick, judicious and unbiased.

Auranzeb may have been zealot and imbalanced. He was cruel, not only towards Indians but even his own brothers. He killed three of them and imprisoned his father for the throne. Should his actions make us hate all muslims? Pitaji's diaries seem to suggest that the great majority of mohammedans with whom he lived were thorough gentlemen. In our family history, there is extensive mention of Mian Allah Yaar Kalyar, who was a close friend of our grandfather. Despite being a Muslim, he actively supported the creation of a Khalsa School in Faruka, in 1908. His grandson, Fateh Mohd Kalyar still remembers our family with the same warmth and respect.

There are several instances of Muslims joining hands with us in various fields of activity. To begin with, Mardana, who was a close associate of Guru Nanak was a Muslim. A Sufi saint, Mian Mir laid the foundation stone of the Golden Temple, and the Baani of several Muslims Saints like Kabir and Farid is included in the holy Granth, which we worship.

Similarly, in the Andaman Islands, the light and Sound show depicts the British jailors as cruel and heartless. And yet, most of the Islands are named after British Officers! Is that an irony, or our acceptance of their contribution towards developing those islands?
Our friends and foes change as quickly as seasons. The nations behave like primary school children; they fight one moment and become bosom friends the next day. There are no rules to war, and it is said that "All is fair in love and war" But I think that even when a war is on, the people in power must draw a line, and abide by the following Urdu couplet:
​दुश्मनी जम कर करो पर यह गुंजाइश रहे
फिर कभी जब दोस्त बन जाए, शर्मिंदा न हों
I am also tempted to quote a famous proverb: 
    Anybody can become angry. That is easy. But to be angry with the right person and to the right degree and at the right time and for the right purpose, and in the right way, that is not within everybody's power and  it is not easy.
This also applies to the use of force. If you have a gun in the hand, it is easy to pull the trigger, but to do so at the right moment, against the right person, for the right cause and in the right way, is not within everybody's power. And it is not easy!
I think Abe Lincoln has said something very profound about power. He observed,
Nearly all men can stand adversity, but if you want to test a man's character, give him power.
This idea has been converted into a song which goes as follows:
ओ सारे जग के रखवाले
निर्बल को बल देने वाले
बलवानो को दे दे ज्ञान
अलाह तेरो नाम इश्वर तेरो नाम
The Tail Piece
I am tempted to end this rather long essay with a brief quip
A lively old man rose and proclaimed loudly, "I have no enemies in the world.

They are all dead!"              

(He was ninety-five)