Editor's Note.
My friend, Joseph Thomas, is an intense human being. When he feels strongly about something, he is a man possessed. Last year, when Srinagar valley was inundated by the Jhelum waters, he said that this disaster was unnecessary. Having been posted in J&K in 1962-64, having flown over the valley and done aerial survey, he knows the terrain better than most people.  Due to siltation and the construction of embankments, the river is flowing at a level higher than most parts of the city.  Continuing siltation makes the situation worse and the river is bound to overflow the embankments.  In 2014, it took a long time for the flood waters to recede, because of the high level of the river bed. Thomas suggested that the river be de-silted and dredged to prevent recurrence of this calamity. He wrote a detailed paper with specific recommendations, and embellished it with pictures and diagrams. It was posted on this blog on  Sep 20, 2014.   Please click on the following link to see it:
http://amolak.in/web/flood-prevention-in-the-vale-of-kashmir-by-joseph-thomas/
The paper was very well received and its gist was also published elsewhere.  However, Thomas did not stop at this. He reached out to the powers that be through all means. In Urdu, they call it a 'Junoon.' I told him several times that flood waters were most unlikely to reach his flat in Bengaluru (especially since he lives on an upper floor) but that did not make much difference. Then I told him that his three children and the grand children, being tucked away at a safe distance in the USA, were also not threatened by this menace.  But for Thomas, every one living in the Kashmir valley is as dear to him, as his own kith and kin.

It gives me great pleasure to inform you that his voice has been heard. The J & K government has floated a tender for dredgers, and once the process is set in motion, action will ensue. Whether his name figures in the list of the 'Padma' awards next year is of no consequence. The satisfaction of an end achieved is a reward by itself. A sequel to the above paper is placed below. Your comments are solicited.
*
SEQUEL TO FLOOD CONTROL IN THE VALE OF KASHMIR
By Wg Cdr Joseph Thomas, VM (Veteran)
Executive Summary
Srinagar sits in an alluvial basin and is well known as a flood prone area.  The problem has been compounded by the construction of embankments on either side of the Jhelum river.  Progressive silting of the river has raised the river bed till it is higher than street level.
The stretch of the river from Sopore to Baramulla has the same features but has been regularly dredged and de-silted.  However,  for some inexplicable reason,  no de-silting has been done from Srinagar to Wular lake.
Severe floods occurred in the Kashmir valley in September 2014.  The embankments gave way at several locations and most of the river emptied out into the city.  Diverting some of the water to the flood channel merely resulted in flooding rural areas also.
A  far more elegant solution to river flooding is to de-silt the river, thereby increasing its carrying capacity.  Sand mining also has the same effect — at no cost to the government — and needs to be encouraged.  Our blog came out with a detailed explanation of all this in September 2014 itself.  However, we were surprised at the sheer apathy of the government and the general public.  A sustained campaign was, therefore, undertaken in the electronic media and by interacting with opinion makers.
We are glad to report that the J & K government has seen reason and has now issued a tender for purchase of two cutter suction dredgers.  This is a case study on the importance of public opinion in a democracy.
 *
The gestation period for a human baby is nine months.  It has taken the same gestation period for our recommendation on flood prevention in the Vale of Kashmir.
 When our article was published in September 2014, all the talk was about digging a new flood channel for the Jhelum. J&K Chief Minister Omar Abdullah wrote to Prime Minister Narendra Modi in Sep 2014 seeking an in-depth study on whether an alternative channel for the Jhelum could be created to carry extra water during a flood. Accordingly, an "expert team" was asked to assess the reasons for the flooding, and whether an alternative channel circling the town is technically and financially feasible. The proposal to divert the Jhelum is not new. It has been talked about in the state as a permanent solution to the flooding and water-logging that is regularly witnessed during the rainy season. It was estimated that Rs 8,500 crore would be required to create this channel.  [The actual cost would more likely be of the order of Rs 1,00,000 crores.]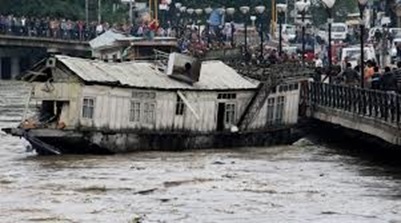 A damaged house boat in Srinagar
Till March 2014, the Centre and the state government were discussing a Rs 2,000 crore plan to strengthen the embankments of the Jhelum, which gave in during heavy rainfall at the start of September.  Most parts of Srinagar are lower than the river-bed of the Jhelum. As an immediate step, however, Rs 100 crore was given to the state government to do emergency repair on the embankments, but it turned out to be a case of too little, too late. – See more at:  http://indianexpress.com/article/india/india-others/the-flood-effect-centre-asks-if-jhelum-can-be-made-to-skirt-srinagar-2/#sthash.5GL82HAt.dpuf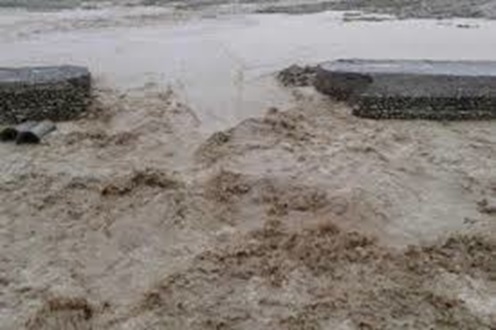 When an embankment gets breached, the entire river empties into the city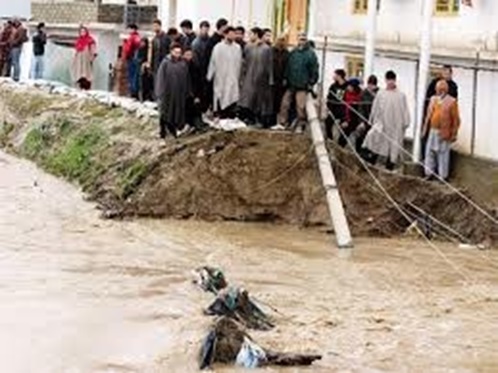 When an embankment gets breached, the entire river empties into the city
Diverting the river around Srinagar is feasible but at prohibitive cost.  Firstly, a lot of land is required.  Secondly, a large number of bridges will have to be built across the new river channel.  Thirdly, when the new river channel gets silted up, embankments will be built on either side.   Eventually, the river will again flow above street level.  We will be back to square one.
What is inexplicable is that the stretch between Sopore and Khadanyar (just  downstream of Baramulla) has been regularly dredged from 1959 onwards.  This stretch has, therefore, escaped floods, even in the great flood of 2014.  Yet, the authorities were loath to learn a lesson and persisted with their grandiose scheme of a second flood channel.
Similarly, sand mining has been permitted in the Sindh river, a tributary of the Jhelum.  As a result the carrying capacity of the river was maintained and  no floods occurred in 2014.  Yet, sand mining  is  regularly vilified and discouraged, if not prohibited.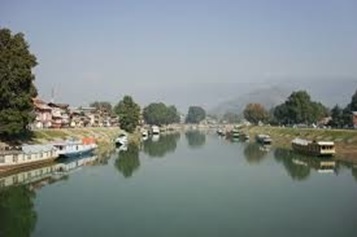 The Jhelum river in good times
We found that merely publishing an article in this blog was not enough.  We embarked on a sustained campaign through social media and the press.  Every time an article appeared in the media we wrote comments and drew attention to our blog.  We were fortunate in getting an early supporter — Er Ashraf Fazili, retired Chief Engineer, PWD, J & K.  He gave an interview to "Greater Kashmir" newspaper in October 2014 stating that  floods can be prevented if the bed level of Jhelum is brought below the street level.  See http://www.greaterkashmir.com/news/2014/Oct/13/-floods-can-be-prevented-if-the-bed-level-of-jhelum-is-brought-below-the-street-level–7.asp#sthash.tl5KTYAO.dpuf
Er Ashraf Fazili  has followed it up at meetings of engineers and officials.  See also his blog  https://shahishaharyar.wordpress.com/2014/10/14/2014-centuries-worst-flood-in-kashmir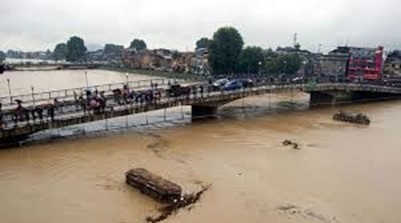 Sept 2014 flood in Srinagar
 It has helped that "Greater Kashmir" newspaper has a Facebook page.  We "liked" it, thereby getting a daily feed.  Every time an article appeared on flood control in the Valley, we wrote comments both on the paper's website and in Facebook.  Convincing the editors of the paper was another major step forward.  The paper came out with two editorials urging the government to de-silt the Jhelum river.
Since the Central government  is involved and no progress was apparent on that front we registered on the Prime Minister's website and posted this message :  "Last year's flood in Srinagar was catastrophic because the Jhelum river has bunds on both sides that make it flow above street level. When the river level rises above the bund, the entire river empties into the city. Far simpler, better and less expensive to dredge and de-silt the river.  The alternative proposal to construct a second flood channel will be less effective and will cost at least Rs one lakh crores extra."   Even though the PM's site claims "interaction with the Prime Minister"  there has been no response from the PMO.  However, we presume that our post was forwarded to the Central Water Commission.
Dr Shibu Mani, professor from  Centre for Disaster Management,  Tata Institute of Social Sciences, Mumbai noticed our blog and wrote "It was a very interesting post indeed. I have begun a work (at a pilot level) to categorize floods in Himalayan region (latitudinal window). The primary objective is to have interaction with those who have experience on floods in the Himalayan region (engineers, river dynamics scientists, academicians and so on to get a multi discipline nature). I could find who posted in this forum including the author of the post are potential resource persons. Those who are willing to share their experiences, would you please send a mail to my email ID so that I can contact."
 We did contact Prof Shibu Mani and he took the trouble of visiting Bangalore.  We spent an interesting morning discussing various aspects of flood control.  It turned out that our perspective is quite different from various "experts" in flood control.  He promised to put across our ideas to his students and to guide them on research projects into floods in Kashmir, Bihar and elsewhere.  He also forwarded some articles on flood control in the Kosi river basin in Bihar.
The Kosi river floods are far worse than in Kashmir, mainly because it covers a much larger area.  There also the flood control authorities have relied on embankments.  We commented on the articles and that put us in touch with Er Dinesh Mishra an activist in Agra who has written a full book on the subject.  He remarked  "You are the first person who says let us discuss."
The next opinion maker  we  came in contact with  is  Abdul Rashid Khan, retired IGP of J&K Police. We responded to an article he wrote in Greater Kashmir. In a democracy, public opinion is very important and that is why Political Science trumps all other Science disciplines.  It was, therefore, a major milestone to find a retired IGP writing in "Greater Kashmir" on 10 Apr 15 :
"The September floods have left an indelible impact on our minds and in March we just escaped the fury somehow. ………..The September floods have already rendered the city into shambles and the recent rains are posing more threat to very existence of the city. The traders of the Lal Chowk during their recent interaction with the CM, were right in making the submission that the future need is to have the permanent remedial measures. Therefore the few suggestions can be thought over. 
    a      Immediate dredging and de-silting of river Jhelum, Doodh Ganga, Flood spill channels of Rambagh, Rawlpora and strengthening of their embankments. 
    b      ……………………..
[Full article at http://www.greaterkashmir.com/news/2015/Apr/10/save-srinagar-3.asp]
Retd IGP Abdul Rashid Khan while putting  forth eight recommendations, the first of which is to de-silt the Jhelum river, its tributaries and the existing flood channel, did not even mention the grandiose idea of constructing a second flood channel.
This was a welcome development and we became cautiously optimistic that the flood problem in the Kashmir Valley would be solved.
Sadaf Masoodi, Dr Javid Iqbal, Arif Shafi Wani, M Ashraf  and Tasaduq Hussain also wrote articles in "Greater Kashmir"  but did not respond to our comments.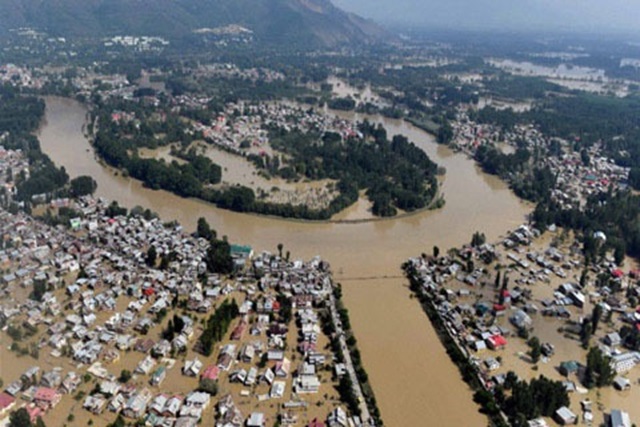 File Photo regularly used by "Greater Kashmir" when publishing an article on floods in Kashmir. 
This shows the flood channel taking off from a bend in the river.
On  04 Apr 15  "Greater Kashmir" newspaper carried a report  that the Central Govt will take a decision on flood control measures on 07 Apr 15.  Rs 401 cr were expected to be sanctioned for  "dredging of river Jhelum and land acquisition to widen the river's flood channel."
There is really no need to widen the flood channel.  We need a certain cross sectional area to accommodate the expected water flow.  This can be achieved by deepening the flood channel.  There is no need for additional land. The money can be better spent for deepening the flood channel.
Though we should make one caveat.  The current flood channel does not extend all the way to Wular Lake.  It ends in a rural area.  What it basically does is to divert the flood from the city to the rural areas.  In case the  land acquisition is for extending the flood channel upto Wular Lake, then it is a good idea and long overdue.
The Seminar Held in November 2014
A two day national seminar on "Retrospective and Prospective of 2014 Kashmir Floods for Building Flood Resilient Kashmir" was held at Srinagar from 15-16 November 2014. The seminar was organised jointly by the Department of Earth Sciences, Kashmir University and Centre for Dialogue and Reconciliation (CDR), a Delhi based NGO.  The project was jointly supported by the European Union and Friedrich  Naumann Stiftung FUR DIE FREIHEIT
Their report was published in April 2015 but came to public notice only when Er Ashraf Fazili wrote about it. The material had already come in the media but in bits and pieces.  We now had a comprehensive account and now we knew the source.  Extracts from the report (in maroon) and our comments :
Sand Mining
"There were suggestions made towards banning the illegal extraction which was changing the water regime of the rivers causing  maximum slope failure in Sumbal Sonawari area."
Sand mining at the river banks will cause the banks to collapse.  However, sand mining in the middle of the river helps to de-silt the river, thereby increasing its carrying capacity.  Sand mining can cause a local depression in the river bed but that does not cause a problem to the flow.  Sand mining needs to be encouraged.  The authorities seem to be doing the opposite.
Reducing the Velocity of  Water Flow !
"There were various methods discussed which could reduce the velocity of water too."
Reducing the velocity of water flow will actually cause increased flooding.   It is incredible that such a statement was made by "experts."
The Vaunted Alternative Flood Channel
"From the total project cost of Rs. 2200 crores, about Rs. 1800 crores is required for only compensation."
The alternative flood channel is no solution.  It is merely a grandiose plan.
The estimate is highly unrealistic.  The actual cost is more likely to be in the region of Rs 1,00,000 crores
Dredging
 "Resurrecting and dredging are two important recommendations that need to be continued for flood mitigation and control. A suggestion was made to make the efforts time bound and finish the process by March-April, 2015."
The elegant solution.
April 2015  has come and gone.  But better late than never.
Hiring an International Consultant
"The State Government must hire an international consultant for planning the Srinagar city. The City plan should be drafted holistically, by taking on board experts from diverse scientific fields. India is now shifting its cities to Smart City Concept and J&K should also follow."
We produce over one lakh engineers every year and a commensurate number of architects and town planners.  We should all hang our heads in shame if  our  huge army of engineers, architects and town planners cannot do this job.
LIGHT  AT  THE  END  OF  THE  TUNNEL
M Ashraf writing in "Greater Kashmir" of 18 Jun 15 said  "As regards dredging of the River, desilting of the flood spill over channel, strengthening of the embankments, and setting up of dewatering stations above the flood level no news is coming out. Even the drains and dewatering system appears to be without any major change. Apart from the city getting water-logged repeatedly, there are still some areas in the valley water logged from the previous flood." 
However, a June 17th article in "Greater Kashmir" by Arif Shafi Wani is more encouraging.  He reported that Chief Engineer, Irrigation and Flood Control, Javid Jaffar said that in last nine months, the department had been working to strengthen the flood defence mechanism. "We have been undertaking dredging at problematic spots. However, we can start dredging on large scale when Government of India will release  funds for it. The Rs 400 crore project for Jhelum conservation has been recently approved and sent to Finance Ministry for sanction. We hope that the funds will be released at the earliest. We have also floated tenders for procuring two dredgers," the CE added.
http://www.greaterkashmir.com/news/srinagar-city/flood-mismanagement-worry-srinagar/189597.html
This is great news and the first confirmation that the efforts by all of us is starting to produce results.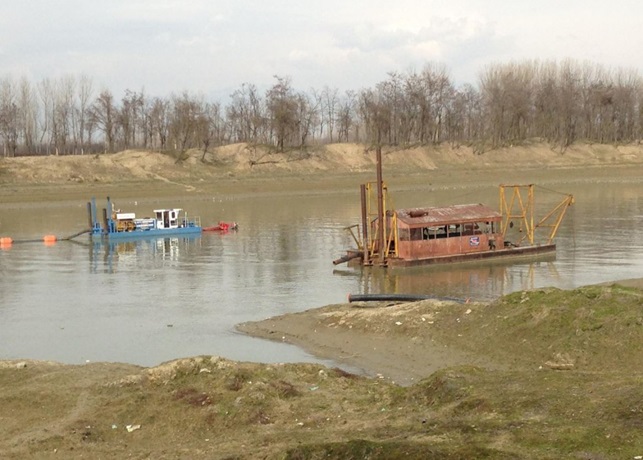 Old and new dredgers in operation near Baramulla
In the foreground – a Dragon dredger that has been in operation for nearly 60 years. Working behind it is a new Series 370 dredger. 
Video of this dredger being towed and positioned can be seen below:
A  CURE  WORSE   THAN  THE  DISEASE
Here the cure is worse than the disease.  Soil is being taken from the river bank near Baramulla and dumped into the Jhelum river.  This reduces the carrying capacity of the river and can cause flooding.  Also, the silt will go downstream and damage the turbines of the Uri hydroelectric plant.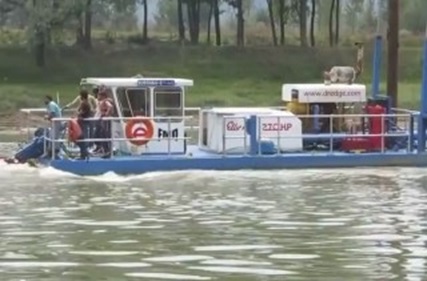 A cutter suction dredger operating near Baramulla
The June 17th article in "Greater Kashmir" by Arif Shafi Wani sent us searching for the J&K govt tender and we found it at  https://jktenders.gov.in/nicgep/app
Extracts from the tender :
Irrigation and Flood Control Dept
Tender Reference Number  MCOIandFC01of2015
Tender Id  2015_IFC_17967_1
Tender Type   Global Tender
Tender Fee (INR)  20,000
EMD Amount (INR) 24,00,000
Title
DESIGN SUPPLY AND COMMISSIONING OF CUTTER SUCTION DREDGES
Work Description
Selection, Design, Manufacture, Packaging, Forwarding, Assembling, Installation, Testing, Commissioning and Trial Running of Cutter Suction Dredges having propulsion system capable of meeting the requirements and parameters as given in document.
Estimated value INR 12,00,00,000
Period Of Work(Days) 120
Bid Validity(Days)  180
Pre Bid Meeting Date
15-Jun-2015 11:00 AM
Published Date
29-May-2015 01:30 PM
Bid Opening Date
07-Jul-2015 11:00 AM
Document Download / Sale Start Date
30-May-2015 10:00 AM
Document Download / Sale End Date
04-Jul-2015 04:00 PM
Bid Submission End Date
04-Jul-2015 04:00 PM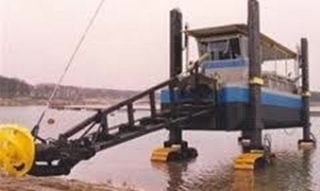 A cutter suction dredger manufactured in India. This one has tracks and crawls on the river/lake  bed.
CUTTER  SUCTION DREDGERS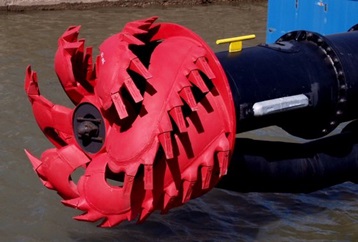 A cutter suction dredger is a stationary or self-propelled vessel that uses a rotating cutter head to loosen the material in the bed ('cutting').
A suction inlet located beneath the cutter head (known as the suction mouth) is connected by a suction tube directly to one or more centrifugal pumps. The vacuum force at the suction inlet sucks up the loosened material. The suction tube and cutter head are attached to a ladder. The ladder with cutter head is positioned at the fore of the vessel.
The business end of a cutter suction dredger
The cutter suction dredger discharges the dredged material directly to shore via a floating pipeline or into a barge with a special loading system.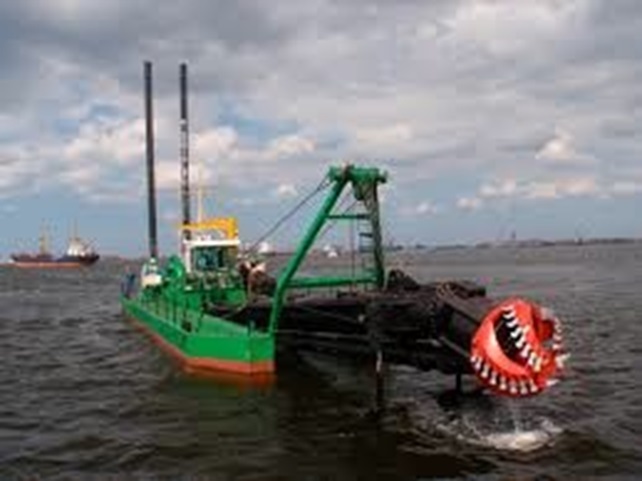 A  large cutter suction dredger
For video on how a cutter suction dredger operates see
http://www.vanoord.com/activities/cutter-suction-dredger
http://www.jandenul.com/en/equipment/fleet/cutter-suction-dredger
So two dredgers are in the pipeline for Srinagar.  The flood control department is also using excavators to operate in the tributaries and the flood channel.  In view of the massive amount of dredging required, two dredgers are hardly enough.  Still, a start has been made.  The baby is born.
ACKNOWLEDGEMENT
Thanks are due to Er Ashraf Fazili for his sustained effort to convince the authorities to take up de-silting and dredging of the Jhelum river in the vicinity of Srinagar.  Thanks to "Greater Kashmir" for publishing articles on the subject and for two editorials.  Thanks to various authors mentioned who have written articles urging action.  Above all, thanks to Gen Surjit Singh for overcoming my natural inertia and making me write.