Admiral Arun Prakash grew up in the Kashmir Valley, where his father rose to be a District Commissioner of Leh. His two elder brothers served in the army. The eldest was a Gunner and retired as a Maj Gen. The middle brother served in Int Corps and retired as a Brig.
The Admiral had a long and distinguished career both in naval aviation and on surface ships.  He is a graduate of all the prestigious courses. He has served on and commanded several ships, including the aircraft carrier Viraat.
In the 1971 Indo-Pakistan War, he flew Hunter aircraft with 20 Squadron IAF. For his gallantry in the Western sector he was awarded the Vir Chakra. Admiral Arun Prakash was the first naval aviator to attend a course at IAF TPS.  Thanks to flying the HS748 and Canberra he was then among the few naval aviators qualified on multi engined aircraft.  He was, therefore, posted to the newly formed MR squadron INAS 312 equipped with Super Constellations. Later, he was the first CO of a Harrier squadron.  (See INS Viraat and Harriers )
The Admiral has been Commandant of NDA. In October 2001, he became the first C-in-C of the newly established Andaman and Nicobar Command. He served as CNS from 2004 to 2006.  He now lives in Goa and writes on maritime matters.  Here are his recollections of his second stint with the air force and its aftermath.
*
A Naval Aviator Aground
Having earned a naval-aviator's wings in 1968, a year later, I achieved my life's ambition, by acquiring the 'deck-landing qualification', on board INS Vikrant, in a Sea Hawk jet fighter. But before I could reach a respectable figure of 100 deck-landings, I was packed-off for a two-year exchange posting with the IAF.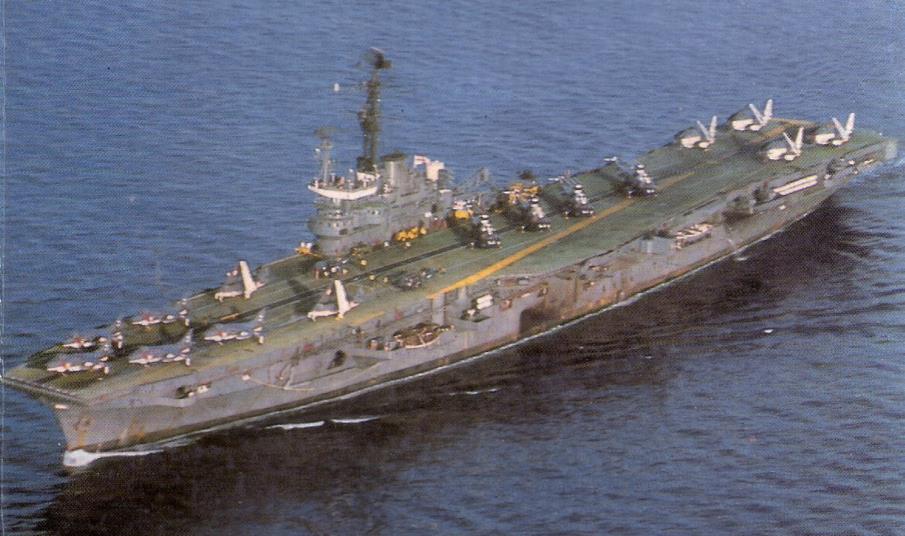 INS Vikrant circa 1984 carrying a unique complement of Sea Harriers, Sea Hawks, Allouette & Sea King helicopters and Alize ASW
Having returned to the carrier after a longish break, I was looking forward to reaching the 200 deck-landing mark, when I received some alarming news at sea. I had been 'nominated,' for the Production Test Pilots (PTP) course in the IAF Aircraft & Systems Testing Establishment (ASTE) Bangalore. My 'selection,' however, was contingent on passing a 'screening' test. The ship's Captain decided that I would be disembarked by helicopter, so that I could catch a train to Goa and prepare for the screening. My plea that (a) I was just settling down on the ship and (b) I was not interested in the course, were summarily rejected and I was told to go and pack.
Since no one seemed to have a clue about the content of the PTP course or the screening process, I rushed to the ship's library, and grabbed whatever books, I could find, on arcane subjects like calculus, aerodynamics, and aero-engines etc. In those, pre-Google days, I spent a hellish week, struggling to make sense of these long-forgotten topics, before heading for Bangalore.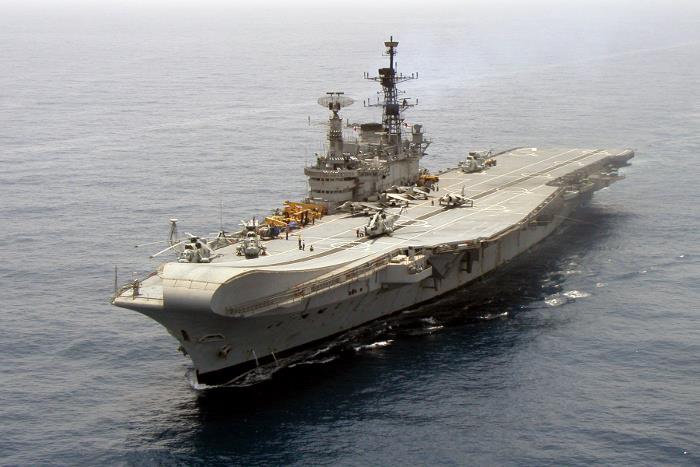 INS Viraat which the author commanded later
http://indiannavy.nic.in/about-indian-navy/about-us, GODL-India <https://data.gov.in/sites/default/files/Gazette_Notification_OGDL.pdf>, via Wikimedia Common
The Perils of ASTE
The screening consisted of a written test, and a 'cockpit assessment' of an HS-748, followed by a sortie in an HF-24 Marut trainer for a 'preview' (evaluation) of the aircraft. These exercises called for 'mock' assessments to be rendered, in writing. Of the 12 odd candidates, six (including two helicopter pilots) were selected. As the sole nominee of the navy, I found myself amongst the selectees for No. 5 PTP Course, that commenced in Oct 1975.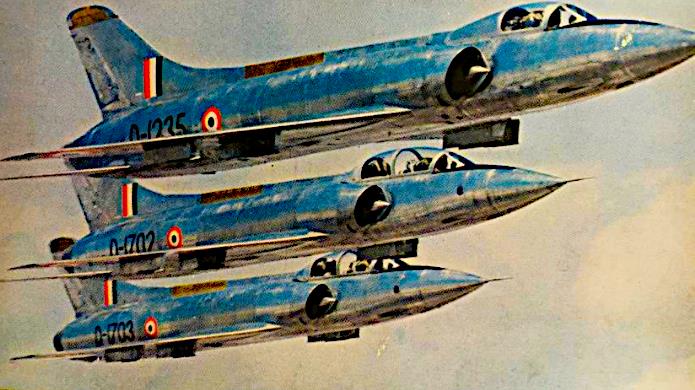 HF-24 Marut which the author flew for pre-course screening
Indian Air Force (GODL-India), GODL-India <https://data.gov.in/sites/default/files/Gazette_Notification_OGDL.pdf>, via Wikimedia Commons
Having served with an IAF squadron, earlier, I was quite at home amongst my 'khaki' (the uniform they wore those days) colleagues, but ASTE was something different altogether! Initially created as a 'trial and testing' unit, it was tasked, in the early 1970s, to conduct preparatory courses for officers likely to be deputed for Experimental Test Pilots' (ETP) courses abroad. Accordingly, a Test Pilots' School (TPS) was established, with a skeleton staff, to run a Flight Inspectors' Course, which later mutated into the PTP course.
In this context, Wg Cdr Joseph Thomas, the first Officer Commanding of TPS, mentioned to me, recently, "Since we ran the PTP course as a precursor to the ETP course, the ground subjects covered a substantial portion of the ETP syllabus as also, quite a few of the flight test techniques."  We were blissfully unaware of this, but any illusions we may have had about the PTP course being a relaxed, six-month sojourn in the 'garden city,' were rudely shattered, within days.
Thrown in the Deep End
In the classroom, we were thrown headlong into the turbid depths of aerodynamics, thermodynamics, propulsion, system-engineering, flight-testing and data recording techniques etc. Flying was a parallel, but far more pleasurable aspect, especially since we were rapidly converted to the HJT-16 Kiran, HS-748, the HF-24 Marut, and the Canberra T-4.
 
Canberra T-4
SAC A K Benson, OGL v1.0OGL v1.0, via Wikimedia Commons
The flying exercises included empirical investigation of 'aircraft performance' as well as 'stability & control,' on these unfamiliar aircraft and we undertook flight-tests to assess climb, cruise, asymmetric handling, stalling and spinning characteristics. Each exercise required detailed pre-flight planning, flying precise profiles and accurate recording of data. Data recording was done manually since aircraft were not instrumented. 
Once on the ground, the recorded data had to be reduced to specified atmospheric conditions and converted into graphic presentations. And therein lay our biggest headache. The figures, often running to two decimal points, had to be multiplied, divided, squared or rooted – an impossible task manually. Hand-held digital calculators, being still a decade away, we were issued logarithmic tables (not seen since school), and slide rules (never held before)! Later, we received a single, Texas Instruments electronic table-top calculating machine, for which we often had to queue up till late at night or over week-ends.
  
5  Production Test Pilots Course,  TPS, ASTE
Sitting (L to R)  Flt Lt NK Kohli, Sqn Ldr SC Mittal, Sqn Ldr J  Thomas,
Wg Cdr PM Ramachandra SC, Air Cmde RD Sahni,
Sqn Ldr HK Khanna, Sqn Ldr BS Chhoker, Sqn Ldr Sridhar
Standing (L to R) Flt Lt  VP Mathur, Flt Lt PM Velankar, Flt Lt Nanku Pandey, Lt Cdr Arun Prakash, VrC, Fg Offr TR Kishore, Flt Lt AK Nagalia, Flt Lt Banerjee
Even as we experienced the joys and agonies of the hectic ASTE schedule, for student test pilots, the wives and children were left to fend for themselves, in happiness and in adversity. But these gallant wives of "Flying Scholars" received due acknowledgment, for their fortitude, in the form of a 'Diploma' signed by the Commandant!
 
Author awarded the Dunlop Trophy on graduation
 

A Memorable Experience
Even though, I did not undergo the ETP course, ASTE was an eye-opening experience that vastly broadened my horizons, and taught me to question and analyse everything one encountered in aviation. While classroom instruction and report-writing strengthened one's theoretical base, the airborne exercises helped refine and sharpen ones flying skills. I will recount just one memorable experience, in this context. 
This was to be a 'demonstration' of asymmetric flying in the Canberra T MK.4, in which the student was to determine the minimum control speed (VMC), below which lateral control of the aircraft could no longer be maintained, after failure of one engine. Also, to be estimated, was the leg force required to maintain direction, through rudder-deflection. My instructor was the OC FTS, Sqn Ldr Thomas, a distinguished graduate of the USAF TPS.
The exercise started with him shutting off the critical engine, but as I reached for the rudder-trimmer, to relieve leg force, I was reminded that use of trimmers was 'taboo.' For the first two engine shut-downs, I managed to hold direction. But after the 4th or 5th iteration, it became increasingly difficult to sustain, a boot-full of the Canberra's large (manual) rudder. It was only after landing, as I tumbled out of the Canberra's hatch, that I realized: my knees had turned to jelly!
However, Sqn Ldr Thomas was not done yet. The following day, when I met him with my draft report, we had a disagreement about calculations involving rudder angle required to counter side-slip. When I indignantly showed him a US Navy text book on aerodynamics, to support my stand, he quietly, took the book, made a correction in red ink and initialled it! All told, I learnt a lot from this exercise – including the need for physical fitness in test flying!

Aftermath
The question whether my PTP qualification was of use to the navy, has only a qualified answer.
While I undertook production testing of overhauled aircraft at the Naval Aircraft Repair Yard in Cochin, for a year, the occasions to evaluate aircraft were few and far between. In 1976, I undertook proforma 'evaluation' of the Britten Norman BN-2 Islander in the UK; after 12 of them had already been ordered! My twin-engine experience also saw me figuring amongst the crew designated to take over L-1049 Super Constellations from No. 6 Squadron IAF. In 1980, I evaluated the HPT-32 and the 'Coastguarder' version of the HS-748 for the IN; and rejected both.
It was more than two decades after the PTP course that I had the opportunity to fly the Mig-29(M2), MiG-29(K), Sukhoi-27(KUB), in Russia, and the Rafale-M, in France, with company test pilots.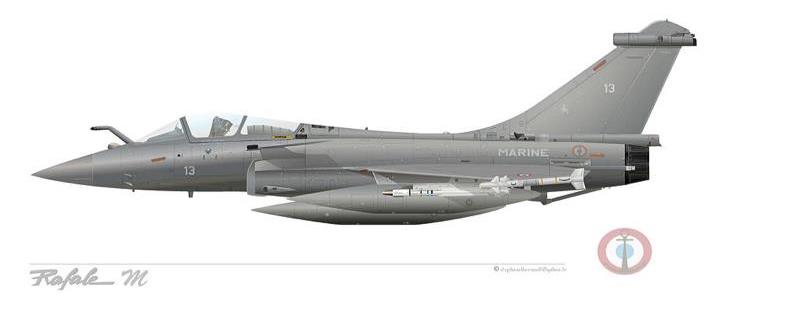 Rafale – M
Newresid by stephanelhernault@yahoo.fr, CC BY-SA 3.0 <https://creativecommons.org/licenses/by-sa/3.0>, via Wikimedia Commons
Although, these flights did not constitute a full-fledged 'evaluation,' I did draw on my PTP background and experience to write objective reports which helped steer NHQ's decision-making. At the risk of boring the reader, I attach an excerpt of an article I had written on this topic many years ago.
 
MiG-29M-2
Alex Beltyukov, CC BY-SA 3.0 GFDL 1.2, via Wikimedia Commons


Su-33 Vs MiG-29
During evaluation of the MiG-29(KUB) prototype, that I flew in September 1999 at the MiG flight test centre in Zhukovsky, I found it to be an agile aircraft with excellent handling qualities, demonstrating good manoeuvrability and high turn rates in the horizontal/vertical planes. During a number of simulated carrier circuits and overshoots, the aircraft showed good engine and control response, and had good forward visibility on carrier approach.
Parked in the hangar was the MiG-29(K) prototype which had participated in the certification trials, with its folding wings, a tail hook, a refuelling probe and extra dorsal fuel tanks. It was, however, not available for flying, so I flew the MiG-29 (M2) which was under development as the land variant of MiG-29K with which it shared avionic and other components. The design team, headed by the chain-smoking Valery Buntin, appeared sanguine about optimizing the aircraft and radar to IN requirements and putting it into production in 36-48 months. 
 
Indian Navy MiG-29KUB carrier-based multirole fighter
http://www.indiannavy.nic.in/about-indian-navy/about-us, GODL-India, via Wikimedia Commons
 
MiG-29K performs a touch and go landing on INS Vikramaditya
Indian Navy, GODL-India <https://data.gov.in/sites/default/files/Gazette_Notification_OGDL.pdf>, via Wikimedia Commons
To fly the Su-27, I had to visit NITKA (the Soviet owned Aviation Research and Training Complex) located in a Ukrainian Navy aviation base near Sevastopol. The base was an eye opener: the Russians had re-created all the ingredients of an aircraft carrier ashore, in order to impart STOBAR training to their pilots.  One short runway had a concrete ski-jump for launch, and another was equipped with an electro-optical landing sight, and a sophisticated hydraulic arrester gear for arrested recovery. (NITKA has been replicated in the IN/DRDO 'Shore-Based Test-Facility' in Goa). 
I flew in a Su-27 (KUB) trainer, with the famous Viktor Pugachev, of 'Cobra manoeuver' fame on controls. The aircraft exited the ski-jump with ease and a healthy rate of climb. After a few Cobra manoeuvres, we got down to some serious flying and simulated carrier circuits, at 500 ft. The Luna landing-sight was a very good aid, and brought us down to almost exactly the same touch-down spot in successive circuits. Finally, we lowered the hook and the huge fighter was smoothly 'arrested' in about 100 feet! This was my first 'arrested' landing after 24 years. 
 
Su-27K  (Also called Su-33)
Dmitry Terekhov, CC BY-SA 2.0 <https://creativecommons.org/licenses/by-sa/2.0>, via Wikimedia Commons
The Sukhoi-27 was, no doubt, an excellent aircraft, and ahead of the MiG-29 in many parameters.  Later re-designated Su-33, it is deemed to be the progenitor of the Chinese J-15.  About 30%-40% bigger and heavier than the MiG-29(K), it was, however, dimensionally incompatible with the Gorshkov.  The tail was 1.5 meters too high to fit in the ship's hangar, and during the take-off run, the right wing-tip clearance from the ship's superstructure would have been of the order of only 3-4 metres. 
Since the Russian Navy, was already operating the Su-33, from the much bigger Kuznetsov, our preference for the MiG-29(K) over the Su-33, seemed to upset them. So, it was not surprising that during my farewell call on Admiral Vladimir Kuroyedov, the Russian Navy Chief appeared visibly upset. He offered to have the Gorshkov's hangar modified to accept the Su-33!  In hindsight, it was just as well that we stuck to our guns: the modification would have added a few hundred million USD to the cost and many months to the delivery schedule.
Conclusion
All said and done, the six months that I spent in ASTE were well worth the sweat and toil, and provided valuable experience that stood me in good stead – in the air and at sea. On the golden jubilee of the TPS, I join the other graduates in offering warm greetings and grateful thanks to this great institution.