This is a true account of an event which took place exactly sixty years ago on Sunday, the 7th August 1960. Four NDA cadets went out on 'liberty' to Poona. But what was meant to be a fun-filled weekend turned into a tragedy. To save some typing effort, I will call them Ravi, Raj, Tej and Jit. Given below is a brief introduction to this 'foursome'. At the outset, it must be mentioned that all were sixth termers, and none of them held any cadet appointment. Hence they had all the privileges of being 'sixth termers', with no responsibility.
Ravi was an Air Force cadet. His dream was to become a 'Fighter Pilot' and perform awesome aerobatics, so that he could take on any adversary, in a dogfight. He was the son of a senior police officer, and his father had recently served in Poona. He had learned to ride motor bikes, and was proud of his 'biking' skills.

Raj was a well-known equestrian. It was a treat to see him galloping down the lane during 'tent-pegging'. He was also a son of a police officer of the Punjab cadre, and he also had a licence to drive motorbikes. He is known to have said, "I do not consider life to be so precious that one should sacrifice the thrill of riding fast, just to live a few years more"

Tej was a happy go lucky young man, whose main purpose in life was to keep out of trouble. Despite that, he was forever running into glitches. But he had developed ingenious techniques for escaping punishment. For this, he had developed a large circle of friends, at all levels in Academy

Jit was a bespectacled book-lover, who spent most of his spare time in the library. He drew many books but rarely read them. In the process, he got to know the names of many authors and the titles of their famous works, to believe that he was erudite.
On that fateful Sunday, Ravi had arranged to borrow two motorcycles from a service station. With his friends, Raj and Tej, he drove down to Kirkee, for a joyride. On the way back, they dropped into the bungalow of an officer who was a family friend of Raj. There, they met Jit who had a similar connection and had gone there to spend a day. After a cup of tea, they invited Jit to join them, since they had one pillion free. The offer was gladly accepted.
At about this time, the cadets discovered that they had just thirty minutes to reach Poona to catch the NDA bus. Raj, who was looking for this opportunity said, "Let us have a race" Everyone approved, and a small bet was agreed upon. Ravi and Tej were on one bike, and Jit was on the pillion of Raj. 
This is where the story begins. Soon the two bikes were roaring through the market of Kirkee. Raj negotiated through the traffic with great skill, and he had a clear edge at the start. Then they got onto the highway. Ravi came at great speed and overtook Raj. The contest became thrilling with each passing moment. Soon, it became evident that Ravi was able to negotiate the bends much better by tilting his bike, while Raj had to slow down at the curves. But he was a daredevil and was not willing to give up. He suddenly accelerated, and attained the maximum speed of the bike.  A group of cyclists coming from the opposite side of the road were dazed, and made way for the speeding motorcycle which had swerved to the right side of the road. The bike skidded and Raj lost control. What followed was tragic, to put it gently.
The machine fell on a side, and stopped suddenly. Jit was thrown over the head of Raj who was dragged several feet by the momentum of the motorcycle. The surviving pair heard the sound of the crash and returned to discover that Jit was bleeding profusely, since his spectacles had broken. On the other hand, there was no apparent injury on the face or the body of Raj. The only problem was that he did not respond to whatever anyone said to him, and he failed to get up, even when he was assisted in the process.
 
Soon a small crowd assembled. An elderly onlooker told them that Raj was unconscious. A vehicle was summoned, and the four cadets were rushed to Sassoon Hospital, which was not too far. There, Jit was given a dressing but Raj did not recover his senses.
Truth began to sink in; slowly but surely. The boys had no choice but to inform the authorities of the Academy. They had violated several rules and could be in serious trouble. But for the moment, the main concern was Raj, who was lying motionless. However, his brave face showed no sign of pain or suffering.
The duty officer of the Academy responded immediately, and the Adjutant reached the hospital with an ambulance, within an hour and a half. Raj was shifted to the Military Hospital and the remaining three cadets were taken back to Kharakvasla.
For three agonizing days, Raj continued to be in coma, with no change in his condition. His family members came over from Ambala. Despite the earnest prayers of the entire Kharakvasla Township, he passed away, on Wednesday, the 10th August 1960. An enquiry was ordered to investigate into the circumstances under which the accident had occurred.
 
It is time to reveal the identities of the four cadets. Some ex-NDAs of that vintage may recall them.
Ravi was Cadet Ravindra  Rajadhyaksha. He became a fighter pilot and was commissioned in May 1962. Unfortunately, he died in an air crash on 14th Aug 1962, nearly two years after the death of his friend. Incidentally, he was a first cousin of the well-known writer, Shobha De.

Raj was Cadet Hardhir Raj Malia. He has two other brothers in the Armed Forces, and a sister, Sanjivan Malia, (wife of Col SS Mehar, of the Guards) who founded a school in Delhi, called, "The Little Angels' School".

Tej is none other than TPS Kohli.  Popularly called 'Tipsy' by his friends, he continues to get into trouble, but manages to find a way out with his trademark deftness.

Jit is the author of this story.

The first three were in the Golf (old How) Squadron, whilst I was in Hunter (old Easy) Squadron.

The name of the officer living in Kirkee who was a family friend of Malia and the author is Lt Col Didar Singh. His son, Col JS Bath, SM is from the XXIII course and is a well-known Paratrooper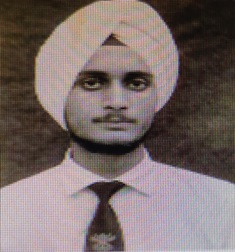 HRS Malia. The picture is from NDA archives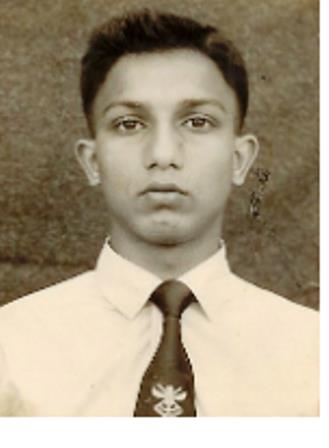 Cadet Ravindra Rajadhyaksha 
This is a picture of the author,1958, removed from the Identity card. 
Postscript
The accident had a profound effect on the three of us. I have indelible memories of some of my reminiscences of that period. Let me record them systematically, as follows:
It was well past the 'lights out' time when I reached the Squadron. After thanking the adjutant and saluting him, when I entered the lobby, I saw our SCC, J Thomas nervously pacing up and down. He had been told that I was 'missing' and was apparently relieved to see me.

The next morning, Major Khader Ahmed, our Squadron Commander, came over himself to meet me. He was very sympathetic and took me to the town to help me in getting a new pair of spectacles made.

The court of inquiry grilled us. However since we had decided to tell everything truthfully, they exonerated us of all charges. No punishment was meted out to us for the minor offences committed by us. I think 'Tipsy' should be thanked for that.

A cyclist who was injured in the accident did not seek any compensation for his minor injuries. I think he knew that the errant cadet had paid the price for his offence!

The police officers of Poona were very 'cooperative'. They resolved all issues with the owner of the bike and did not create any problems for the NDA.

His last words were, "I am not going to lose this race" and when he revved up the engine, it attained an incredible speed. I can never forget the dazed look on the faces of the people who saw us.

Rajadhyaksha was the closest friend of the late Hardhir Raj Malia. He often felt that he had made a fatal error by over-taking him. He once said to me, "I knew that he was a novice…he had very little experience with these heavy bikes. I should have let him win. I now feel guilty. I think I have murdered Malia!"
*
I finished my training nearly sixty years ago…but the memories linger on. It has been truly said that "You can pass out of the NDA, but the NDA does not pass out of you!"