Editor's Note
  It is well known that Khushwant ji did not believe in Heaven and Hell. Therefore, it would be inappropriate to say that he has left for his Celestial Abode. To borrow his own expression, one may state that he has 'proceeded on a long road to nowhere' 

and agnostics like him might meet him on that path when their turn comes!

In the world of mortals, he has left an

indelible mark through his writings. Whether one liked him or not, it was difficult to ignore him. His message was forever, eminently readable.
Col SK  Kohli (XV NDA, CSM Easy Sqn, JUO Zojila Company, 24 IMA) was one of his countless admirers. Colls as he calls himself, is a poet in his own right. He has the ability to produce a piece at the speed of light. For this occasion, the 'Duke', as his friends affectionately call him, has sent in the following lines.
*
Life and death
are two faces
of the same coin,
one faces towards sunrise 
the other towards sunset
all the same
as the sun does set
it also does rise… 
not in a rebirth 
that I don't believe
but rises in the eyes of humanity
so it seems…. 
till the cremation ground,
only…..
none has accompanied
anyone beyond
nor you
nor I will!
COLLS
Col .S K Kohli Retd
1174/37 NOIDA 201303
09818574698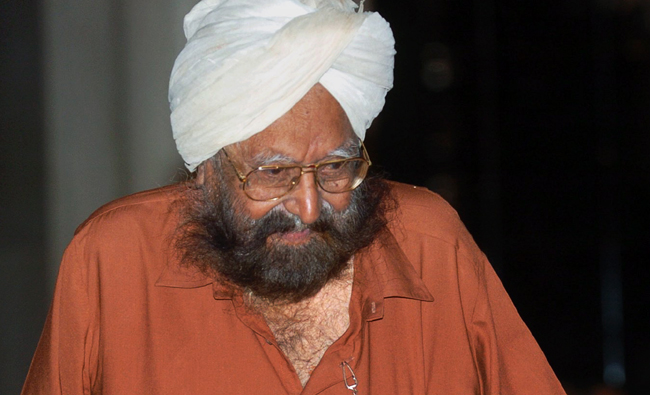 AN INIMITABLE LIFESTYLE
This towering writer was not easily impressed by any one: big or small. He had 'the ability to walk with the Kings, and yet not lose the common touch' For himself he left the following epitaph long before he stopped breathing:
"Here lies one who spared neither man nor God
 Waste not your tears on him, he was a sod
 Writing nasty things he regarded as great fun
 Thank the Lord he is dead, this son of a gun."
A POST SCRIPT
Like most Indians, I remember countless things said by him. He was proud of his Sikh heritage, but at the same time he was a die hard Agnostic. He saw no contradiction in this. Many years ago, he narrated a small story which he wrote when he was covering an election in Punjab. It seems he got into a casual conversation with a Sikh taxi driver, whose beard was obviously trimmed. He asked him whether he would vote for the Congress or the Akalis. The man said, "Sahib ji bote tan sada panth nu hi jaooga!" ( Sir, my vote will indeed go to the community!) Khushwant ji pointed out that his beard did not reflect his  faith, and the man was quick to respond, "

Sahib ji meri darhi bhanwe bigad jaye, panth di darhhi patit nahin honi chahidi"

(Sir, my beard may get disfigured, but the beard of the 'panth' must not suffer any harm!) The Sikh logic may be difficult to comprehend, but it exists, nevertheless.