Prologue 
My one regret is that I cannot read the Persian script in which Urdu is traditionally written. I had learnt the alphabet, but before I could get a grip on 'right-to-left' language, the Punjab was partitioned, and Urdu became a language of our arch enemy. We were told not to use Urdu words in Hindi which was to become our official language by 1965, as per the Constitution.
When I grew up, I became fond of Urdu poetry. The Bollywood movies used Urdu lyrics, and in 1957, the film 'Pyasa' turned out to be a big hit. Sahir Ludhianvi became a household name. That is the time when I began to learn Urdu in right earnest. Around the same period, I was attracted by the works of Mirza Ghalib. His language was tough, because he used a mix of Persian and Arabic.
Later in life, I was destined to serve in Agra, for over seven long years. And that is where I met AG Khan. He is a short man with a slight build and an unassuming disposition. He was a draftsman by trade and was several rungs lower than me in the official hierarchy. But that did not prevent us from becoming friends. He was the very epitome of good manners, and an excellent model of what is known as the Awadh 'tehzib'.
The poem at the end of this piece was written in 2003 or 2004, and that was six or seven years after I had retired from the Army. In fact, by that time, Khan had also superannuated. Therefore, he gained nothing from eulogising anyone. I am sharing this with you because it tells something about human nature. When I read it now, I realize how much a man in authority can mean to the men whom he commands!
*
Where 'Work is Worship'
This is the story of an unknown poet, AG Khan. However, before I begin the narrative, I must tell you about where and how I met this very amicable and talented person.
509 Army Base Workshop is located in Agra, which is also the birth place of Mirza Ghalib. When we were commissioned in the Corps of EME in 1961, it was the only telecommunications facility of the army and enjoyed an imposing reputation. I first visited the unit in 1969, when my younger brother, Surinder was posted there, as a young Captain. Later, I served in this great establishment in several appointments, and had the signal honour of commanding 'Five-O-Nine' (abbreviated as FON by the 'Fonians') during 1989-91. A few years later, I was appointed Commander of the Base Workshops Group in 1994, and so I went there in a policy-making capacity. I developed very friendly relations with the civilian staff of the unit who serve there all through their working lives. Even after retirement, I have been visiting Agra to meet my comrades as often as possible.
AG Khan is prominent amongst my friends.
*
My First Encounter with Khan
I do not remember the exact year, but I was a junior Major, and Khan had just joined, as a Draftsman, when I first saw him. It was tea-time, and the employees were discussing an Urdu couplet, which ran as follows:
'Ishq par zor nahin, hai yeh who aatish Ghalib
Jo lagaaye na lage, aurbujahaye na

bujhe…

'
Khan was the youngest in that group, and he strongly believed that the last word in this couplet was not 'bujhe' but 'bane'. With the utmost humility and respect for his seniors, he put across his point of view, but the elders shut him up with some snide words. He was told to concentrate on his work, rather than splitting hairs on this inconsequential issue. Khan was visibly hurt, but could do nothing, except to sulk in silence.
I overheard the debate from a distance, but I clearly saw Khan slighted and miffed. I broached the issue amongst the officers, but they thought it made little difference to the meaning or import of the couplet. But in my mind, the doubt lingered on…
Khan Enters into my Life
A few days later, Khan entered my office in connection with some official work. When the job was done, I broached the issue. His eyes lit up. With great enthusiasm, he recited the entire ghazal, 'Nuktacheenhaigham-e-dil…' and explained its meanings. It became clear to me that Khan was right and at the same time, Ghalib went up in my estimate by several notches. The word 'bane' makes a world of difference. Think it over!
 
Diwan-e-Ghalib by MrirzaAsadullah Beg Khan 'Ghalib'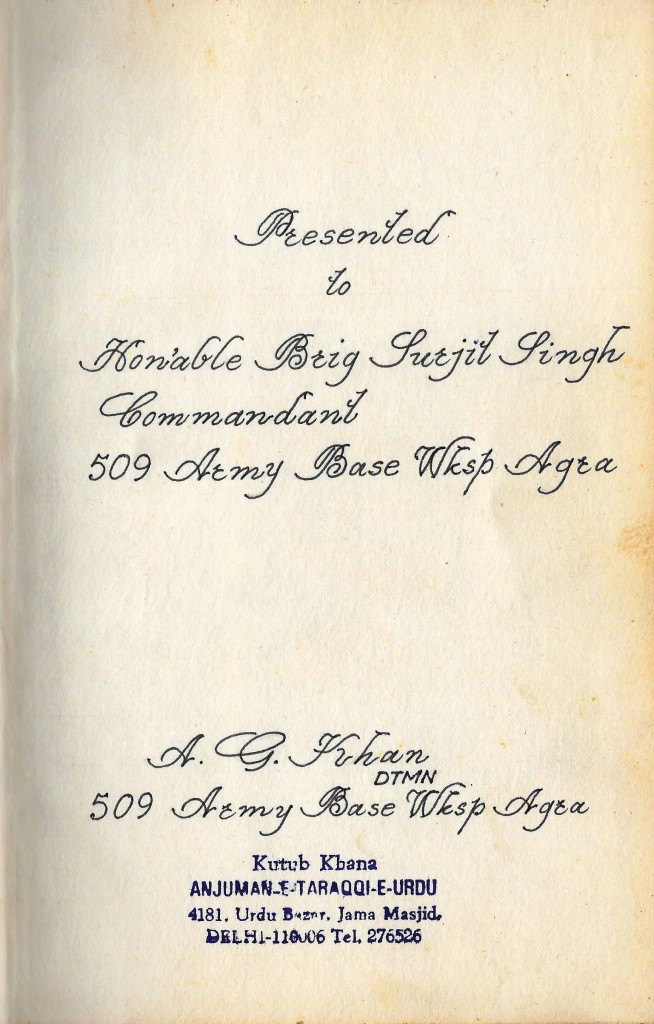 The very next day, Khan brought a copy of 'Diwan-e-Ghalib' but it was in Urdu script, and I could not read it. And that made it necessary for me to call Khan, whenever I needed the meaning of an Urdu word. Slowly, but surely, Khan became a part of my life. Our friendship grew so much that he had the gumption to invite me to join his family for a function.
And that is the first time I entered a civilian Muslim house. Theirs was a joint family and the entire 'mohalla' was inhabited by Muslims. I noticed several differences between their lifestyle and ours. For one thing, the women did not join the men during the meal. In fact I could almost 'feel' them peeping through the creeks and the 'chilmans' (curtains)
Having said that, I must add that they were extremely courteous and made it a point to say good things about our workshop and the officers.
The TV Serial on Mirza Ghalib
A year before my posting to Agra as the Commandant, the TV serial on Ghalib was telecast in 1988. I recorded it on the VCR and saw every episode several times.
 
Taking over FON from the late Brig (later Maj Gen) KB Jhaldiyal
When I landed up in the unit, I found Khan waiting to seek my views on the story and the ghazals. In anticipation, he had brought a copy of the 'Diwan' in Devanagari script, with meanings of difficult words. That proved to be an invaluable gift and I have preserved it, till this date. To re-pay my debt, I offered to visit his house and took a few trinkets for his children. He and his kinsfolk were overawed by the 'flag car' and the elders in the family used the choicest of the words to express their gratitude. I got a first-hand experience of what is known as the 'tehzib'of  Awadh, the focal point of Urdu culture. Khan had  free access to my office, and I invited him to visit me in the 'FON house'. But in all fairness, I must place it on record, that never once did Khan seek any undue favour from me.
 
A picture of the front lawn of the FON house, where I met Khan a few times
 Later, when I visited the unit as a two-star general, I made it a point to meet him in the guest house. The friendship survived my retirement and I visited his house, whenever I went for the veteran's re-union.
Khan, the Poet
Khan did manage to keep one secret from me. He used to compose verse but his inherent shyness kept them close to his chest. However, after retirement, he shared one of his poems with his colleagues, and recited it during our re-union in 2004. Humility and decorum should have prevented me from making it public, and I have kept it under the wraps for over a decade, but today, I wish to share his words. They convey a very poignant sentiment. Read it for yourself, and be the judge.
 
The then Commandant of the Workshop, Brig (Later Lt Gen)  AKS Chandele had the poem recast and framed. It was delivered to me in the following form, and it is held as an invaluable  treasure.
 
A Tailpiece
If I could re-live my life, I think I would have spent more time with the likes of AG Khan!
*
Only for the Ghalib Lovers
If, and only if, you are a genuine Ghalib lover and have four minutes to spare, click on the following link. You will see and hear Suraiya sing a classical ghazal rendered sixty odd years ago. And that will put this piece in perspective.