Originally posted on 16 Oct 2011 : 
Agriculture or farming is the most appropriate sequel to soldiering. Our cantonments are more akin to small towns and villages than the concrete jungles that our metropolitan towns have become. When thrown in the midst of the slimy people who live in cities, we are like fish out of water.
Last week, I had an opportunity to spend some quality time with an NDA buddy,
Lt Gen SS Grewal

. Sarabjit made a planned switch to his "2nd Innings" in a very methodical manner. He started preparing for it more than a decade before his retirement, and he was veritably looking forward to it when he was dined out of the Battle  Honours Mess by the Army Chief.
Grewal has occupied high places in the South Block, but the Lord gave him legs which were long enough for his feet to remain in touch with the ground below. He has no hesitation to work on the fields with his own hands. He can spend hours on the tractor and drives around on the dust tracks on his motor cycle.
I asked him if he ever felt lonely. His reply was in a resounding "NO" He is at complete peace with the simple rural folks living around him. I asked him if there was adequate health care. His answer was, "If one follows the path shown by Buddhaji, you should not need doctors!"
In due course, I understood why and how he  turned to 'Vipassana' for his spiritual sustenance. Sarabjit was born in Rangoon (Burma) so his roots are Buddhist culture. He commanded a Ladakh Scouts unit and was later appointed their Colonel Commandant. After retirement, the first thing which he did was a course on Vipassana, and he practices it every day.
For those who may not be able to reach his village near Mustafabad in Haryana, I am placing some pictures to give you a general idea of what I saw.
The tractor is as fit for duty as the farmer, all set to go for a round of his fields. "Jai Jawan, jai kisaan!"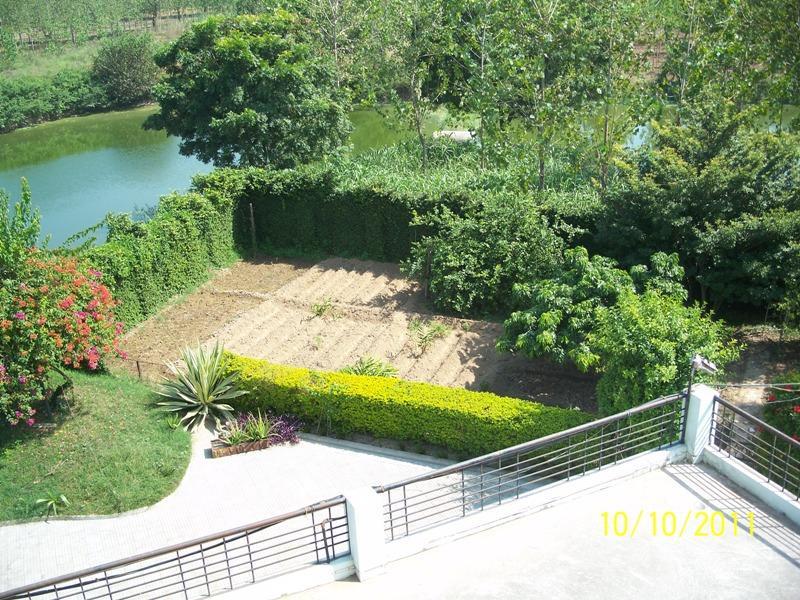 The vegetable garden in the backyard. Everything which they eat is 'organically produced' and that keeps the doctors away. They do not have a hospital around, and they do not need one, either.
Grewal makes full use of technology. This solar panel gives them enough warm water, and therefore power cuts do not affect them. The house is built such that in summer it remains cool all through the year. Even though air conditioners are installed in every room, and they have full power backup, he actually does not need even a fan for most of the year. The cool air under the trees is exhilarating!
This picture depicts Sarabjit's connection with Buddhism. The 'Tankha' on the left supplements a picture of a "gumpha" in Rangoon (or Yangon, as they now call it) Do you notice 'Nirvaana' in Grewal's eyes?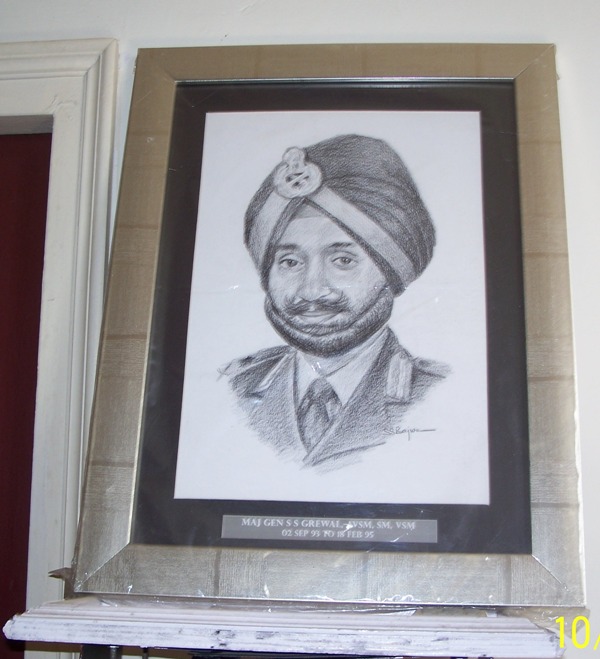 I thought I would insert this picture as a reminder of his days as a GOC. But believe you me, his present house is no less than a 'flag staff house' in any way.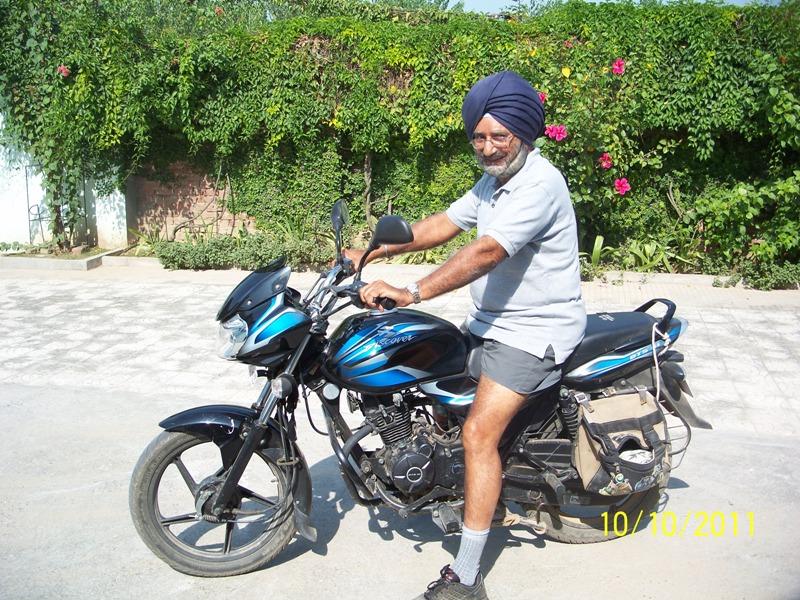 And now, the 'kisan' is all set to show me the route out of his village. He insisted on accompanying me up to the main road, lest I wander away into the dust tracks.
Farming is no longer what it was. A lot of technology goes into it. Even the dairy farming has changed. And those who have adapted themselves to current practices can earn a handsome amount of money, and at the same time, breathe fresh air and eat organic food and farm fresh vegetables and fruit. And if you do that, you will not have to run to doctors for those 'clinical' tests.
I must conclude this with the story of our revered father, Major Balwant Singh ji, who lived on his agriculture farm after he retired in 1966. One day, I said to him, "Pitaji, you are now getting old, and must shift to a town where medical facilities are available. What will we do, if something happens to you…?"
And most non-challantly, he said, "What can happen?? You mean a heart attack or a brain stroke ??? If that happens, then I will die. And I am quite ready for that…"
And indeed, no such thing happened. He lived to the ripe old age of NINETY THREE, without any surgery or clinical analysis.
With best wishes for Sarabjit and his wife, who joins him in Vipassana regularly.