Foreword
1997. I retired from the Army, and took up an assignment with Ashok Leyland. I was located at Hosur (TN), which is in effect a suburb of Bangalore. For those who may not know, Hosur was a village with a population of just over 10,000 in 1962. The Tamil Nadu government decided to develop it as an industrial town. It drew technical manpower from Bangalore and very soon several industrial units came up. The population grew at a rapid pace and within 30 years it had increased by a factor of eight. By the time I joined housing colonies were coming up like mushrooms and the real estate business was thriving. However, the town planners had not catered for water. My own establishment had enough area for horticulture and the soil was rich and fertile. For water we had to depend on tankers, but since the quality was poor I had to procure several cases of bottled water from Bangalore for drinking and cooking. Soon I discovered that the money which we were spending on water exceeded our electricity bill, and it became a cause of concern.
When the monsoon set in, we received heavy showers and I saw the rain water creating a nuisance all around. In a casual discussion I heard about 'rainwater harvesting', and I liked the idea. Within the next two years we were able to collect this precious liquid and store it in underground tanks. In the meanwhile, reverse osmosis machines were invented, and we were amongst the first customers for the RO plants. Both these initiatives succeeded and we were able to solve the problem to some extent.
Bangalore is now faced with water crisis. The population is bursting at the seamlines. Water has become a political issue and can assume alarming dimensions. My friend, Joseph Thomas who lives in a multi-storey complex has studied this issue in detail. He has come out with a brilliant solution and the results have already begun to show. At my request, he has summarized his experiences in the form of a paper given below. Thomas was a test pilot in the Indian Air Force, but he is an engineer by nature and instinct. Some of you may recall the papers which he wrote to combat floods in the Kashmir Valley. He had suggested dredging of the river, and his recommendations were implemented.
I am sanguine that 'Rain Water Harvesting' will also catch on, and the citizens of the "City of Gardens' will soon have enough water to quench their thirst and give a new lease of life to the parks.
 *
Rain Water Harvesting at Jal Vayu Towers, Bangalore
 by
Joseph Thomas
Bangalore is situated at an elevation of 3000 feet on the Deccan plateau. Being 
in the rain shadow area it receives only an average of 905 mm (35.6 in) of rainfall per year.  On average there are 108 days per year with more than 0.1 mm (0.004 in) of rainfall.  The driest weather is in

January

when an average of 1 mm (0 in) of rainfall occurs. The wettest weather is in

September

when an average of 244 mm (9.6 in) of rainfall occurs.
Monthly rainfall patterns in Bengaluru city during January 2015–October 2017
Bangalore does not have any major natural perennial source of surface water.  The Arkavathy, a  tributary of the Kaveri is the best it has.  When the population was small, the water it gave was sufficient for Bangalore. But, increasing population and increasing consumption by farmers has left both its reservoirs — Hessarghatta and Thippagondanahalli  — dry almost all the time.  Bangalore figures in BBC's list of 11 major cities that are likely to run out of water.

Pollution in Bangalore's lakes is rife
The situation is made worse because new housing is going up faster than the city's water utility can expand and repair the decaying water system.  Rain water harvesting (RWH) is, therefore, essential to the survival of Bangalore.  It has been made compulsory but the public tries to avoid it.
Jal Vayu Towers is no different.  The majority of residents pay lip service to RWH but oppose it in practice.  Some even oppose it fiercely.  They do not realize that rain water is distilled water and the cleanest source of water available in Nature.
The foundation stone for the project was laid in April 2004.  The specifications included rain water harvesting but no details.  The architect, project director and contractor were dragging their feet.  It took a lot of effort to convince Air Force Naval Housing Board (AFNHB) to implement some measures to gainfully utilize rain water.  Very grudgingly, they provided for roof water to be collected and stored in 3 x 20 kL tanks. The plan was for the water to be then pumped into the main drinking water sump. 
After the flats were occupied, the residents did not want to drink the rain water.  They were partially justified because the outflow from washing machines was being added to the rain water.  This could have been rectified but the residents did not want to drink rain water.  Period.
In 2008, the next step was taken when Air Mshl N B  Amaresh was President.  He fully supported RWH.  The two leading RWH organizations of Bangalore — Rainwater Club
(

http://www.rainwaterclub.org

) and Farmland Rainwater Harvesting Systems (

http://www.rainyfilters.com/

)  — were invited and both of them did studies.  It so happened that they proposed different systems.  Rainwater Club proposed charging of rainwater into wells of 30 feet depth.  Farmland proposed direct recharging of our bore wells.
Both solutions were expensive and so we thought of creating a shallow depression which would collect rain water and let it soak into the ground.  A sunken garden was possible. 
However, there was strong opposition to the scheme on the grounds that it was an "eyesore."  When the managing committee changed, there was a  move to fill it up altogether.  Finally, a compromise was made whereby it was half filled with gravel and sand.  It eventually became a Children's Park.  It doubles as a soak pit for rain water but its capacity  is far below the requirement.  Hence, it overflows even during a moderate rain.
 
The Children's Park cum Rain Water Harvesting Pit
By 2009 we had a serious water crisis.  The city water supply was disrupted and the three bore wells we inherited from the builder proved insufficient.   We were forced to buy 70 tankers of water just in one day.
We engaged a water diviner prior to digging new bore wells.  The water diviner found a line of suitable points —  children's park, BB court, main lawn.  This meant that there is probably an underground aquifer along that line.  When extended, it probably goes to the borewell near Block 3.
The water diviner was exceptionally good.  We dug in 3 out of 4 places recommended by him and found water in all 3.  The 4th spot is in the main lawn.

The next improvement was to add to the capacity of the AFNHB built underground storage tanks.  Two additional tanks of 20 kL were built.  Part of the rain falling on the roof of the Community Centre was also captured and sent to one of these tanks.
Certain other measures were taken.  Some water from a storm water drain was channeled into a shallow well.  From there a 2 inches diameter plastic pipe was located underground to a series of such wells.  The small diameter pipe got clogged right in the beginning and the water overflowed into the central storm water drain.  When the management changed, it became possible to stop the wastage of water by building a small bund so as to retain the water in the basket ball court and letting it soak.  However, subsequently, the plastic pipe was cut and the water let out into the drain.  Such are the travails of rain water harvesting. Very few city bred people accept the idea of utilizing rain water.  They want rain water to flow into rivers, then dam it and bring it in pipes to their homes.
Further progress became possible in 2016 when Adm T Ganeshan became the president.  He was in favour of RWH but some residents strongly opposed it.  Fortunately, near the end of his term he bypassed the naysayers and channeled rain water to the central lawn.  He also presided over the digging of a trench of 2 ft x 2 ft just inside the hedge to absorb the rain water and let it soak into the ground.  This proved a great boon during the copious rain that fell in August – October 2017.
 
The sunken main lawn collects rain water and recharges bore wells.

 
Rain water harvesting in the children's park and the main lawn probably recharges an aquifer and has resulted in the water table rising by 300 feet, thus reviving 3 dry borewells.  300 feet is beyond our wildest expectations.  It is almost certainly a record in Bangalore.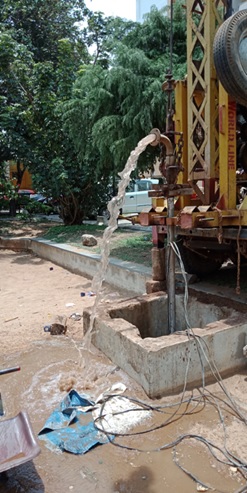 Borewell being tested after evival

Bore well being washed by blowing in compressed air
Post Script
 

(Received from the Author, J Thomas, on 2 Jun 2019)
In April 2018 we refurbished three bore wells and their pumps that had
stopped working.  We found that, as a result of the rain water
harvesting done in 2017 and 2018, the water table had gone up by 300
feet. The formerly dry bore wells have since been producing water.  We
have used this for the garden, car washing, swimming pool and, most
important, to provide drinking water when BWSSB supply is disrupted.
Now the annual accounts have been circulated and we find that the
water bill has reduced by Rs 4 lakhs.  The expenditure on rain water
harvesting in 2017 + 2018 was only Rs 1 lakh.  So, the money has been
recouped in just 3 months.
Have checked with our plumber who confirms that the total quantity
of water being drawn from BWSSB has reduced.  Previously, about  6 lakh litres
were received on alternate days.  Now it has reduced to 5 lakh litres.
This correlates with the money saved in the annual bill.
The estimated saving of piped water is 2 crore litres  per year.
Unlike other methods of rain water harvesting, we have avoided using
even a single square foot of land.  The main soak areas are the
children's park and the main lawn.  We use area recharge rather than
point recharge.
Further Reading
Record rainfall fails to push up groundwater table in Bengaluru
Why continuous rain failed to raise groundwater level in Bengaluru