Foreword by J Thomas
It was a pleasure working with Dave Sood.  He already had solar photo voltaic panels on his roof, thus proving that he was receptive to new ideas.  His niece and staff were also clueful and enthusiastic people.  They quickly and intelligently discussed the issues with Dave and implemented the ideas. 
The first major rain swept away some of the bunds, thus demonstrating that we need to treat 
water with respect.  Niece and staff quickly repaired and strengthened the bunds.
It helped that Dave's farm gets some water from the high ground to the south.  Earlier, this water used to go waste.  Capturing this water is equivalent to living in a higher rainfall area.  A huge bonus.
One day, a friendly black cobra came from the Asola wildlife sanctuary.  He was captured in a sack and taken back to the wildlife sanctuary.  He was obviously attracted by the increased activity in Dave's backyard.  The black cobra is the mascot of my old squadron and I took it as a good omen.

The ultimate aim of the exercise is to attain freedom from tanker water.  My guess is that the work done so far will reduce tanker requirement next year by half.  It also depends on the quantum of winter rains.  If they are copious, we may even attain complete freedom from tanker water.  We need to wait and see.
*
Towards Freedom from Tanker Water in Chattarpur, Delhi
by
Dave Sood
A course mate of mine Surjit runs a friendly e-magazine called 'amolak.in'.  I have been reading articles written by various authors on most varied subjects.
I was vacationing in New York in the month of June when I read an article written by Joe Thomas, another course mate of mine from Indian Air Force, on water harvesting.  He had used his knowledge in improving the water levels in the gated community that he resides in Bangalore.
It was fascinating to read that within a year, he had managed to bring the water levels of that area to a reasonably height.  This enable the colony to use their water wells for drinking as well as in maintaining the lawns of the society.   This is in comparison to the neighboring societies which are still running on tankers.
This article made me look at my own place of residence in New Delhi in Asola which is next to a wildlife sanctuary in Delhi.  I have a total of 12000 Sq. mtrs and I depend on tankers every year from March to July.  The relief only comes in July when rain happen and the water level comes up to a reasonable height for the well to operate.
I wrote to Joe in Bangalore and also exchanged many calls on whats-app regarding my water scarcity.
He asked me for the exact pin point location on Google maps and a general layout of the area.  It was amazing that we were conversing this when I was staying in New York; Joe was in Bangalore and my niece who stays with us at the farm in Delhi, providing all the answers.
From all the conversations I concluded that:-
A land size of 12000 Sq. Mtrs gets an average rainfall during monsoon of 300 mm.  This gives me a total volume of 36,00,000 liters of water in my area.  There are ways to control this water by making various bandhs in the farm to ensure that water seeps within the parameter of the farm.

My farm has various levels and it is easy for the water to run out of the farm into the Asola Wildlife Sanctuary.  This had to be stopped so that the water seeps in the area where it is falling.

Extra water can be collected from the road and the farms which is higher than my grounds.

Any water that I collect in my farm, beyond the 50% line of my farm is actually used by Asola Wildlife Sanctuary.  The underground aquifers running at the farm beyond the 50% mark normally will flow to the lower slopes towards to Asola Wildlife Sanctuary.  
Based on these directions I made a sketch of the farm and gave my comments, ideas as to how we should make the bandhs to retain the water in our area. 
Sketch of  the farmhouse, based on Satellite Imagery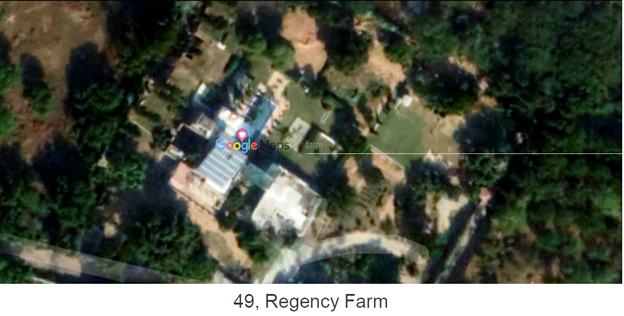 My niece was very enthusiastic about this project and started making bandhs at various levels as explained.  By now we were at the end of the month of June and rains were expected in the first week of July.
She spent approximately Rs.40,000 in labor, bricks and mortar to make these bandhs. This help in retaining the water as planned.
The rain got delayed by about ten days and that gave us additional time to complete and make firm bandhs as per the drawing.  We continued to exchange photographs between my niece and Joe to confirm that we are on the right lines to collect all the water in the farm.
After the rains of July Joe was very keen to know the result of our water harvesting.  I was glad to share with him that the water levels had gone up in the farm.  It used to take 12 hours of pumping water from the well to fill all the tanks in the farm (running the pump for one hour and giving it a rest of one hour through the night).  After harvesting we could fill all the tanks by running the pump only for two hours continuously.  This is a major achievement of this project and I was extremely happy to see the results.
This whole project was different from the water harvesting project preached by the Delhi Jal Board. They expect you to have one area where you will dig a large pit approximately 10 feet deep and fill it with different grade of soil, sand and stones.  The water will seep in this area only.  I cannot imagine the quantity of water that we get can be soaked in this pit only. Joe clarified that this method is meant for densely populated urban areas.  In our case, there were more than 3 acres of garden area which was ample for absorbing the rain water of 36 lakh litres during the monsoon.
It was a very good lesson in water harvesting.  Right now Joe is encouraging me to circulate this plan of water harvesting so that the general level of water in my area surrounding the farm goes up which will help us ultimately.
We had a RWA meeting on September 22, 2019 and I discussed the same with the fellow farm owners.  About half of them said that they get adequate water from their borewells.  The others have expressed a desire to see things for themselves.
Joe has been very kind in sharing his thoughts and giving his precious time to guide us through the developments of the farm for collection of rain water.
I am sharing some of the diagrams and pictures of the bandhs that we made to show you how and where the bandhs were created to retain the water at the farm
Great thanks to AMOLAK to have printed Joe's article on water harvesting which encouraged me to do the same at my Farm with his guidance
Thank you Joe
Thank you Surjit for the great e-magazine that you run.
Before we turn to the picture gallery, let us see a portrait of the author, to help you in placing Dave Sood.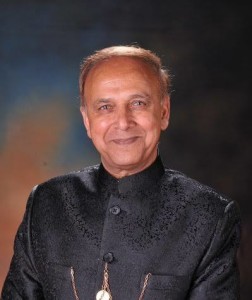 And now, here are a few pictures that tell the story pictorially.