Vicissitudes in the life of Lt Gen AAK Niazi
It is not uncommon for fortunes to fluctuate in life. But in the case of Lt Gen Amir Abdullah Khan Niazi, the amplitude of the swing was phenomenally large. He joined the army as a Y-cadet; earned an emergency commission at the somewhat late age of 27 and yet, rose to an exalted rank. At the peak of his career, he ran out of luck. I have chosen to narrate his story in an audio clip. Please click on the following link to listen to the tale. 
 The letter to the President of Pakistan
At the end of his book, Gen Niazi has appended a copy of his letter to the President of Pakistan in 1994. It contains a summary of his record of service and also gives details of how he was singled out to pay for the sins of scores of other generals. His tale of woes makes interesting reading. You can read the missive if you click on the link given below title of the book.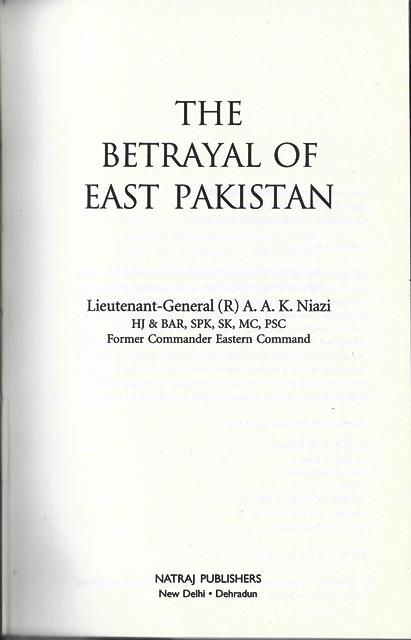 (After having read the letter, close this window on the tool bar to revert to the post)
The tailpiece
The question which we asked ourselves in the title of this post remains unanswered. But as I look at the story dispassionately, I find that the answer is obvious. Amir Abdullah Khan Niazi was a man made of flesh and bones, susceptible to all human weaknesses. At no stage of his life was he either a 'tiger' or a 'jackal'. If a sobriquet has to be assigned to him, he should be nicknamed 'goat' because at the end of the day, the polity of Pakistan used him as a scapegoat.
Bhagat Kabir has composed a beautiful couplet which sums it all up beautifully:
 अव्वल अल्लाह नूर उपाया , कुदरत के सब बन्दे 
 एक नूर से सब जग उपजाया कौन भले को मंदे ?
(In the beginning, the Lord created the universe from a single light-source;
   The entire creation has emerged from it; who is good and who is bad?)
I suspect we waste a lot of time and energy in trying to classify human beings as 'good' and 'bad'. And indeed, we pre-suppose that personally, we are paragons of virtue!
Is it necessary to be judgemental?