Originally posted on 10 Oct 2010 :
Last week when Ms Talat Zamir rang up to say that she would be visiting Chandigarh, we invited her to stay with us. We were neighbors in 1969-71 in secunderabad and have shared some very happy moments, but it is quite some time since we met her. To revive old memories, we thumbed through an old album and saw how we looked like those days. To those pictures I now add a few snapshots which I took now.
We have changed a lot! A thyroid complication has caused dear Talat to put on a bit of weight, but for the rest she is what she always was; lively, positive-thinking and cheerful. She is has made full use of her
creative abilities. From semi-professional singing to television, she moved on to clothes. And now, she designs jewellery. She came to Chandigarh to exhibit her creations at the Taj. I place below our old pictures and the ones taken recently. My younger friends may like to note that the bonds which are created during the formative years of service endure… in fact they are life-long. Now, here are some pictures taken on the first and only birthday party of our departed daughter.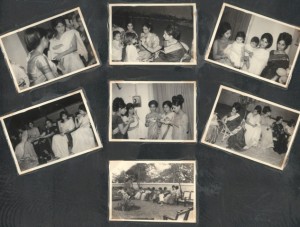 On the top of this page on the left and the rght extreme you see Talat with her daughter, Huma
Here are the two friends, with their daughters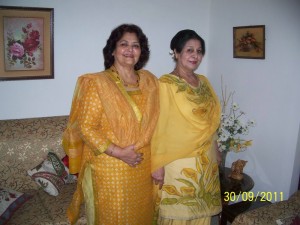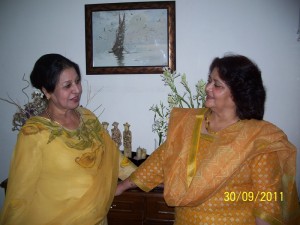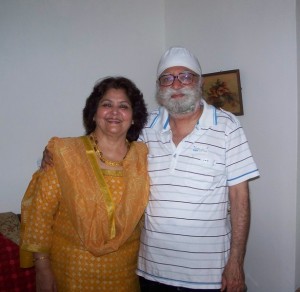 As I was going through these pictures, my mind's eye went to that classic Punjabi song, "dhaai din na jawani naal chaldi " ( The youth lasts no more than two-and-a-half days…)
Given below is the link to its rendering by Jagjit Singh