FOREWORD 
If I were to tell you that I like the poems written by Rabindranath Tagore, it would be an under-statement of titanic dimensions. If I use words like admire or adore, I would be closer to the truth. However, the fact is that I revere Gitanjali and place it on par with scriptures.  Over the years, I know many of the 103 psalms by heart, and keep discovering new meanings, every time I recite them.
Despite the above assertions, I have the gumption to disagree with Gurudev at a few places. In 1905, he composed a song in Bangla, which eventually became our national anthem after being converted to Hindi. It was first sung on 27 Dec 1911, in Calcutta. In this, he described India as, 'Punjab Sindh Gujarat Maratha; Dravid Utkal Banga'. He assigned distinct identities to the Northern regions, but covered the entire South India with just one word, 'Dravid'. In my humble opinion, he did not do full justice to the peoples of the rich cultures of South India. 
During my childhood, we used to refer to all South Indians as 'Madrasis'  It was only when I went and live in Secunderabad, Bengaluru and Hosur that I discovered that there are several distinctive civilizations in the peninsula, south of the Vindhyachal. Kerala, for example is very different from Andhra Pradesh. My brother, Surinder visited this region and he is so impressed that he calls it 'The God's own land!', and wants to go there every year!
It gives me great pleasure to share his travelogue with you. Thomas, who belongs to Kerala, has edited the text. Now, over to Surinder.
*
God's Own Country : KERALA
(By Brig Surinder Singh)
All countries are God's own, but some are more so. That is hard to believe…till you actually go there and see for yourself. That is just what my wife and I did, to celebrate my retirement in Jan 2017. I had worked for over 50 years in Military and Civil and thought I had done enough to earn this reward. Kerala we had seen before, but the best parts had somehow got left out.
From where does one start this tale? It has to be from Munnar or "Moonar" as the locals pronounce it. Sounds as if it has broken off from the Moon. In Malayalam it means the junction of three rivers.
The Duke of Wellington (then Col Arthur Wellesley) and his troops visited Munnar in 1790 to cut off the retreat of Tipu Sultan at Kumuli gap. Tipu's intelligence, however, forewarned him of this move and Wellesley had to retrace his steps. It was nearly 30 years later that Lieutenants Ward and Connor of the Great Trigonometrically Survey located the mountain peaks of the High Range, and in particular, the Aneimudi and the Chokanad.
The sheer beauty of the place and its climate attracted the British who chose to develop it. They saw in it, a place where they could prosper and relax too. They experimented with various plants and finally zeroed in on tea, in which they saw a gold mine. The British were far sighted…they knew that tea bushes planted once had a long life, anything from 50 to 100 years or as per their estimate, for the entire duration of their Raj in India.
They took large tracts of land on lease from the local rulers but the initial  going was tough. With sheer grit and determination they overcame problems caused by diseases. Healthcare was introduced by doctors who came from England and their engineers developed infrastucture like roads and electricity.
Tea processing techniques were developed and soon it was a roaring business with vast exports. The entire area of thousands of acres was turned into an ocean of tea estates with neatly cut bushes in rows and rows of curved lines interspersed with an occasional tree just to break the monotony. The hills at heights between 3000 to 5000 feet altitude are themselves undulating and there are pathways in between just wide enough for one man to walk through.
In 1897, Finlay Muir & Co. of Glasgow formed the Kanan Devan Hills Produce Co. Ltd. Thus the flagship company KDHP was formed. Independence did not disturb the arrangement. But, in 1976, FERA did. The Finlay Group divested part of their holdings to the Tatas, forming Tata-Finlay Limited. In 1983 the Tatas bought out Finlay's shares, giving rise to one of the biggest Indian tea companies with 33 tea estates. Tata Tea Ltd. spent the next 22 years modernizing its tea estates and raising the living standards of its employees.
Continuing losses, however, forced the Tatas to sell the plantations to the employees.  Thus the KDHP Company was reborn on the 1st of April 2005 with the name Kanan Devan Hills Plantation Company Private Limited. The 12,700-plus employees are shareholders and hold approximately 69 % of the Rs. 13.94 crore equity capital. TTL retained an 18 % stake, 7 % is held by a trust and 6 % is held by ex-TTL employees and business associates.  'Ripple' was adopted as the brand name of the tea.
Breathtakingly beautiful…. the whole place is as if God has taken a green brush and painted the entire landscape with it. A small cluster of shops and houses form the town of Munnar and the rest of the area has only lakes and  rivers and tastefully made resorts where tourists come from all over the world in droves all round the year. They come in search of peace and tranquility and Munnar gives that in plenty. The spas and massages add to the bliss…the bliss not of solitude but that given by the sensual delight of a fellow human being soaking you with therapeutic oils rubbed in leisurely but carefully. It is a skilled job that requires one year's training and a certified diploma.
Even if you don't indulge in spas and massages, you can still get into a state of bliss merely by walking through the tea estates or if you wish to avoid that effort, merely by looking out of the window. We were fortunate enough to get a cottage in the Lakeview resort of Club Mahindra. The sun rises into our window and the entire lot of hills and lakes are irradiated with golden light urging us to bathe and go down to the lake and soak in the sunshine and the early morning fresh air. 
 
We take off in a cab, for a long drive. Our driver, young Abhijeet, is also our guide. He is a man of few words but knows the area well. He has a sophisticated taste for music and plays soft numbers, be they in Hindi or Malayalam. He shows us all the local fruits and halts the car to enable us to taste them. Passion fruit and Water apple are novelties for us so also ornamental pineapples. One is never too old to experiment with new things unless they are sour like miniature oranges of Munnar.
The Rose garden here has a large variety of beautifully grown flowers, Double Dahlias stood tall and majestic. The roses themselves were in full bloom and colorful, so were all the other flowers. Further we drove on to Matupetty Dam, said to be the turning point in the history of Munnar since it has a hydroelectric power station.
The Tea Museum
We became quite familiar with the history of Munnar because of our visit to the Tea Museum. It begins with a documentary film which shows how the British and subsequently the Tatas have taken great care to preserve the environment or rather to enrich it. It is a lesson for all those who now struggle with these problems. The museum also houses a working tea factory which shows all the intricacies of tea making. One kg of tea leaves yields 250 gm of processed tea…so said the guide in the museum. The museum attracts a lot of visitors and they end up tasting and then buying the various varieties of tea that are up for sale at Company controlled prices. I think our trip to Munnar would have been incomplete without a visit to this museum and that too right in the beginning of the three day visit. It puts everything in the right perspective because the whole place thrives on tea just as Yamuna Nagar does on sugar-cane. I cannot think of a better analogy.
 
The Tea Estates
Munnar is synonymous with tea estates. There are around 38 tea factories in and around Munnar. They employ almost all the people who live here. The rest are engaged in looking after those like us who come to see Munnar. As you drive through you see tea on  your left and tea on your right almost as if the road has been made by cutting across tea plants. Tea is said to be the cup that cheers. If merely a cup can cheer you up, imagine what acres and acres of tea plants can do to you.
 

Pollution ? What is that? The people here do not  know that…nor do they have these computer training institutes. No wonder they have the highest life expectancy which is 77 years… almost at par with nations like Sweden and Norway. May God keep them away from the rat race which the rest of India has gotten into!
The abode of elephants
 
Club Mahindra overlooks a lake. Near the lake, is a piece of land known as the abode of elephants. It is said that elephants used to come here. No longer

now

.
Has the elephant become extinct? Not yet. Ownership of elephants is now banned. An elephant can now be leased but the cost is enormous. It may be around 40 to 50 lakh rupees with subsequent maintenance charges both for food and for medicines. Who then would like to have an elephant? Some rich people still like to own elephants as status symbols but such people are rare. Only temples in Kerala can afford elephants because their daily earnings from devotees may exceed 20 thousand Rupees during festivals.

Such are the factors which prevent the extinction of this marvellous species!
Thekkady

If Munnar is the home of tea, then Thekkady is the home of spices. A list of all Indian spices is given in Wikipedia. Thekkady grows almost all of them. Spices were the major export from India in the olden days. Their use in cooking is well known to all Indian housewives but their use in medicines is known only to Ayurvedic practitioners.
Our visit began with a visit to a spice garden. A very energetic host explained the salient features of almost all spices. If one were to go by his discourse, all human ailments can be cured by these herbs. His vigour and enthusiasm at the age of 65 years inspires confidence in the whole system. The only snag is that a single herbal plant seldom makes a medicine by itself. A large variety of them are required to be mixed and processed. The subject is complex and requires knowhow which the traditional Vaids generally inherit, or else you need formal training in the subject. Growing and selling spices is a lucrative job. No wonder we ended up with a lighter purse and heavier baggage before we left the spice garden.
The only other thing noticeable in Thekkady is Ayurvedic massage centres. It appears that at any point of time half the people in Thekkady are engaged in massaging and the other half in getting massaged…male to male and female to female. They consume large quantities of expensive medicinal oils. After a little research, we also chose an Ayurvedic hospital complete with a doctor. It had 36 cabins where massage was being done simultaneously. The doctor noted the complete list of health related problems which we had, and then assigned us one specialist each. He administered the medium massage to me, whereas the hard one was reserved for bodybuilders and the soft one for ladies. The entire procedure from top to toe lasts for 100 minutes and is said to have long lasting benefits if done regularly. As a one time exercise, it was quite relaxing and certainly worth the time and money.
Club Mahindra, Thekkady
An aerial view of Club Mahindra,  Thekkady, would perhaps look like a platoon of Indian Army deployed in defensive positions, complete with the camouflage and concealment provided by the plants and bushes. The resort has a complete variety of herbal plants and can as well compete with the spice garden if they provide a guide.
 

A camp fire organized by the club had kathakali and kuchipudi dances and a display of native martial arts. These two are the major sources of recreation in this region other than cinema which is mostly Malayalam movies. Thekkady had its first rainfall in a year the day we went and that must have partially filled the Periyar Lake which is the major source of water in the region.
The back waters of Allepey
Officially, Allepey has reverted to its original name of Alappuzha. I was curious to know what "puzha" means since it is frequently used as a suffix. I am told it means river in Malayalam and thus Alappuzha could mean God's river. The local people neither agree nor disagree with my conjecture.
The backwaters are water bodies flowing between landmasses rather like the canals of Venice or Amsterdam. A full circuitous round of the backwaters takes about 4 to 5 hours in a motorboat. We opted for a truncated tour lasting 2 hours.
There are a very large number of other tourists who keeping waving their hands to say hello…an expression of their joy. The view all around is simply beautiful. A large number of inhabitants live on the shore using the waters for washing utensils and clothes. You can get coconuts and some snacks from shacks located all along the coast. A particularly fascinating sight was that of an eagle that willingly sat on your hands without protest. The owner provided that joy free of cost.
 
The houseboats in the backwaters are mostly air conditioned with on-board generators. They have all other amenities and cater for food and drinks as well. A little nap on the serene waters can be quite relaxing. We had spent 5 days only last year on a houseboat in Srinagar and therefore chose an ordinary motorboat. For the more energetic people, rowing boats are also available.
 
Changanaserry

This small non-descript town would never have been on our itinerary, but for Brig O.A. James, my colleague from EME. He retired and settled down in his home town. His actions there remind me of the book "  The townsman". He possesses the same amount of dedication to all that happens in Changanaserry and keeps every one apprised through social media.
With pride he shows us the town, and in particular the place where the Church, the Mosque and the Temple are all co-located. That takes care of communal harmony…the hallmark of Kerala. He himself is a devout Christian and is very actively involved in the projects of the historical church which is magnificent. We spend a little time in the service which is going on at that time. It was a mesmerizing experience.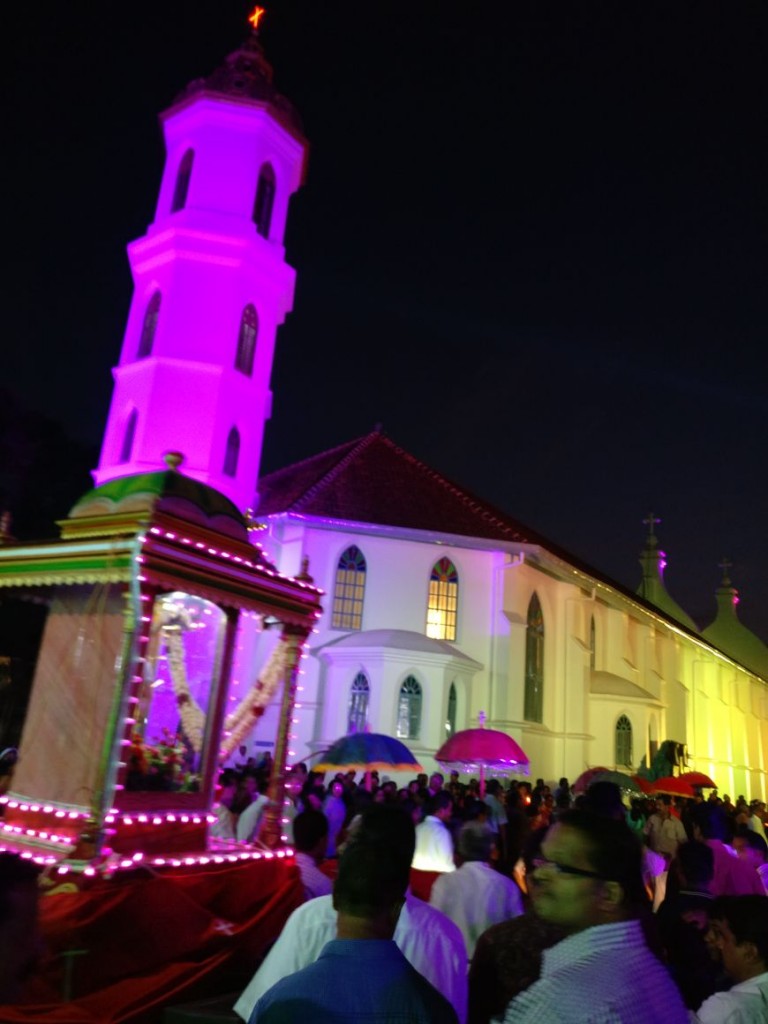 James and his wife Mary then take us home which is full of his memories in the Corps of EME and includes a large Eagle made of cement in 508 Army Base Workshop, Allahabad. He then shows me a group photograph of the officers of the Faculty of Electronics of MCEME taken in Feb 2000 when  I was the Dean and he was HOD , Communication Deptt. It was easily my most memorable tenure in  life since it was a precursor to all my subsequent appointments. I was destined to be Dean for the next 20 years in various colleges. It seems I was comfortable with that "title".
James has considerable clout with the travel agencies in Kochi. Our trip was meticulously planned and beautifully executed by Shahab, based on instructions from James that nothing less than the best by way of hotels, taxi and driver would be acceptable, and Shahab ensured that.
But for James, this trip would never have materialized. Whether it was due to him or the climate, or the places or the massage, I do not know, but I came back rejuvenated.
I desire to make one such trip every year…I know a lot of people who do that!
The return flight gave us a view of the sunrise when we took of from Kochi. The clouds below looked like this.

On return, we got the traditional welcome from Surjit
" Laut ke budhu ghar ko aaye "
*
Tailpiece
Gurudev Tagore had a profound and abiding belief in God. And yet, he was not religious in the conventional sense of the word. In Gitanjali, you will not find even one reference to any specific faith. His God is universal. For those who have not read this Nobel Prize winning book, Gitanjali,  let me give an example below.
Poem Number 102, GITANJALI
I BOASTED among men that I had known you. 
They see your pictures in all works of mine. They come and ask me, "Who is he?"
I know not how to answer them. I say, "Indeed, I cannot tell."  
They blame me and they go away in scorn. And you sit there smiling.
  I put my tales of you into lasting songs. 
The secret gushes out from my heart. 
They come and ask me, "Tell me all your meanings." I know not how to answer them.
I say, "Ah, who knows what they mean!" 
They smile and go away in utter scorn.

And you sit there smiling.