Thumbing Through a Bunch of Old Papers
Last week, I was seeing some old papers, to weed out the ones which I do not need any longer. I saw an irrelevant pencil sketch, and just before throwing it into the dust bin, I noticed that it was the outline of the house we left behind in Pakistan, in 1947, drawn effortlessly by our eldest brother, AVM Manjit Singh (whom we called, 'Virji')  See it for yourself.
 
Suddenly, I was inundated by a flood of memories. The above sketch was made by Virji during his last visit to our house in March 2019. It was a pleasant sunny morning, and he had walked down from his house, with his nurse, Rekha Khan, without ringing us up. He was in the 85th year of his life, and had lost interest in most of the normal topics such as politics and economics. And so we decided to talk about our childhood. At my behest, he drew the above sketch of our house, which was called 'makaan' by the people of our village. It was neither a 'Haveli' nor a 'bungalow'.  But it was a large house made of bricks and mortar, and was a landmark in the village. As compared to the houses in Amritsar and Lahore, it was a simple house, with no ostentation.
Our family had lived in Farooka for at least seven generations. No one knows where we were, before that. And if the Radcliffe line had not thrown us out, we might have been living there, even today. In 1947, when we saw it for the last time, Virji was about 13 years old. I was a little over six, and my younger brother Brig Surinder Singh was three. Here is what we looked like, in Jan 1946.
 
Surinder, Surjit, Manmohan and Manjit in Jan 1946
The Story of the Makaan
The house was planned and built when the school, founded by our saintly grandfather around 1906. But since the school was located more than a kilometre away from the village, it remained unoccupied for a long time. However, when a boarding house came up near the school, our grandmother agreed to shift into it, along with her brother.  Then in 1926, our grandfather passed away. It was an irreparable shock, but God gave our grandmother the strength to run the house, single handed. My memory is faint, but virji described the quality of life in graphic detail. I made a copy of the sketch, and added the features described by him. Have a good look at it, before you proceed further.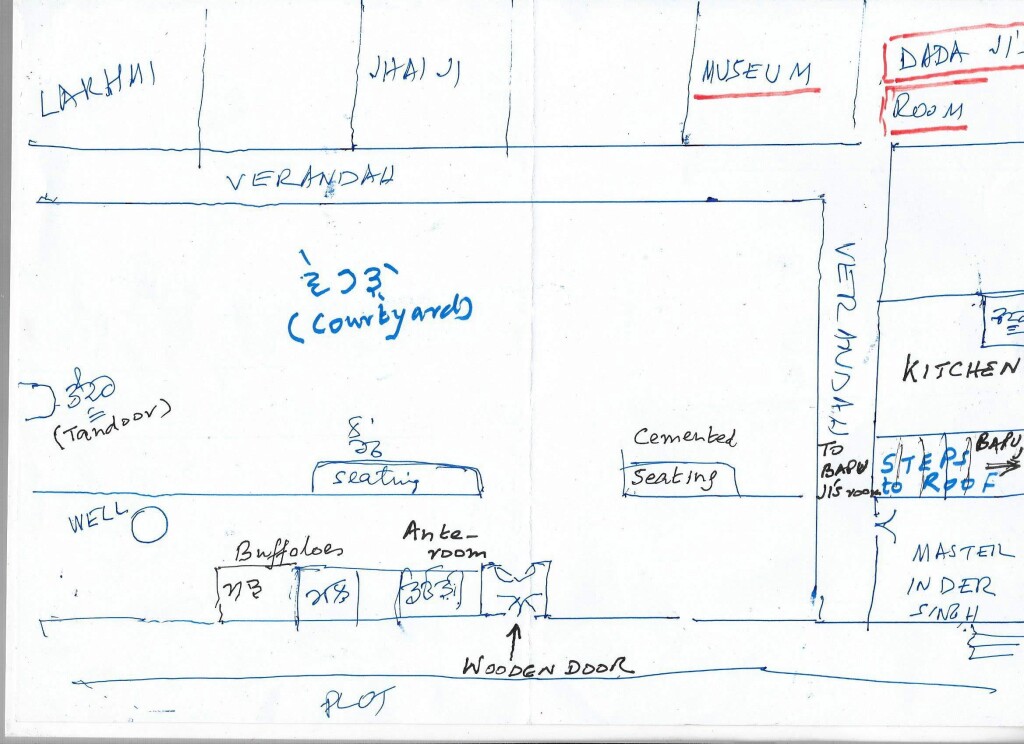 Life in the 'Makaan'
At the outset, it must be remembered that there was no electricity in Farooka, even in 1947. And, therefore, there were no lights, fans, radios and kitchen gadgets. Indeed, the word 'refrigerator' had not even been heard. The layout of the house was as follows:
Entry into the house was through a door with a large wooden latch. There was a 'deorhi' near the door, which served as an 'ante-chamber' where the visitors could wait, before being granted an audience with our grandfather. After his demise, this room was rarely used.  The buffalo sheds were located adjacent to that.

And then there was the well. I have vivid memories of peeping into the well, and watch the process of drawing water out of it.

There was a six foot high wall which separated this area from the courtyard, which was called, 'vehrha' in which there were two large cemented seats. On the extreme left, we had a 'tandoor' in which 'rotis' were baked. All around the courtyard, there were about 15 rooms, and a veranda ran all along. The first room was rented out to a tenant, Master Inder Singh, who virtually became a part of the family.

The courtyard was large enough for children to run around and play ball games like 'Seven tiles'

Next to the first room there was a stair way, which led to the room of our great-grand father, Bapu Bhag Singh ji (1843-1947).He lived to be a centenarian. He passed away in April 1947.

In the extreme right corner, there was a hallowed room, in which our saintly grandfather, Bhai Hira Singh ji (1869-1926) used to meditate. That room was maintained in its original condition by the family, and no one was allowed to enter into it. The room adjacent to it was a museum, in which the memorabilia and artefacts presented to Bhai Sahib were kept, duly preserved. A few items like his pocket watch, a pair of binoculars his harmonium and some pictures and letters have survived to this date.

There were two rooms in which we four brothers lived with our mother, whom we called Jhaiji, from 1942 to 1946, when our father had gone to the Far East, during the World War. Surinder was born in there on 13 Sep 1944.

At the extreme end, there was a room in which Lakhmi lived, with her two sons. She was a domestic help, but was treated like a member of the family.

At any given point of time there were several relatives, who dropped in and stayed as house-guests for indefinite periods.

The kitchen was called 'chatoori'.  Milk and milk products were the most important part of our diet. There was a 'tandoor' in which 'rotis' were baked twice a day. And there was no dearth of food, even if lots of guests dropped in, without any prior notice.
Simplicity was the essence
Compared to the houses which I saw soon after the partition (or, Independence, if you like to call it) our Makaan was unpretentious. Even though the rooms were regularly white-washed, the outer side of the walls was not covered with plaster. We slept on the roof all through the summer, and for that, the cots had to be carried upstairs. A few pictures tell the tale better than words.
  
This is a picture of our father, taken soon after he had purchased an Agfa camera for Rs 5/-
 
This picture of our uncles was taken by our father in 1929. Notice, that the walls are not plastered
 
Another picture of the same period.
The School and the Boarding House
I asked my brother to describe the school, since he had studied there for about four years. At my behest, he drew a sketch of the area. It is not to the scale, but does give an idea of their location
 
The school could not be closer! Virji used to leave home only when the third bell rang. The total number of students was no more than 150, and the attendance rarely exceeded 66%. Since Farooka had a very small population, children from nearby villages were encouraged to join the school. For them, a boarding house had been created, which could accommodate about 30 boys. As a matter of fact, most children could not even afford to pay the tuition fee. A kindly landlord, Bhai Amar Singh (1825-1927) had donated about 100 acres of land to the school, and the income from this farm was used to run the school. For poor children, free boarding was provided. In a letter to the editor of the Tribune, in 1917 talks about this. This letter was reproduced in the Tribune 75 years later, and that is when we got to know about it. A scanned copy of the letter as obtained from the biography of Bhai Hira Singh ji (1869-1926) is given below.
 
This is a scanned copy of pages 86-87 of the book "Amolak Hira"
The School after 1926
During the life of our grandfather, the family seems to have been prosperous. His death was a deadly blow. Our grandmother had five children, the youngest of whom was not yet four years old. But the Lord gave her the strength to run the house at nearly the same standard, right up to 1947, when we were driven out. Without a shadow of doubt, our 'dadi' was an 'iron lady'. Called Bhabhiji by everyone, here is what she looked like.
 
Our grandmother, Bhabhi Prem Kaur ji (1879-1967)
Life in Farooka in 1947
From the Internet, I have picked up a few pictures which depict life in that era. They tally with my memories of that period.
 
Kerosene lamps were the only method to dispel darkness. And k-oil was costly!
 
The number, and quality of buffalos was a measure of prosperity of a family
 
This was the most common sight one saw, at dawn
 
Every one sat on the floor to eat.
 
The tandoor was another essential part of houses.
*
FAROOKA ON THE WIKIPEDIA
Browsing through the Internet, I discovered that Farooka has been covered very well by Wikipedia. Its population has increased to over 60,000 and the place is known to have produced eminent doctors, engineers and scholars.
Education in Farooqa
There are several high schools in the town: the Government High School, Government Secondary School No. 1 and Government Primary School No. 2. The government high school for boys is the oldest school in the town, established in 1906. Students at this school learn to be doctors, engineers, teachers, financial experts, and bureaucrats. There are two-degree colleges in Farooka, one for boys and one for girls. There is also one government high school for girls. A number of private schools and colleges are also in the area. Hira Model High School (the first private school in this tehsil) is located on the main road and was established in 1980 by educationist professors Rafiq Ahmed and Nisar Ahmed, who swore to provide quality education in the area.
Dar-e-Arqam School, Hussain Campus is located on Sahiwal Road. Other schools include the Qayadat Public School. Ayyan School, under Alhayat Trust, provides free education, uniforms, bags, books, lunches, and pocket money to needy students. Another private school is the Hira Model School
 
*
FAROOKA, AS SEEN BY MY BROTHER, BRIG SURINDER SINGH
Farooka…..what does that place mean to me? For a habitation as insignificant as Farooka, with its small population, hostile climate and poor infra structure, it ought to mean nothing to a person who was just 3 years old when he left it, never to see it again.
In my formative years, our grandmother, whom we called Bhabhiji, lived with us. Some traumatic events brought her to a state of mind in which Farooka became an obsession with her. Her vivid description of Farooka made her sound like an LP record whose needle gets stuck in a groove. In his later years, our father also became repetitive, as indeed, I myself may be now.
Yet there was one unique thing in Farooka which has made it unforgettable and that was the School which my grandfather founded. It made a huge impact in the entire region. The village with its rustic people and an uncouth dialect seems to have altered the entire life style of hundreds of people, not only from our family but from the entire area.
One such person, who left an indelible mark on my memory was a man called Bogha Ram. He was intelligent and hardworking and made good use of the school to achieve academic excellence. He aspired for a high ranking post in the Govt of India and was to face an interview. He thought his rural sounding name might stand in his way and he was smart enough got his name changed in official records to Raj Kumar. He cleared the interview and, after some years, he was sent to London for training.
When he boarded the ship, he said to himself "Bogha Ram, from Farooka to London, via Raj Kumar."
As children in our teens we met him, he was serving as a Joint Secretary in the Central Govt, living in a majestic bungalow in New Delhi. He was tall, fair and very impressive to talk to and attributed his success to his alma mater….for which he owed an eternal debt of gratitude to our grandfather.
*
Whichever way you look at it, the fact of the matter is that the School did make a difference to the lives of the people of Farooka. Its founder, Bhai Hira Singh ji was only 26 years old, when he mooted the idea. And, he was able to carry the people of all communities to join him in his mission.