I joined IIT Delhi as a Post Graduate student in 1975, and that is where I first met Prof Indiresan. But even before he entered the class to address us, I had heard a lot about him. My younger brother, Brig Surinder Singh had been his student twice: first when he joined the first batch of IIT Delhi in 1961 and later when he went there for his M Tech in 1973. He had some very laudatory things to say about him. The School of Radar Studies, which I joined, was said to be his brainchild and we were told that he was a visionary, who always looked beyond the horizon. My association lasted long after my two years in the Institute, and he always proved equal to his name and fame.
Born on 6 Sept 1928, Prof Indiresan was one of the earliest engineers to opt for the 'electronics' discipline, which was, until then, a part of Electrical Engineering. He started his teaching career in the University of Roorkee (it is now an IIT) and shifted to IIT Delhi soon after it was formed in 1961. He was later appointed Director of IIT Madras in 1978, and left an indelible mark on that Institute. He returned to Delhi after completing his term there, and then took to serious writing. In his middle age, he learnt a lot about Techno-Economics and was appointed on several committees constituted by the government as an advisor.
During his long and illustrious career, he received several honours  and awards. The list includes a Padma Bhushan conferred on him by the President of India in, I think, the year 2000. He carried these awards lightly on his shoulders, and never made a mention of them. Humility was a hallmark of his persona.
My guide for the project during the M Tech was Prof Bharathi Bhat, and she was a great admirer of Prof Indiresan. In 1996, I was admitted into the Indian National Academy of Engineering (INAE) and after that I saw Prof Indiresan at every seminar and the meetings of the Academy. Dr APJ Abdul Kalam was then, the President of the Academy and Prof Indiresan succeeded him.
Prof Indiresan was a soft spoken man, who rarely lost his composure. But beneath his soft exteriors, there was a man who could be as strong and firm as a rock. I have seen him stick to his stand when the people all around opposed him. He was a vociferous opponent of the reservation policy. He believed that the depressed classes should be given good schooling so that they would make the grade to the IIT on their own merit.
Permit me to place on record a few of his pithy words, which come to my mind now:
When I asked him whether the bureaucrats accepted his counsel on contentious issues, he said, "They seek the advice which they want, and not the guidance which they need!"

One day, he remarked, "Let us face it. Most of the Professors in the IIT are not as good as the students whom they teach!"

He was mild with his words. Most often, he understated what he had in his mind. The teaching staff in the IIT resisted 'feedback' from the students. Despite the opposition, he instituted an informal mechanism. One teacher, who was unanimously considered incompetent was brought to his notice from various sources. He made a bundle of all the letters which he had received, and sent it to him, with a note: "If such letters had been written about me, I would be a worried man!"

In Prof Indiresan's opinion, if an instructor needed to mark attendance, he had lost half the battle already. He believed that if the teacher was worth his salt, the students would be looking forward to his classes.

One day, at a Seminar, Prof Indiresan's talk got postponed to the after lunch session. The attendance was rather thin, and we were wondering how he would react. He used his wry humor, got on to the dais and said, "I will gladly speak to an audience of one, providing that I am sure that the solitary listener is interested in what I have to say…For all I know, he may be the only one who has been following this subject!" Indeed, by that time more people had trickled in.
Prof Indiresan was of the opinion that a person is not a Brahmin just because he is born in a particular family. He felt that you become one, by acquiring knowledge and wisdom. In the lighter vein, he remarked that all IIT graduates must be treated as Brahmins. By this definition, I qualify to count myself as equal to the high caste priests!
Prof Indiresan passed away in Pune on Sunday, the 24th Feb 2013, where he had gone to chair a session in a seminar. He died like saint, without being a burden on anybody for even one day. In my view, he has attained 'Moksha' which is the ultimate goal for us mortals.
The smile on his face in the picture given below shows that at the end his life, he had no regrets.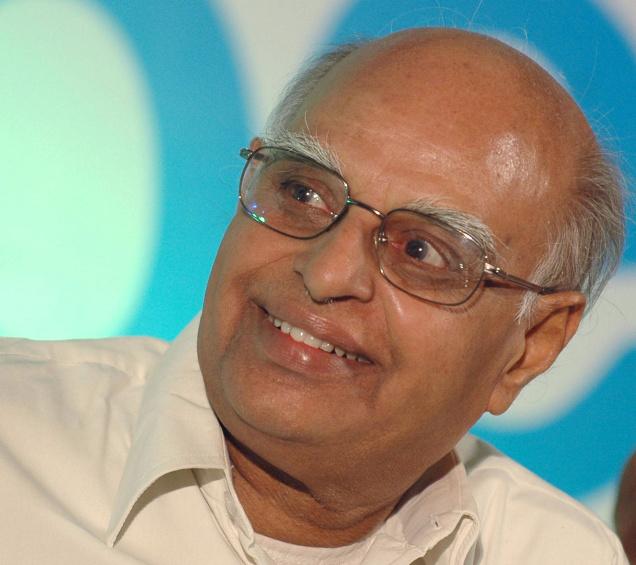 This obituary is neither complete, nor comprehensive. I think his friends and admirers will tell us more about his life and work.