30th April 1997
Seventeen years ago, on the last day of April, our mother, whom we called 'Jhaiji' passed away. She died the way she had lived; at complete peace with herself, and without becoming a burden or inconvenience for any one, even for a single moment. She was diagnosed of cancer a few weeks before her demise, and she was with us at 37, Lodhi Estate in New Delhi for precisely 17 days. Our revered father had brought her for treatment, but the way it turned out, she came merely to bless us. And having given us her benediction, she went away; with no regret, no rancour, no complaint. It is our belief that she attained 'moksha' the liberation from the cycle of birth and death.
What went with her was the language she spoke…our mother tongue. Punjabi is on the decline in India, and our children do not use it any more. And the specific form of Punjabi which she used was quite different and, for us, it is gone forever. All these years, I was under the impression that it was a rustic, rural version of Punjabi, and she used it because she had been brought up in a village, and did not have the benefit of going to a good school. I thought it was something like the cockney portrayed by Bernard Shaw in his paly, Pygmalion. But now, when I have more time on my hands to study the subject, I think I was mistaken. This is a story of my research on our mother tongue.
The Indian Punjab, as we now know it, has an area of 50,362 square km, which is 1.5 per cent of India. Its population is 2.77 crore of which 70 per cent are Punjabi speaking. Since the  Punjabis living outside the Punjab rarely use their mother tongue the number of Punjabi speaking people is less than two per cent of our national population.
A Journey Down Memory Lane
Against this backdrop, I mulled over the words of our national anthem. As we all know, its original version was penned by Gurudev Tagore more than a hundred years ago, and he sang it in Kolkata on 27 December 1911. In the very first stanza it says,

'Punjab, Sindh, Gujarat, Maratha…' 

 It seemed somewhat incongruous to me that a state so small as ours should find a pride of place right in the beginning of our patriotic composition! However, before I begin this tale, it is necessary for me to give you a small insight into our roots.
I was born in Peshawar (Pakistan) in June 1941. The very next year, our father joined the Army and was sent to the Burma front where he stayed for nearly four years. We shifted to our family house in a village called Faruka, in District Sargodha. It was a large joint family, and our grand mother and great grand father were there to guide us. Given below are a few pictures give an idea of what we looked like.
  Our Great Grand Father Bapu Bhag Singh ji (1843-1947)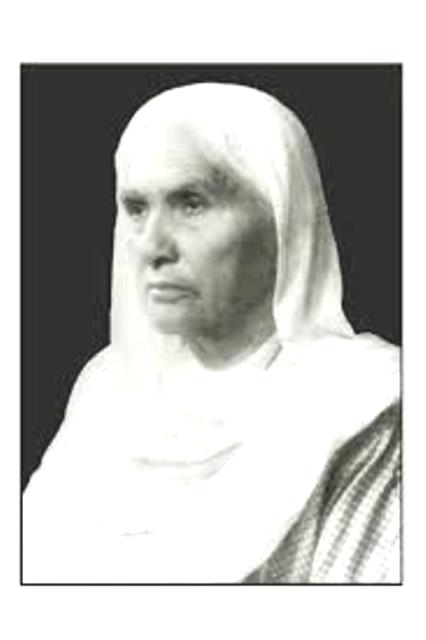 Our Grand Mother, Bhabhi Prem Kaur ji (1878-1967)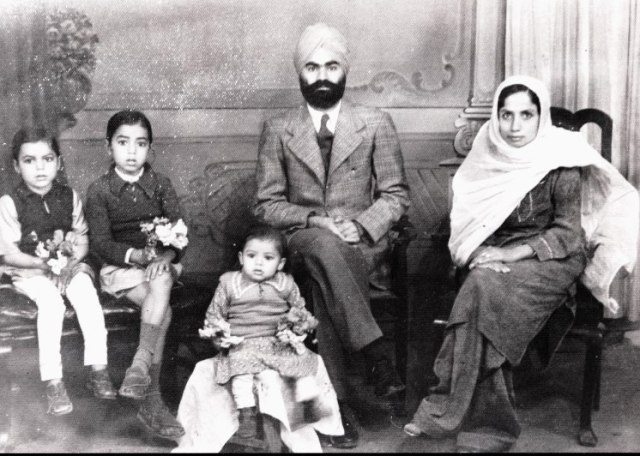 With our parents and my elder brothers in Karachi, in Dec 1942
The Start of my Learning Process
It is now evident to me that our ancestors had lived in that part of the world for several generations. The language we spoke was the one which Jhaiji spoke all her life. And every one around was quite comfortable with it. It was written in the Arabic script and therefore, when I started my schooling, the first alphabet taught to me was the one in which Urdu is written. This script is known as 'Shahmukhi'. I did not know at that time, but I now find that the 'province' in which we lived was  very large. And it did indeed deserve the pride of place which it received in our National Anthem. I now find that whereas Punjabi language is not confined to any borders, the people who speak it have their origins in the land of the five rivers. The geographical landscape has remained unaltered but the political boundaries have been changing very often. For those who like to see maps, I have gathered a few to refresh your memory.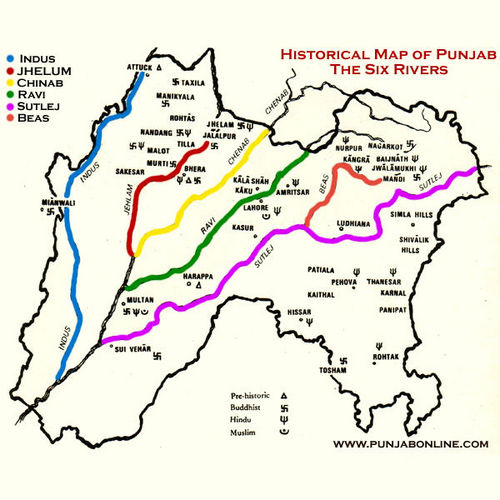 The Five rivers get together and merge into the Indus before entering the Arabian Sea.
The Political Scene.
The political boundaries have been changing at regular intervals. During the reign of Maharaja Ranjit Singh a portion of Kashmir extending up to Leh became part of the Punjab, though the areas East of Sutlej were not a part of his empire. The picture looked as below:

Map of the territories ruled by Maharaja Ranjit Singh. Portions East of Sutlej were not a part of his empire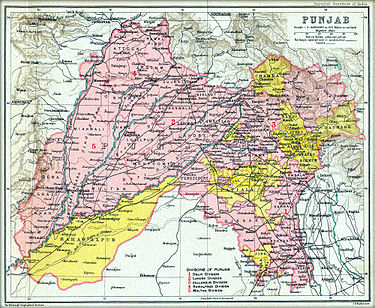 Punjab in 1909. It extended beyond Delhi and its area was 3,46,388 sq km (the present Pujab is 50,363 sq km)
Administrative Divisions of the Punjab in 1909
During the British rule the Divisions of the Punjab were as under:
| | |
| --- | --- |
| Delhi Division | Hissar · Rohtak  · Gurgaon · Delhi  · Karnal  · Ambala  · Simla |
| Jullunder Division | Kangra  · Hoshiarpur  · Jullunder  · Ludhiana  · Ferozepore |
| Lahore Division | Montgomery  · Lahore  · Amritsar  · Gurdaspur  · Sialkot  · Gujranwala |
| Rawalpindi Division | Gujrat  · Shahpur  · Jhelum  · Rawalpindi  · Attock |
| Multan Division | Mianwali · Jhang  · Multan  · Muzaffargarh  · Dera Ghazi Khan |
| Total area, British Territory | 97,209 square miles (2,51,769 sq km) |
| Native States | Patiala · Jind · Nabha · Bahawalpur · Sirmur  · Loharu  · Dujana · Pataudi · Kalsia · Simla Hill States · Kapurthala · Mandi · Muler Kotla · Suket · Faridkot  · Chamba |
| Total area, Native States | 36,532 square miles (94,618 sq km) |
| Total area | 133,741 square miles (3,46,387 sq km) |
 THE PUNJABI LANGUAGE
A Brief Introduction to Languages of the World
It is difficult to make an accurate count of the number of languages spoken by people across the globe. But those who have researched the subject say that as of now, the total number is about 6,000. This number is decreasing due to improved communications and merger of languages. A very large number of languages are spoken by tribal people, and the number of speakers are sometimes as low as a few hundred. It has been estimated that languages are 'dying' at a very rapid pace. At the end of this century, the human population may increase, but the number of languages is likely reduce to a figure no more than 3,000. Efforts are being made to revive some languages like Sanskrit, Greek and the Biblical Hebrew since some of the most revered Saints and scholars used these languages to give their message to mankind.
The Internet has a list of the hundred most spoken languages. To my very pleasant surprise, I found that Punjabi figures at number ten in this list, which is given below. Column 2 gives the number of speakers in millions and the next column gives an assessment of the percentage of the world's population which uses the language. In the last column we have the major countries in which the language is spoken.
Mandarin
官话
955*
14.4%
China, Taiwan, Singapore
Spanish
Español
407*
6.15%
Spain, Mexico, United States, Argentina, Bolivia, Chile,
Colombia Costa Rica, Cuba, Dominican Republic, Ecuador,
El Salvador, Guatemala, Honduras, Nicaragua, Panama, Paraguay, Peru, Puerto Rico, Uruguay, Venezuela, Equatorial Guinea, Western Sahara
English
359*
5.43%
United Kingdom, Republic of Ireland, Australia, New Zealand, United States, Canada, Commonwealth of Nations
Hindi
हिन्दी
311*
4.70%
India, Nepal
Arabic
العربية
293*
4.43%
Arab League
Portuguese
Português
216*
3.27%
Portugal, Angola, Brazil, Cape Verde, Mozambique , São Tomé and Príncipe, Guinea-Bissau, Timor-Leste
Bengali
বাংলা
206*
3.11%
Bangladesh, India (West Bengal, Tripura, Assam)
Russian
Русский
154*
2.33%
Russia, Ukraine, Commonwealth of Independent States
Japanese
日本語
126*
1.90%
Japan
Punjabi
ਪੰਜਾਬੀ
نجابی
102*
1.44%
Pakistan, India
 Those who wish to peruse the complete list may click on the following link:
http://en.wikipedia.org/wiki/List_of_languages_by_number_of_native_speakers
Here also, the ABC analysis is valid. Nearly half the world speaks only 13 languages, while the remaining half uses the other 6000 odd lingos. It must also be remembered that a very large number of human beings speak two or more languages. Some can speak as many as 10 or even 15. It has been estimated that nearly one-third of humanity can understand English, with varying levels of proficiency.
The Punjabi Speaking People
Until 1947, most of the Punjabi speaking people were confined to the land of the Five Rivers, but after that they have got scattered all over the Globe. As of now, the approximate distribution of the countries which have significant numbers of Punjabis is as follows: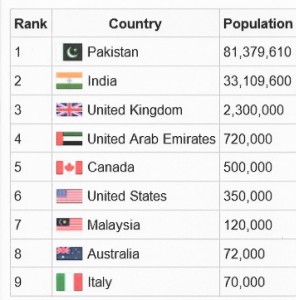 The total of these figures exceeds the statistics given in the earlier tables, but I find that such analyses can never be perfect, since the assumptions keep changing. Having said that, I think the figures above do give a general idea of the Punjabi diaspora.
Dialects of Punjabi
At this stage of my research, I discovered what I was looking for. I had received some poems, songs and clips on the Internet from friends in Pakistan, to find that the specific language which our mother spoke is very much in use, even today. Punjabi has a number of variants, and the major amongst them are depicted in the map given below: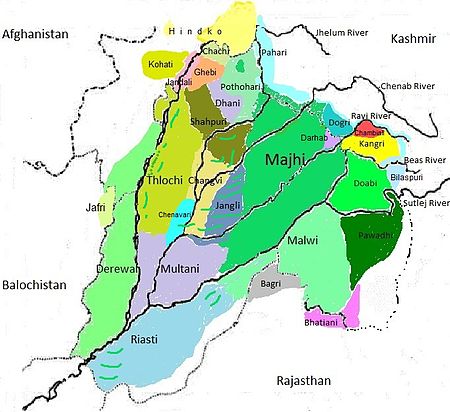 While I have no doubt that ALL these dialects are dear to those who speak them, I think Majhi stands out as the one most preferred by poets and authors. Personally, I like Pothohari also. Just below that region, we have Shahpuri, which my parents spoke. It has a tinge of Dhani and Changvi in it. At this stage, permit me to show you a map of the area. Whilst we lived in Faruka, the names of the towns we often heard were Sillanwali, Sargodha, Lyallpur (now called Faisalabad) Sahiwal and Shahpur. My friend Viren Bajaj is from Khushab which was very close to us, but one had to cross Jhelum to get there. (Incidentally, there is also a town called Shareef Khushab but Virin has never spoken about it, even though he is 'shareef', every bit!)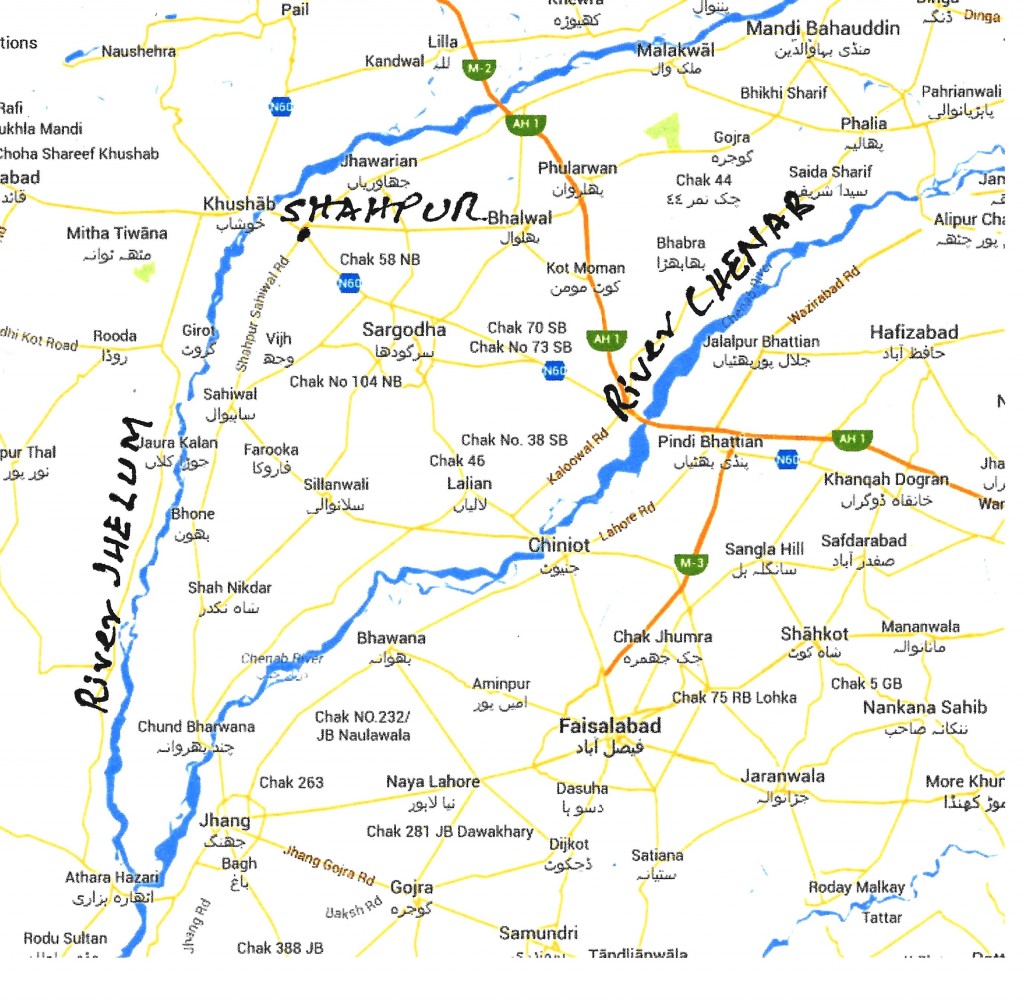 The Story of Shahpur
Shahpur is a historical town, and the language spoken by that entire area is known by its name. However, interestingly, this town is not marked on the current maps which I searched. Therefore, I had to insert it with my own pen, after scanning the map. The story of Shahpur as given on the Internet is that this town was often flooded by the river Jhelum. Hence the District Headquarter was moved from Shahpur to Sargodha, and in due course, Shahpur became a less significant Tehsil of Sargodha district. It still has a historical importance but its population has dwindled. I also find that Shahpur was initially called Rampur wit a Hindu majority. During the seventeenth century, a Sufi Saint called Shah Shams Sherazi  came from Delhi and settled down there. Under his influence there was extensive conversion to Islam and the name of the town was changed to Shahpur. As per the census records, over 80 percent of the population of Shahpur in 1911 was Muslim. In 1947, as per our father's memory, the non-Muslim population was less than fifteen per cent. 
The Language of Sri Guru Granth Sahib (SGGS)
To put this story in perspective, I think I must make a mention of the language of the Holy Book of the Sikh religion. In addition to the 'bani' of seven Sikh Gurus, the SGGS contains the sacred words of 15 saints called 'Bhagats', 18 eminent holy men known as 'bhatts' and three disciples of the Gurus. The oldest of these saints is Shaikh Farid ( 1173-1266). It may be noted that Farid ji came nearly three hundred years before Guru Nanak who was born in 1469. From a study of this I find two things. One, that Punjabi appears to have existed for over a thousand years and second that the language of SGGS is not restricted any single form.
The Granth Sahib is written in the Gurmukhī script, in various languages and dialects – including Lehndi Punjabi, Braj Bhasha, Khariboli, Sanskrit and Persian – often coalesced under the generic title of Sant Bhasha. This is because many of the holy men came from different parts of India. A comprehensive list of the Gurus and saints who have contributed to the SGGS is contained in the link below:
​http://www.sikhs.org/granth2.htm
It is, therefore evident that Punjabi is not the language of any particular community. It is also erroneously believed by some people that Urdu is a language of Islam, and that English is the preserve of Christians. And indeed, all languages absorb words from each other. If you carefully listen to children of the current generation, you will notice that their conversation is in a mix of several Indian languages embedded in a queer form of English.
A General Introduction to Seraiki and Seraikistan 
People who live in South and South West Punjab (Pakistan) believe that their language and culture is substantially different from their compatriots in North Punjab. Their group of languages is called Seraiki.

They contend that Seraiki

 

 is spoken language in Pakistan and the first language of more than 70 million people in the subcontinent. Among those 50 Million are in Pakistan and 20 Million are in India. Seraiki is the 61st most spoken language out of the 6000 languages in the world. It has a very rich culture and is the representative language of Indus Valley Civilization.
The main Seraiki speaking areas are Multan, Bahawalpur, Dera Ghazi Khan, Dera Ismail Khan and several parts of Sargodha division. Seraiki is also spoken widely in Sindh and Baluchistan provinces of Pakistan. It has many sweet dialects and is considered as the language of love and literature. Rich cultural context and diversity of expression in the language have enabled Seraiki poets and prose writers to produce literature masterpieces. Seraiki poetry has different themes. Love for beloved and love for land can be identified as major ones. Sufi poets have used this language not only to speak to people but also to God. Seraiki people have a natural flair for poetry and literature. Most of the Seraiki literature is unrecorded for the reason that no formal patronage has been provided to poets and writers. Before the inception of Pakistan, Seraiki was written in Devnagri script and converting to Arabic/ Persian script resulted in the loss of a substantial part of literature.
During last two centuries, Seraiki motherland has produced a lot of legendary poets. Khawaja Ghulam Farid, Sachal Sar Mast and Shah Latif are some of famous Seraiki poets which are known world wide for their universal message of love. A website has been created to consolidate the work of Seraikis and there is a political demand for the creation of Seraikistan as a State within Pakistan. A map of the proposed state is given below: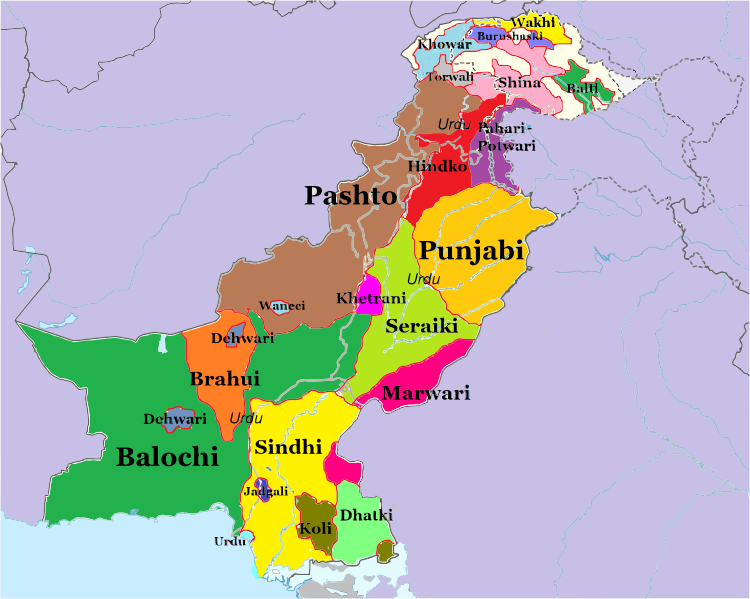 Map showing the languages spoken in the different parts of Central Pakistan. Notice the Seraiki area.
Was our Mother Tongue Seraiki?
A careful analysis of the specific dialect spoken by our ancestors had some words of Seraiki. In my diary I have some proverbs spoken by the elders during my child hood. However, before I get back to the language, permit me to recollect the last days of our beloved Mother. We do not know her birthday, but it is known that she was born in the month of Feb in either 1915 or 1916. Thus, she was well over eighty years old when her end came. As far as we know, she had no ailment. We almost took it for granted that she would never need intricate medical treatment. And she did not undergo any surgery all through her life. If ever she was indisposed, she took a glass of water and rested for a while. Domestic work was her therapy. Many years before her demise she had told us that she had three final wishes:
She wanted to go before our father.

She did not want any pipes to be sticking into her body…and that ruled out surgery.

She  did not wish to be burden on any one.
The Lord granted all her three wishes. Right until 28th of April 1997, she could walk to the bathroom on her own, albeit with a little support from our father. On the next day, Pitaji suggested that we get a 'bedpan' for her, which was brought at once. The next day, we took her for a procedure called 'tapping' in a hospital close to our house. And there even before the first needle was inserted in her abdomen she passed away. I am told that her ailment is called 'galloping cancer'. It is a variant of the dreaded disease that spreads rapidly. Back home, I saw the unused bedpan lying as a mute testimony to the fulfilled resolve of our mother. I think it is time to insert her picture at this point.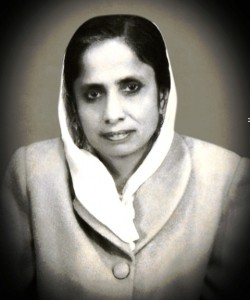 JHAI JI…an ocean of peace
Some Snapshots of our Mother Tongue
In a film song, Raj Kapoor rued : '

Ik din bik jayega, maati ke mol…jag mein reh jayenge, pyare tere bol'!

There is profound truth in these words. Jhaiji has left a treasure trove of  unforgettable words. But they carry their impact and sound sweet in her inimitable pronunciation. I jotted down ten sentences which can be called proverbs, and recorded them on the computer. You can play the minute and a half long recording by clicking on the link below. But before you do that, I am giving the English meanings of these ten one-liners, spoken in Shahpuri dialect. Even elementary knowledge of Hindustani is enough to help you in relating the two with each other.
If a thirsty man begins to dig a well, no one calls him wise or sagacious.

To fight with darkness, do not use  sword. Light a lamp!

If a friend offers a helping hand, do not bite it!

If you have invested your money with a dubious man, write it on the flame of a lamp!

Your horse does not let me get near him. He wants to know my name! 

Stupid lass! She has been churning pure water since morning. What can come out of it?

If you live very close to some one for a long, the relationship may turn sour.

This young lady is smart but her hands shake, when she is kneading dough!

The bitch! She came to 'borrow' fire from me, and has usurped my kitchen!  (The process of borrowing fire was prevalent when matchsticks did not exist)

This was a blessing those days, the elders prayed that your weaknesses and wrongdoings were not exposed. It was believed that 'all of us would be culpable criminals, had we been caught!
Now, please click on the link below, and then save the audio. Revert to the post after 1.32 minutes for the tail piece, by clicking the 'return' button on the browser.
The Tailpiece
This srory has been inspired by the clips I have received from across the border. I discovered that our mother tongue in all the dialects is in tact. Shahpuri is NOT extinct. It is not even endangered. Someday, when the anger generated by the religious fervour melts, some of our successors will speak the language of our ancestors. In the meanwhile, we can always turn to the YouTube clips and listen to our 'mother tongue' whenever we fee like. As a sample, I am giving below the link to a poem recited by Jenab Anwar Masood. It also mirrors the culture of those times. In this particular poem the theme is domestic violence, which was common in our childhood. For those who do not know, the word "mai" was used to refer to a mother. It is a story of two classmates, Akram and Basheer. Akram was a brat, who was rather harsh on his mother. In this poem, he thrashed her with a wooden curd churner, and then ran off to the school. The reaction of the mother was typical of women. Her concern was that her son had gone to the school hungry. She quickly cooked a meal and gave it to Basheer with a request to hand over the tiffin to her son. I think this poem reveals why we are so attached to the language we pick up from our mothers!
 Now, here is the link: