Prologue
Brig Surinder Singh (1944-2021) was a quiet person, who was able to say a lot in the few words he spoke. His deeds did the rest. His presence was a source of joy always and every time, wherever he was. Whether in the military life or in the family, he accepted whatever he received. He neither sought a prize posting, nor recognition for his work, and when the family assets were divided, he was content with whatever was given to him. Greed and covetousness were alien to his personality, and he was not provoked, even when someone was outrageously offensive towards him. When death knocked at his door, he accepted it as the will of the Lord, and after an incredibly short period, he left the world of mortals, and took the long road to nowhere. It came to me as a body blow because I am older than him. I am not sure that life will ever be the same for me.
*
Birth and Childhood
We will never know whether he was born on 13th or the 14th of September, 1944. Our revered father, Maj Balwant Singh ji was on the Burma front, and the battle of Kohima and Imphal put a total ban on leave of all kinds. Surinder was born at mid-night and no one bothered to check the exact time of his birth. His first picture in the family album shows him in the lap of our uncle Prem Singh. I see an incredible serenity in his eyes, which he retained till the very end of his life. See it for yourself.
 
Soon after he was born, the Punjab was partitioned and we were thrown out of the land of our birth. However, within a couple of years, Pitaji was selected for a posting to the Indian Military Academy, Dehradun in 1949. Surinder was the only one amongst the four brothers to begin his schooling in an English medium public school. He was admitted into St Joseph's Academy, Dehradun. The elder three brothers went into the Hindi medium, 'desi' schools. Here is what we four looked like in 1948.
 
Our 'Foursome' Surinder, Surjit, Manmohan and Manjit in 1948
Our Childhood
As far as I can tell our childhood was extremely pleasurable. Our father was posted to Dehradun, Delhi Cantt and Meerut Cantt. We were allotted large bungalows with plenty of place to play around.
In 1953, the elder two went away to IIT Kharagpur. Surinder and I were left alone to rule the roost. Before I recount the rest of the story, permit me to share a quip. In 1949, on a cold December night, our eldest brother was preparing for his examinations, while the rest of us were lying, cozy in our quilts. Suddenly, the ink in Manjit's pen ran out. He commanded Surinder to get up and fetch the bottle from our father's room. Surinder told him that it was too cold for him to get out of the bed. He received a scolding, and when he dithered for the third time, the elder brother issued a threat, "Will you get up or do I have to get up and slap you?" The five-odd year old Surinder had the gumption to say something which the family has not forgotten even today. In a meek and submissive voice, he said, "Virji, when you get up to slap me, please fetch the ink bottle, also!"
In 1953, our father was posted to Delhi Cantonment. We were allotted #24, The Mall. It is built over an area of nearly four acres, and so we had enough place to keep two buffaloes and had a cricket pitch of our own. There were lots of trees for us to climb. Permit me to show you a few pictures to embellish the tale.
 
# 24 the Mall. Delhi Cantonment
Surinder, being the youngest, was our mother's favorite. He was slightly shorter and weaker than the rest of his class mates, When Jhaiji (as we called our mother) noticed that, she urged our father to withdraw him for school for one year. He had one sole job: to eat well and play all day. His 10th birthday was celebrated in Sep 1954. We have some pictures of the event.
 
Surinder, cutting the birthday cake.
 
And this is 'musical chairs' which we played with the help of a gramophone
By the time Surinder finished his yearlong sabbatical, our father was posted to the Services' Selection Board, Meerut Cantt, where we were allotted a similar house, # 163, The Mall. This house was equally big, and it even had a well. A picture depicting its architecture is given below:
 
# 163, the Mall. Meerut Cantonment
 Our buffaloes moved with us. Surinder and I used to go for horse riding in the RVC Center and for swimming in the Wheeler Club (built in 1863). Surinder joined St Mary's Academy, and in the very first examination held there, he was so far ahead of the child who came second in the class, that the Principal decided to give him a 'double' promotion. Our lad surprised everyone by standing first there too. There is one picture of that house which is my personal favorite:
 
You see Surinder having a grand time, riding our buffalo!
From Meerut we went to Allahabad, in 1957.  I went away to the NDA in Jan 1958, while Surinder did his High School at the age of 14 years and a few months. We then moved on to Dehradun in 1959, when our father was posted to the IMA for a second time. In his Intermediate examination (the equivalent of 'Plus two') Surinder stood first in Dehradun District and had a wide choice of Engineering Colleges. He chose to join the first batch IIT Delhi, which had been established that year itself.
I forgot to mention that while he was in Dehradun, Surinder gained height almost overnight. After the fourth term when I went home, he was several inches taller than me. He had picked up a decent game of squash, and beat me hollow, to my utter chagrin and dismay!
Surinder in IIT, Hauz Khas
In 1961, Hauz Khas was far away from the hustle and bustle of the capital. Qutub Minar was the only landmark. I was commissioned in that year, and Delhi was on my route from wherever, I was posted. I often spent a day or two in the Shivalik Hostel, where Surinder was lodged. I met all his friends. Those, whose names I still remember are IS Gill, Randhir Kapoor, 'Ops' Lalit Mehra and Minocha. His friends were extremely intelligent and came out with some of the pithiest jokes which I have ever heard. A few samples are given below:
*
The electrical engineering students designed a light sensing switch to automatically switch on the street lights at dusk, and switch them off when the Sun rose. Unfortunately, the digital circuit got inverted, and the lights got switched 'on' in the morning and went 'off' at dusk. A student wrote the following note:
"Our street lights make a humble contribution to the solar illumination all through the day. As if discouraged by their performance, they seem to give it up when the Sun sets!"
*
The tap water got polluted, and there was a fear of an epidemic. The hostel canteen manager was directed to boil the drinking water before serving it. He did his job most enthusiastically, but since he did not have adequate refrigeration system, the water was piping hot, at lunch one day. A atudent wrote,
"The idea was to serve boiled water for drinking. Not boiling water"
*
The state of public transport at that point of time in that area was described by Surinder in one pithy line. When I asked him as to how they went to Connaught Place for a jaunt, he said,
"When we are in no hurry, we take a bus. Otherwise, we walk down!"
The 1966 batch celebrated the Golden Jubilee of their graduation in 2016. Surinder wrote a piece entitled "A Re-union to Remember" A link to the piece is given below.
A selection of pictures extracted from the above piece is given below, just as a sample:
 
A group photograph of the 1966 pass outs of 1966 batch IIT Delhi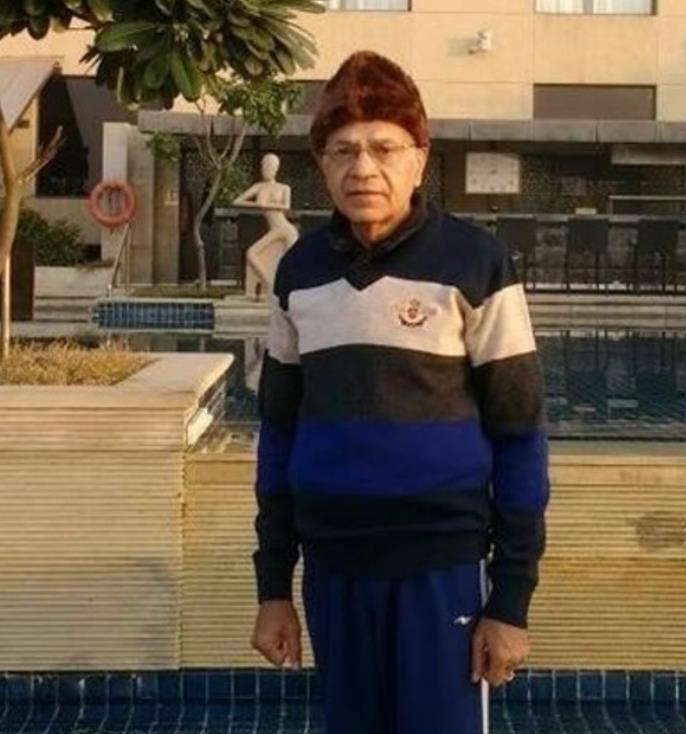 Satish Manocha. We have a special bondage with him. He belongs to Faruka, our ancestral village, now in Pakistan
 
Another group photograph which reveals the spirit of the Re-union
Surinder's days in the Army uniform
In the campus placement, Surinder was picked up by 'Philips India' and was all set to go to the Netherlands for training. By a providential twist, Philips fell out with India, and his departure got unduly delayed. On the rebound, Surinder joined Kurukshetra University as a stop gap.  And then one day, he suddenly declared that he was going to join the army. In later life, he told me that during his visit to EME Centre, Secunderabad where I was posted, he was enamored by military life, and he preferred it over the corporate atmosphere.
The rest is history. He landed up in the IMA as Technical Graduate and was commissioned in Dec 1967. In the process, he had lost at least two years in terms of seniority, and that cost him at least one promotion. However, it was not his nature to regret. I never heard him complain, and there was no bitterness on this count.
Surinder topped the Young Officers' course. And he did so in the most effortless manner. By nature, he was neither pushy nor ambitious. Academic excellence was inherent to him, and his entire course was unanimously agreed that he was the best. He was awarded a trophy in 1968.
 
Lt Surinder Singh receiving the Trophy and a medal in 1968 at the MCEME
I was rather excited at his achievement and went about talking about it to all my friends. And Surinder said, "This is, perhaps, not a great accomplishment. The MCEME conducts about ten such courses every year. And on each such course, one officer stands first. There are at least twenty such establishments in the Army, and so there are hundreds like me…" I was stunned by his philosophical observation. Concealed in his observation was his inherent humility. Surinder was down to earth, all his life. His feet were firmly rooted to the ground.
Surinder retained his unbeaten position on all the courses he attended, which included the M Tech in IIT Delhi. He was sent to the Soviet Union twice to for training on Missiles, and he was chosen to set up the repair facility in Meerut, in collaboration with Soviet engineers. For this job he picked up a working knowledge of Russian language. Indeed, teaching was his inherent strength. He did two long tenures in MCEME. And after he retired in 2000, he took to teaching like fish take to water. He kept working in Punjab Technical University right up to 2015, when he was well over 71 years old. He has an enormous fan-following amongst his students whose number runs into hundreds.
The Summing Up  
Surinder is gone. Gone forever. He has taken the long road to nowhere. That is a fact of life. My regret is that he has overtaken me, and I miss him immensely. We had been together for over 76 years, and I had got used to having him around to lessen the burden on heart, whenever life treated me unkindly. We had many common friends, and at the gatherings of the Corps of EME we were always together.
He was taller than me, and better than me in all games, including Golf and Bridge. For our holidays to we went together; whether it was the Andamans, Kumaon Hills,Shimla or Secunderabad. Fortunately, our wives get along famously. We have even shared houses, whenever there was a shortage of accommodation. His pre-mature departure has dealt a body blow on me. It will take me quite a while to recover my equanimity.
There is a lot to learn from his tranquil and serene life-style, and I am sanguine that his friends will add their impressions in the 'comments'. Or maybe, we might need to write a sequel to this piece in due course of time.
If I were to describe his personality in a few words, I would say the following:
Surinder was a man of few words. He rarely spoke of his own achievements. He had done some innovative work in the MCEME for which he was awarded the COAS Commendation Card not once, but twice, in 1977-78. He rarely talked about it.

He was gentle to the point of being acquiescent. I never saw him picking up a quarrel with his colleagues or relatives. Harmony was of utmost importance to him.

He took his joys and sorrows lightly. If ever he got into a jam, he said, "Ah! I have been through worse than this!" Or he would often say, "This too shall pass!"

His sense of humour was subtle and sharp. Sarcasm was a taboo, as far as he was concerned.
And his entire being can be summed up in seven words: "He gave more to life. Took less"
The Road Ahead
Surinder's wife, Satinder is in grief. But we hope that time will restore her composure, so that she can guide her grandchildren. His son, Pawan is a couple of inches taller than him, and the grandson, Jasraj has dwarfed both of them. He stands just a little short six-feet-four.
 
Jasraj has dwarfed his grandfather as well as father, Pawan
This story would be incomplete if we do not mention the names of his architect daughter, Savneet and her extremely affectionate husband, Bhavneet. Bhavneet has sent me a bunch of pictures which I plan to include in the sequel to this piece. I have also requested him to share his reminisces with Surinder. Here is what they look like. They are a family of gifted designers/builders.
 
Bhavneet, Surinder, Satinder and Savneet